Whiff of Wonderful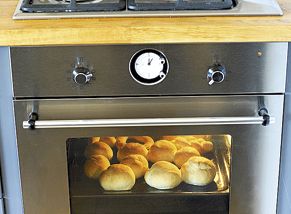 By Hilary Berg, OWP Editor
The smell of freshly baked bread is, in one word, heavenly.
They say when you sell your house, real estate agents suggest you bake a loaf just before the open house begins. Of course, it's not for potential buyers to enjoy; the bread is there for the sole purpose of its nostalgic aroma.
When I smell fresh bread, I remember my grandmothers and the Sunday visits that brought kisses, hugs, card games and fresh baked goodies. I also think of my childhood home, where my dad was — and still is — a bread-baking nut who loves to experiment with all kinds of ingredients — one bread he simply called "everything but the kitchen sink." (It was an appropriate title.)
My point is that certain aromas aren't just smells; they are much more than that; they can transport you back, turn you on — or off — and they can inspire.
In wine's case, aroma is such a major part of its personality and its taste; essentially they go hand in hand — or should I say: nose in mouth? (No, that's weird.)
I'll never forget the moment I suddenly understood wine's potential to illuminate the senses and create a lasting impression.
It was about 12 years ago. I had recently moved to Oregon, and my boyfriend — now husband — took me to a handful of wineries near what is now my home of Yamhill.
On our itinerary was WillaKenzie Estate. We tasted through their wines, including a wine I was not familiar with: Gamay Noir.
Once I stuck my nose in the glass and took a deep breath, I was instantly smitten. My impression of wine was forever changed. It was an a-ha moment.
What was in the bouquet that had my brain abuzz? Fresh baked bread.
Wine is supposed to smell fruity, right? Although I was new to wine, I understood that you could smell and taste not only grape, but cherry, apple and berry; but I was unaware of wine's diversity of descriptors. Wine suddenly went from just tasty to truly interesting.
Since then, I have opened and expanded my palate and make an effort to visualize what I sense in different wines. And when I drink wine, I tend to use descriptions that come from life's day-to-day experiences.
I've been known to use some odd ones, including Target (really the popcorn at the front of the store), old yearbooks (I was editor of mine as a senior in high school), as well as long-abandoned Halloween candy (you know that smell).
Coming up with your own descriptions makes wine tasting fun. It can spark some entertaining conversations or recollections, like childhood memories of fresh baked bread on a cold November day.
In one word: heaven.