Tracking Tempranillo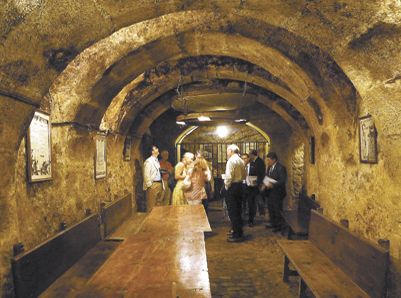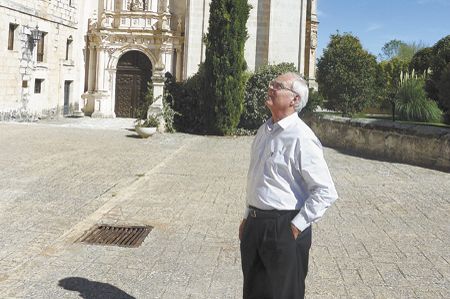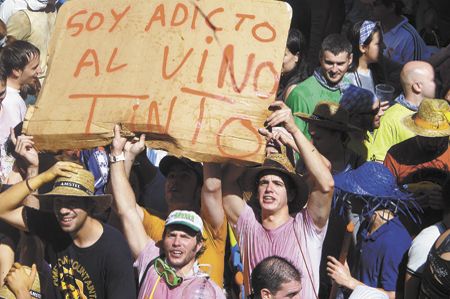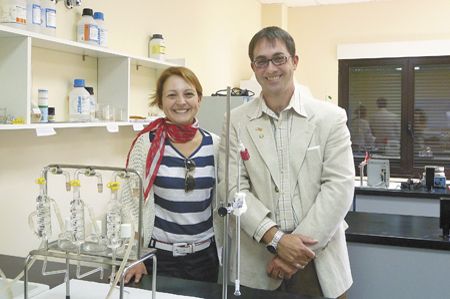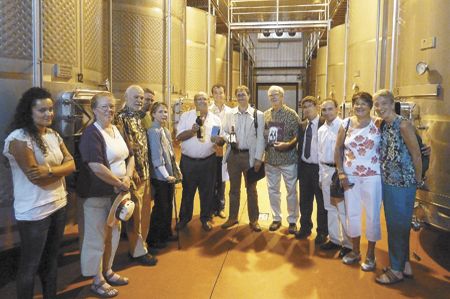 Story and photography by Janet Eastman
Some people will go to great lengths to learn about wine.
In early September, eight Roseburg residents flew 6,000 miles to study Tempranillo in Spain's Ribera del Duero. For three days, the group, led by Earl Jones of Abacela, walked across silty soil and into damp wine cellars.
They toured high-production wineries with fortresses of American-made oak barrels, and they visited contemporary tasting rooms, where they sipped wine made in individually temperature-controlled stainless steel tanks.
But they were never far from the past.
In every village they entered, they discovered artifacts of this region's 2,000-year-old wine history: Roman mosaics, hand-hewn wine presses, old bush vines. In the small town of Penaranda de Duero, the tourist office is inside a 300-year-old bodega with a fermentation tank that looks like a swimming pool.
The group of winemakers, teachers and civic supporters even found a way for Oregon students to practice viticulture, enology and Spanish.
In between serious meetings and fact-finding excursions, the group feasted on roasted lamb, Iberian ham and black pudding. They gave away American flag pins and weighed down their own lapels with badges representing Spain's football teams and wine clubs.
When they presented the mayor of Aranda de Duero with a cowboy hat, the photo made the front page of the Diario de Burgos newspaper.
Three of the eight visitors — Umpqua Community College assistant professor of romance languages Ni Aodagain, Southern Oregon Wine Institute associate director Dwayne Bershaw and Roseburg Sister City board member Dorothy Williams — extended their stay to join in the fun of the Festival of the Virgin of the Vines.
Each year, under a sky filled with confetti, crowds gather around the Plaza Mayor in Aranda de Duero for the festival that honors the city's patron saint and its vineyard workers.
From the balcony of the Town Hall, the three Roseburg residents could survey the young people as they sprayed one another with carbonated soda and foam. Two men in wine-stained T-shirts held a cardboard sign proclaiming their addiction to vino tinto.
The sign. The celebration. Fifty thousands acres of producing vineyards and 250 wineries prove it. In Ribera del Duero, Tempranillo is king.
The Mission
If Earl Jones and other winemakers have their way, Southern Oregon will break out of the fog of growing too many varietals and settle on one bright light: Tempranillo.
The complex red wine of Spain was first planted here 16 years ago, and Oregon's version has since earned attention at international competitions and the interest of wine appreciators.
Jones' devotion to the noble grape goes beyond his Roseburg vineyard. In 2007, he paved the way for his city on the Umpqua River to become a sister city to Aranda de Duero on the Duero River.
The relationship between the two cities is more than social. Behind the decree is the serious intention to expand education, cultivate distinctive varietals and grow world interest for Oregon wines.
In 20 years, Jones thinks Oregon wine could reach high quality to compete with Spain. "People are beginning to understand Tempranillo and express its characteristics as well as or better than Spain," he said.
The road that leads to the Southern Oregon Wine Institute's new learning center is called Aranda de Duero Avenue. Officials from Aranda visited Roseburg last year. In September, Jones was a member of the eight-member delegation to visit Spain.
"The foundation stone of anything in the New World has to begin with the recognition of the Old World," said Jones, after sharing a paella dinner and a magnum of Vina Pedrosa 2006 Reserva with his group and Aranda officials at the old town's Restaurante La Raspa.
Tempranillo is cultivated across Spain, notably in the Rioja region and here in the northern plateau of Ribera del Duero. Vino titans Vega Sicilia, Tinto Pesquera and others benefit from the higher elevation and extreme temperatures during growing days. Here, most bottles are unabashedly 100-percent Tempranillo.
Ribera del Duero has acres of vineyards crossing the provinces of Burgos, Segovia, Soria and Valladolid. Almost half of its residents — 30,000 people — live in Aranda, where wine has played a part in the culture since the 12th century.
Five miles of subterranean tunnels connect wine cellars. The cellars are maintained by men's clubs, called penas, and are kept private, except during festivals, by unmarked entrances on the street level and iron gates under the ground.
When Earl and Hilda Jones visited Ribera del Duero in 1986, there were no tasting rooms and not even a hint of an eno-tourism experience. The region had been deemed a Designation of Origin only four years before. Producers, however, were on a quest to revive the wine industry by blending labor-intensive old ways with modern processes.
Now, Vina Pedrosa, which nurtures 80-year-old Tempranillo vines, has an efficient winery and a sleek reception hall where Pilar Gonzalez pours wine for the King of Spain and American tourists.
The Roseburg group also met silver-haired Benjamin Pérez Pascuas, whose father planted the vines before Benjamin was born. The winery opened in 1980, when the region was enjoying a wine revival. That continues to build.
The Score
Two days into their mission, the Roseburg group attained one of their greatest goals: to lay the foundation for a student exchange program.
It happened on the vineyard-laced campus of Colegio San Gabriel. Ten years ago, alumni turned to the Catholic school for help. The community needed trained vineyard workers. A request to Rome to pay for teachers and classrooms was approved on three conditions: 1) the school make good wine; 2) teach students to make good wine; 3) and make enough profit to send to its missions.
San Gabriel grows Tempranillo across 35 acres and sends 13,000 bottles of wine a year to China. Students receive on-the-job training and learn in high-tech labs better than where most of the graduates will work, said Alicia Vitores, head of the school's enology program.
Professionals and visitors are offered daylong courses and hands-on experiences.
Bershaw of the Southern Oregon Wine Institute explained to San Gabriel's director, Jose Enrique Garcia Aguera, that Umpqua Community College offers one-year certificates in viticulture and enology.
The director, dressed in a white lab coat, said through an interpreter that he would welcome an exchange. Notice of the meeting was soon posted on San Gabriel's website (www.colegiosangabriel.es).
Earl Jones says the sister city program depends on personal connections. He visits Aranda often, usually accompanied by someone who can help strengthen the relationship.
"I'd like to raise my glass to the Spanish people's hospitality, kindness, generosity and great sense of humor," said Jones at the end of a grand meal at the Hotel Palacio Ducal de Lerma, a restored 17th century palace. "We have enjoyed these days, and we welcome a delegation from Aranda to come to Roseburg."
UCC language professor Ni Aodagain sees great possibilities for her students to spend five to 10 weeks studying in Aranda. "The root of an exchange program is to learn, to be exposed to other cultures and to make lasting friendships."
It seems this is the foundation of a sister city program, too.
Janet Eastman writes for national publications and is the wine columnist for the Medford Mail Tribune.