Art Harvest Studio Tour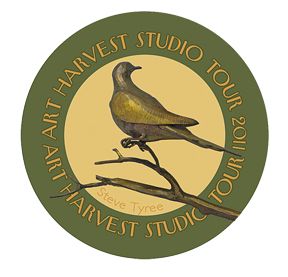 Nineteen years ago, a group of artists sat around a table discussing how to invite their community neighbors into the life of an artist. They believed that the public, particularly students, needed to know that there were artists living right next door doing a variety of beautiful and fascinating work. That was the idea behind the first Art Harvest Studio Tour, and it remains the same today.
This grassroots, nonprofit organization is run largely by volunteers, with support from participating individual and business donors.
Artists cordially invite the public into their individual workspaces, homes and studios during the first two full weekends of October. The six-day self-guided event has become a favorite family-friendly cultural celebration. Visitors can meet artists, ask questions and watch demonstrations.
This year's tour includes 34 participating artists from these Yamhill County communities: Amity, Newberg, McMinnville, Sheridan and Carlton/Yamhill. All 34 studios are open from 10 a.m. to 5 p.m., Oct. 7, 8, 9 and Oct. 14, 15, 16.
Student education has been a prime motivator since the very first tour. All area schools, both public and private, are invited to the special student tour on Oct. 11, 12 and 13. Students, teachers and volunteer chaperons may visit the studios of participating artists at no charge for educational demonstrations and hands-on art experiences.
A collectible tour button — adults are $7; children 18 and younger are free — is the ticket to all six tour days. The colorful catalog features each artist, with area information and clear, easy to follow tour maps. The buttons and catalogs are available at each studio and several area locations.
Please visit our website for a short video introduction, a list of participating artists and samples of their work: www.artharveststudiotour.org.