Pretty, Impressive Pinots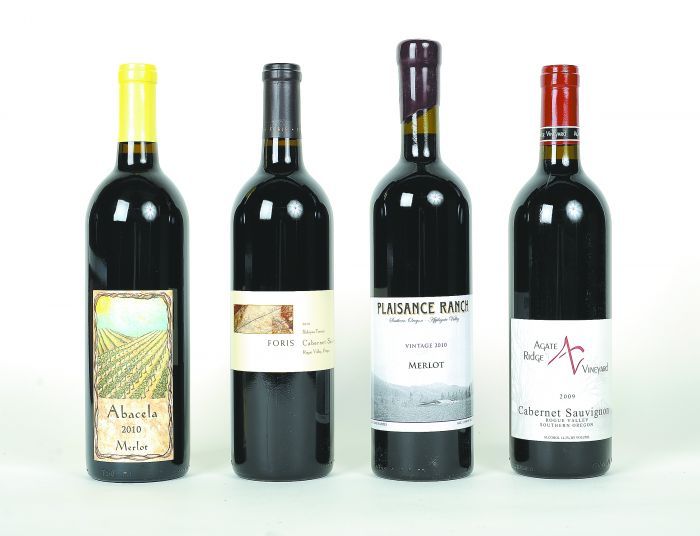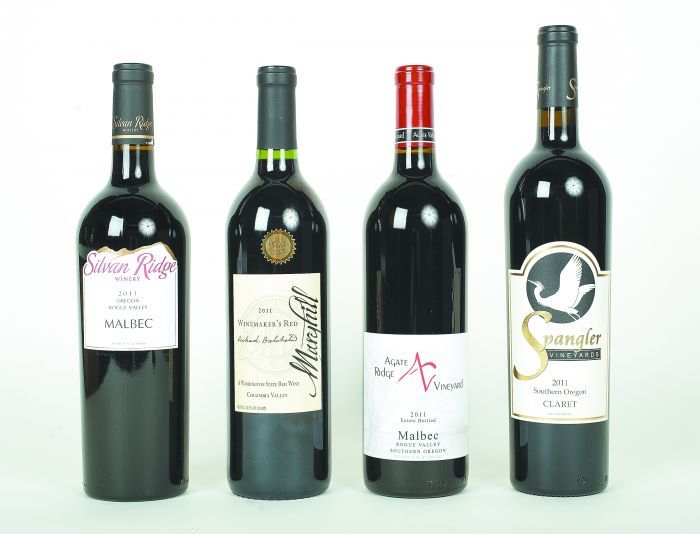 Cathedral Ridge 2009 Dampier Vineyard Pinot Noir, Columbia Gorge • $29 (200 cases)
A rush of engagingly intermingled aromas come forward quickly, and then deliver in the taste. Tangy cherry and dark chocolate bring fruit and richness. Herbs, spices, grassiness and acidity add structure and complexity. A very stylish, nicely balanced wine in very limited supply.
Mahonia 2009 Pinot Noir, Willamette Valley • $20 (130 cases)
Just south of Salem near Interstate 5 lie a cluster of vineyards among which Mahonia's 20-plus-year-old plantings is one. Intriguing aromas of orange and sweet pea introduce a plush, fruity Pinot whose soft, delicate palate impression is laced with subtle complexity.
Willamette Valley Vineyards 2009 Pinot Noir, Willamette Valley • $28 (18,000 cases)
The good and plenty 2009 vintage has brought forth sweet, appealing fruit that immediately presents itself here along with leather, tobacco, toast and bittersweet cranberry.
Twelve 2009 Pinot Noir, Yamhill-Carlton • $25 (700 cases)
This small, chic estate winery has consistently come up with remarkably well-crafted wines. And this good value pinot is no exception. Its dusty, ethereal entry leads to a freshly fruity, cherry berry beauty of medium weight that begs to be consumed soon.
Emerson Vineyards 2009 Avelina Pinot Noir, Willamette Valley • $30 (75 cases)
Nuance, delicacy and complexity make this wine reminiscent of a Burgundian Côte de Beaune. Dusty earth, carnations, spice, mushroom, campfire smoke and cinnamon are all evident in the aroma. The cascade of olfactory impressions create an elegant sipper on a middleweight frame that invites returning to again and again.
Cana's Feast 2009 Pinot Noir, Eola-Amity Hills • $20 (200 cases)
A rose-tinged nose and lush, jammy fruit lay the soft, supple foundation on which coffee, roasted hazelnuts and herbal notes build to offer a sweet, plush palate pleaser. A hint of toast lends an additional touch to the overall taste experience.
Elk Cove 2009 Pinot Noir, Willamette Valley • $29 (13,900 cases)
Red cherry and dark chocolate accented by a touch of grassy herbaceousness give this nicely balanced middleweight plenty of appeal. Bright, youthful fruit is already rounding out for enjoyable current drinking. The lingering finish is sweet and tasty.
King Estate 2009 Oregon Pinot Noir • $29 (24,500 cases)
Stylish in a lighter style, the wine glows with ruby red brilliance while exhibiting red berry, cherry and cola flavors wrapped in a soft, enticingly textured mouthfeel. Sweet fruit and baked butter carry through a persistently pleasing aftertaste.
J. Daan 2009 Pinot Noir, Willamette Valley • $22 (445 cases)
A description of this wine reads like a primer for what should be looked for in Pinot's essential elements. Earth and spice aroma. Round mouthfeel. Firm but resolving tannins. A hint of oak vanillin. Predominance of black cherry fruit. Cola adds to the flavor impression. Good balance. The only shortcoming is quantity.
Chehalem 2009 3 Vineyard Pinot Noir, Willamette Valley • $27 (7,593 cases)
Though this blend is the winery's earliest and largest release, it may prove to be every bit as good as its individual vineyard brethren. Lush, sweet cherry wrapped in a dark, velvety robe of soft tannins is gracefully round and palate pleasing. A big, bold, beautifully balanced Pinot.
Bridgeview Vineyards 2009 Pinot Noir, Southern Oregon • $15 (6,000 cases)
Here is a relatively substantial quantity, but with Bridgeview's national distribution, Oregon quantities may go quickly at such a low price. Floral aromas mingle with coffee and prickly berry. Soft, rich, fruit-driven flavors feature both blackberry and strawberry. Supple tannins and firm acidity enhance the overall impression.
Ponzi 2009 Tavola Pinot Noir, Willamette Valley • $25 (6,423 cases)
The pioneering winery's value-priced Pinot opens up with classically Burgundian aromas of leather, spice, smoke, truffles and red fruit. Dusty cocoa and a hint of minerality lend additional complexity, all of which linger long to make this a wine fit to grace any "table."
The Four Graces 2009 Pinot Noir, Willamette Valley • $29 (8,500 cases)
The Dundee Hills estate producer's largest Pinot release displays piquant blackberry aromas that flow out of the glass. Briary, lusciously bittersweet flavors follow, harmonized by silky tannins and an enticing toasty oak character that tends toward caramelized sugar.
Bethel Heights 2009 Pinot Noir, Willamette Valley • $28 (5,116 cases)
Depth of color, full mouthfeel and nicely structured tannins convey the wine's weightiness, while its character goes well beyond mere bigness. Black pepper notes on the nose followed by wafts of dark cherry carry through to the flavors accented by a hint of oak. A lingering aftertaste completes the well-balanced picture.
The Oregon Wine Press tasting panel has selected the above wines based on overall quality and value within their respective categories. The wines have met the following criteria: Produced by an Oregon winery; retail price up to $30 per 750 ml bottle for all still table wines except Pinot Noir, which can be up to $35, $25 per 375 ml bottle for dessert and $35 for 750 ml sparkling wines. All wines must be currently available to consumers. Recommended wines were selected using a double-blind method and a 20-point ranking system for appearance, aroma, taste, balance and finish.