Merivelleuse Margelle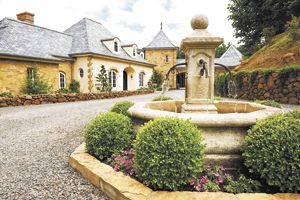 By Karl Klooster
French is a liltingly lovely, flowingly florid language that can pose some pronunciation problems for non-native speakers.
But the challenge is not insurmountable. It just takes a bit of concentration (gohn-zen-tra-see-ohn).
Since this column is about a winegrower and producer situated in the Cascade foothills near Scotts Mill, whose handsome property seemingly transports you into the French countryside, it's worth the effort to break down the headline on this story phonetically.
The name of the establishment is Domaine Margelle (Mahr-ZHEL), which loosely translates "stonewall estate." Merivelleuse (mare-uh-vel-OOZE) means, you guessed it, "marvelous."
That encapsulates one's impression upon passing through an arched entry into a pristine, gravel-paved courtyard. Once inside, the eyes focus on two prominent features.
The first is a stone fountain, whose style evokes another time and place. Enhanced by wrought iron spouts and encircled by a bed of flowers and manicured shrubbery, its appearance is so authentic it wouldn't be surprising to hear it was shipped from France in pieces and reassembled on site.
The second is a sizable wall of neatly stacked stone. Rustic and rough-hewn, it, too, summons up a sense of old worldliness. In fact, the entire place, chateau and all, look as if they could have been transplanted from Europe.
Domaine Marcelle is owned and operated by Steve and Marci Taylor.
For years, Marci owned a travel business specializing in tours to France, so the couple paid many visits. They came to love France and set out deliberately to replicate some of its architectural charms.
"We hiked the countryside on trails that passed by mature vineyards and ancient villages, each with its own unique impression," Steve said. "Our love of wine and connection to the place led us to imagine our own expression of the experience."
They had to settle for delayed gratification, though.
For many years, Steve held a partnership in BRIM, a private Portland-based company that owned and operated hospitals and nursing homes around the country.
When his two older partners decided to retire in 1998, the only option was to sell the successful business and split the proceeds.
Steve returned to college and completed a master's degree in literature. On the side, he supported the literary arts in Portland and worked in trips with Marci to French wine country.
"We almost bought some land in France," Steve said. "But when we came across these 131 acres in the Cascade foothills, we knew there was no need to look any further.
"The view was fantastic, and 46 acres were already planted to vinifera grapes. We had 20 acres of Pinot Noir and 26 acres of Pinot Gris."
To that, he added a bit of Chardonnay. "I love both Chablis and Meursault-style Chardonnays, so we put in four acres of Chardonnay in 2006," he said.
The Taylors are currently selling all but about five tons — enough for 300 cases of wine — of their Pinot Noir and Gris grapes to A to Z Wineworks. The Chardonnay is just beginning to come into full production, so Taylor hasn't yet developed a definitive style for it.
"There are several options," he said. "This is a very special wine for us, and we plan to take our time."
Of course, with the quantity so limited, everything bearing the Domaine Margelle name is special.
The Taylors have struck agreements with two noted winemakers to produce their wine. They had Mark Vlossak of St. Innocent craft their 200 cases of Pinot Noir and Sean Driggers of Pudding River craft their 100 cases of Pinot Gris.
The couple, who grew up in Richland, Wash., were high school sweethearts. "I latched onto her right away, and we had an eight-year romance before getting married," Steve said.
They have two grown daughters. Younger daughter Brianna is doing graduate work in dance and elder daughter Megan is assisting her mother with the 10 or 12 weddings they stage each year at Domaine Margelle, along with other special events.
"This is a wonderful place for a wedding," Marci said. "We do our best to make it a truly memorable occasion. Couples book many months in advance, which gives us plenty of time for planning."
If you really want to share space with the Taylors, or nearly so, at least, you can rent "La Bastide," a French provincial style country farmhouse across the road from the chateau.
In addition, they stage private wine dinners from time to time, catered by Jeff Nizlek of the Silver Grille in Silverton, which was recently honored with an Oregon Wine Press/Oregon Wine Board Superior Cellar Award for 2012.
"We're very fortunate that Jeff agreed to work with us," Marci said. "He put Silverton on the culinary map. I should also mention that we are currently pouring a selection of our wines in Silverton at the Pudding River Tasting Room, located in the Wolf Building."
Marci and Megan have their hands full with events on the main property and the rental across the way. And Steve couldn't resist resuming his health care career, becoming director of the Salem Cancer Institute about 2 1/2 years ago.
That being the case, they have left both the winemaking and vineyard management to pros. Alonzo Martinez serves as their on-site manager on the vineyard side.
On the weekends, the Taylors are at home at their chateau, which features vines gently sloping down the hillside in the foreground and the sprawling Willamette Valley in the background.
That's not bad for a couple who had become such Francophiles, they gave serious thought to adopting a piece of the French countryside. Instead, they brought France to Oregon. A suitable compromise, "n'est-ce pas"?
Though Domaine Margelle Vineyards itself is only open to the public on the two big annual wine industry weekends, Memorial Day and Thanksgiving, they welcome visits by appointment. Call 503-873-0692 or visit www.domainemargelle.com.
WINERY DETAILS
Domaine Margelle
Address: 20159 Hazelnut Ridge Road, Scotts Mills
Hours: Open by appointment only.
Phone: 503-873-0692
Website: www.domainemargelle.com
Extras: Event facility (weddings, etc.), vacation rental, wine tasting dinners. See website or call.