The Wedge Returns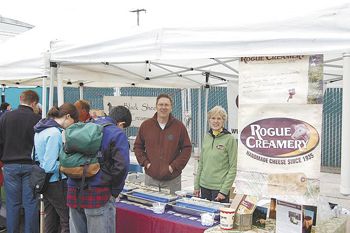 By Christine Hyatt
Portland-area cheeseheads, rejoice. The Wedge: Portland Celebrates Cheese Festival is on tap for Oct. 8, from 10 a.m. to 4 p.m. at the Green Dragon Bistro and Brewpub (928 S.E. Ninth Ave.).
Get your fill of great Northwest cheese at this farmers market-style event, where you can taste and buy incredible cheeses produced in the region, meet many cheesemakers and participate in educational seminars and pairings.
More than 20 cheesemakers from Oregon, Washington, Idaho, California and Utah will participate in this cheese lover's nirvana. A gourmet grilled cheese bar will be a highlight of the event, as well as beer and cheese pairings inside the Green Dragon.
The biennial festival began in 2007, the brainchild of fermented-food fanatic Michael Zusman and produced by a local group of cheese devotees (including yours truly) in concert with the Oregon Cheese Guild and Dairy Farmers of Oregon. Amazing things can happen when well-intentioned people come together for a cause, especially when that cause is great cheese.
While it's relatively easy to source great Oregon cheeses at our local farmers markets and cheese shops, makers from further afield will be on hand to showcase an even wider array of delicious products. You may be less familiar with cheeses from adjacent states, so here are my top picks.
Beehive Cheese is leading the way for artisan cheese in Utah. The creamery, located just outside Salt Lake City, is known for its inventive use of flavorings on the exterior of their aged cow's milk cheese. Their flagship creation, Barely Buzzed, is a creative concoction of espresso and French lavender rubbed on the exterior of the cheese, contributing butterscotch and caramel notes that permeate the cheese.
Black Sheep Creamery is located in nearby Chehalis, Wash. Owners Brad and Meg Gregory are well known for their incredible, limited-production sheep milk cheeses. Look for Mopsy's Best, an aged sheep milk wheel bursting with a delicious progression of flavors, and Tin Willow Tomme, a delight that incorporates milk from Tin Willows Farm in Lexington, Ore.
Mt. Townsend Creamery from Port Angeles, Wash., produces some of my favorite soft-ripened cheese as well as a number of hard-aged cheeses. Don't miss Seastack, an ash-coated, soft cheese named for the unique rock formations that dot the Northwest coastline. This exquisitely rich cheese is also available as Trufflestack, incorporating imported Italian black truffles.
If chèvre is your thing, seek out Brandywine by Rollingstone Chèvre from Idaho's Snake River Valley. This diminutive cheese is inspired by French Banon, a leaf-wrapped round of cheese. In this case, grape leaves are soaked in brandy and hard cider, imparting a fruity complexity.
Willapa Hills Cheese is a family operation located on the banks of the Chehalis River. Two-Faced Blue is a tasty combination of ewe's milk produced on the farm and cow's milk from a nearby dairy. The blend of the two milks makes for a rich, buttery-yet-mellow earthy cheese that hits just the right notes.
The festival takes place during the first-ever American Cheese Month. During the month of October, cheesemakers, cheesemongers, restaurants and cheeselovers will unite to celebrate American cheese.
The Wedge is a fantastic opportunity to celebrate American cheese and expand your cheese horizons. Why not purchase several wedges and plan a memorable home tasting with friends and family? The event is free with a suggested donation of $5 to benefit the Oregon Cheese Guild.
EVENT DETAILS
The Wedge: Portland Celebrates Cheese Festival
Location: Green Dragon Bistro & Brewpub
Address: 928 S.E. Ninth Ave., Portland
Date/Time: Oct. 8, 10 a.m. to 4 p.m.
Tickets: $5 (suggested donation to OCG)
Website: www.dairyfarmersor.com/thewedge