Dobbes Secures Backing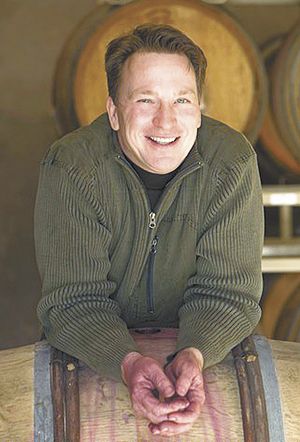 By Karl Klooster
Over the past decade, noted Oregon winemaker Joe Dobbes has steadily built his Dundee, Oregon-based company, positioning its Wine by Joe, Dobbes Family Estate and Jovino brands to become important contenders in the global marketplace.
But to make the leap in a major way, he knew financial muscle would be needed. And now he has acquired it in the form of a refinancing agreement with San Francisco-based investment firm, Bacchus Capital Management, LLC.
As its name implies, Bacchus Capital is focused "on providing strategic capital and making private equity investments in the wine industry." The Dobbes investment marks their first foray into Oregon.
Founded in 2007, Bacchus boasts a formidable group of principal owners in Sam Bronfman II, Peter S. Kaufman and Henry F. Owsley. Quinton Jay and Rob Rupe are the managing directors.
Bronfman and Jay bring extensive wine industry experience through leadership positions at Seagram Chateau and Estate Wines, Diageo Global Wines, Artesa Vineyards and Winery, Etude, Quintessa and Bonny Doon Vineyard.
Kaufman and Owsley are leading investment bankers specializing in credit analysis.
Though specifics have not been released, "Bacchus managing partner Peter Kaufman said. "It's flexible financing and it's a significant amount. The capital infusion will allow Wine by Joe to expand its national and international distribution."
Dobbes's winery processed 119,000 cases in 2010, making it Oregon's second largest winery by volume. Dobbes brands accounted for about 20 percent of that total with custom crush and private label production for a dozen others making up the balance.
Given the Dundee facility's capacity, Wine by Joe can enlarge its own production on a phase-in basis. Dobbes said he plans to do just that, increasing from about 25,000 cases currently to as much as 75,000 cases over the next three to five years.
At 75,000 cases, the Dobbes Family of wines would climb to fourth position among Oregon brands from its current 14th ranking.
Bacchus co-founder Sam Bronfman II, of the famed Seagram's distilling and beverage family, said, "Joe Dobbes has had a great track record; his success and impact on the Oregon wine industry is well recognized.
"Wines from Oregon as a whole have been growing significantly as markets and consumers continue to become aware of their quality and value. We are pleased to work with an innovator and leader in the field and look forward to a long and productive partnership."
Dobbes, who retains ownership of the company, said the refinancing loan would be enough to pay for capital improvements that would lead to increased production. The loan will also pay for improvements in marketing and distribution.
With access to such a sizable and savvy source of capital, it is apparent that the Dobbes Family brands have the opportunity to enjoy substantial growth.