A Brush with Greatness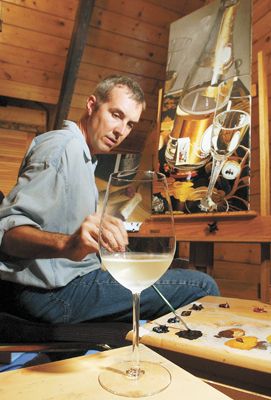 Art Business News (May 2003) credits Thomas Arvid with "launching a major art trend…" with his oversized still life compositions of wine and the rituals surrounding its consumption. His images astound viewers with their intricate details and his mastery of light, depth and reflection.
An Atlanta resident and fresh-faced father of two young sons, the self-taught artist insists wine should be approachable; his paintings are an embodiment of the casual way we enjoy wine today. He is an appealing role model for a lifestyle of easy elegance and unpretentious charm.
Arvid's casual approach to wine and painting is not surprising, given his background as a Detroit native raised to parlay his inherent artistic talent into a secure job in the industrial complex. Instead, he made the leap into pursuing art as a career, and with the support of his art historian girlfriend and inspiration garnered during a backpacking trip through Europe, he began painting full time.
Drawn to wine by his focus on the color red, Arvid knew he had discovered something when his paintings featuring red wine were being purchased before they were even finished.
His international appeal has created such demand that his work is represented by over 50 elite art galleries in the U.S., Canada and Japan, and collectors are willing to wait years for one of his originals.
Today, he and his wife, Vanessa, head Thomas Arvid Fine Art, Inc., one of the most successful boutique art publishing companies in the country.
You can find his body of work and a gift shop at www.thomasarvid.com.
OWP: How did you get interested in wine?
TA: I am a self-taught artist and began painting over 20 years ago in Atlanta when I was experimenting with different subject matters. I enjoyed painting the color red and created a series that included wine. My interest in wine developed further when my first wine painting sold off the easel before I could even finish it. People began to give me amazing bottles of wine to both paint and drink, which inspired my own passion for both.
OWP: If you didn't paint wine, what would you like to paint?
TA: I'd love to paint people. I'm drawn to those who are passionate about what they do and I'd love to capture that passion on canvas.
OWP: What artists inspire you?
TA: There are several, including John Singer Sargent, who has this incredible richness of color in his oil work, and Johannes Vermeer, for his soft lighting and attention to detail.
OWP: Who was your mentor?
TA: Growing up in Detroit in a blue-collar culture, many in my family did not believe that I could make a living through art. I had to blaze that trail on my own, but my family taught me the value of hard work and perseverance. This has really helped me develop as an artist—the more you paint, the better you get.
OWP: What are your favorite wineries?
TA: I am an American and love the wines made here in the U.S. I've always been inspired by California wines and love Cabernet, but I have a strong love and appreciation for the world-class wines made in Oregon and Washington, too.
OWP: What wine varieties do you like?
TA: That's easy. Whichever bottle is open! There's a time and place for every varietal … whether it's sharing a Viognier on our front porch, bubbles after church on Sunday, or sharing a bottle of Rombauer Chardonnay with my wife, Vanessa (her favorite).
OWP: What is your overall impression of Oregon wine?
TA: I like how many Oregon winemakers make an approachable, food-friendly, handcrafted wine while utilizing natural methods such as Biodynamic farming. Pinot Noir from Willamette Valley is very distinctive and that says a lot about how special a place it really is.
OWP: What is your most memorable painting and why?
TA: Memories are pretty much all I have of them since I only own one — my first piece. The subject wasn't even wine, but a teenager's pair of red Converse hi-top Chuck Taylors. The piece hangs in my boys' room today and reminds me of where I came from and how my career began.