Prints for an Artful Palate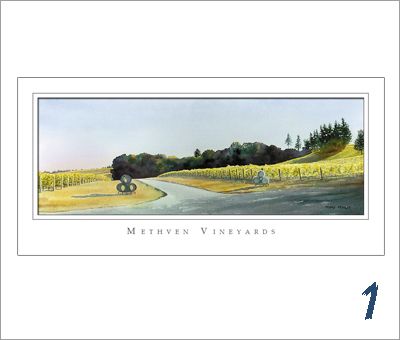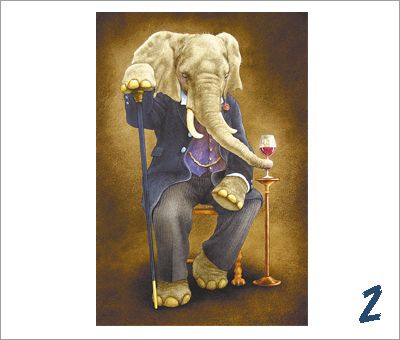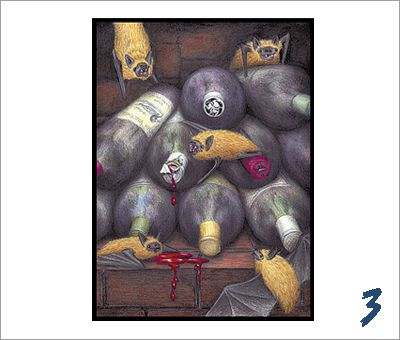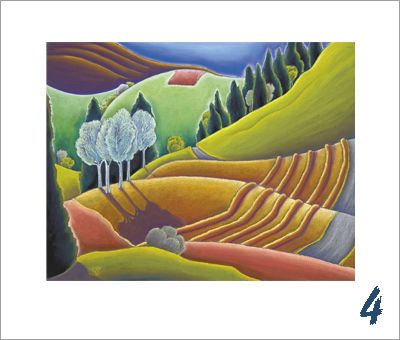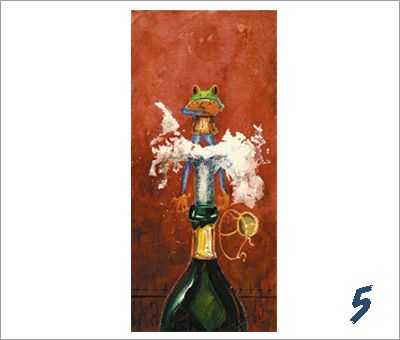 1. "METHVEN VINEYARDS" - With an emphasis on wild birds, landscapes, vineyards and farm scenes, Terry Peasley is dedicated to fine art watercolors, rendering the richness and beauty of the Northwest.
Born in Pendleton, Peasley spent much of his youth outdoors in Oregon's countryside. Those experiences influence the subject matter he paints today.
Peasley's talent began to surface when he was juried into the Watercolor Society of Oregon in 1998. Recognition in exhibits and juried shows propelled his work into commercial ventures and commissioned art.
The Print: $35 (8 x 10 print); $45 (11 x 14); www.terrypeasleyart.com. Other sizes and custom framing available.
2. "E IS FOR ELEGANT" - Based in San Francisco, Will Bullas combines 40 years of experience with a clever point of view, creating a fresh way to enjoy fine art.
After serving in Vietnam, he studied at the Brooks Institute of Fine Arts in Santa Barbara, Calif. He is a signature member of the American Watercolor Society, the National Watercolor Society and was elected to membership with the Knickerbocker Artists of New York in 1986.
The Print: $65 (13 x 19 watercolor paper print); www.rhinowinegear.com.
3. "BLIND TASTING" - Lake Oswego artist Don McMahon creates a refreshing and intelligently humorous perspective on a multitude of feathered species.
He draws inspiration from his mother, Jeri McMahon, a world-renowned bird watcher who has traveled extensively throughout the world. With his passion for birds and an obsession for drawing, McMahon decided to put the two together.
The Print: $25 (8 x 10 print); $35 (11 x 14); www.birdsonthings.com.
Find this artist at The Dapper Frog (five Oregon locations); www.dapperfrog.com.
4. "UP THE HILL" - The regenerative power of nature has had a profound influence on Jane Aukshunas throughout her life; it is this force that inspires her contemporary oil pastels of lush, rural landscapes surrounding this Hillsboro artist.
Imbued with both a succulent sensuality and an edgy geometry, Aukshunas' colorful, graphic landscapes hearken back to the 1930s' Midwestern regionalist style of Thomas Hart Benton and Grant Wood.
The Print: $60 (9.5 x 12.25 giclee print); www.janeaukshunas.com. Other sizes available.
Find this artist at Art Elements Gallery, 604 E. First St., Newberg.
5. "WHAT THE" - After quitting the corporate world in 2006 to spend quality time with his new son, Barton DeGraaf rekindled his passion for art.
In response to an unexpected request to supply art for a Spokane winery event, DeGraaf frantically began painting wine still lifes with — what else? — frogs, ravens, cats, butterflies, dragonflies, etc. Over the next four years, his wine-loving frogs and ravens continued to be a hit, and DeGraaf embraced his fortuitous niche.
DeGraaf received a BFA in 1999 from Rocky Mountain College of Art & Design in Denver. He currently lives in Sandy with his wife, Heidi, and son, Jon.
The Print: $25 (5 x 11 print); www.bartondegraaf.com. Other sizes available.
Find this artist at Barking Frog Tasting Room, 128 W. Main St., Carlton.