Taste on the River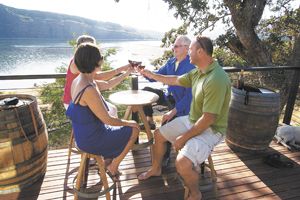 By Wine Press Staff
The McCormick family of Memaloose Winery, located in Lyle, Wash., recently celebrated the grand opening of their new tasting room located on the banks of the Columbia and Klickitat rivers.
The new space is a welcoming, spacious facility with an expansive deck overlooking the two waterways. In addition to wine sales, guests can purchase wine by the glass or bottle to enjoy at the site and take in the stunning scenery.
Memaloose began with its first vintage in 2006. The winery specializes in food-friendly wines — Cabernet Franc, Barbera, Primitivo, Riesling and more — from the Columbia Gorge AVA. Most of the grapes are estate grown from its five vineyards in Mosier, Ore., and Lyle, Wash. Winemaker/general manager Brian McCormick restrains the use of oak and alcohol in the wines, and strives to exhibit the structure, acidity and freshness of Old World-style wines.
The tasting room is open 11 a.m. to 6 p.m., Thursday through Sunday. It is located at 34 State Street, Lyle. Visit www.winesofthegorge.com or call 360-635-2887 for more information.