Pork Brisket with Sweet Cherry Bourbon Sauce, Caramelized Onions, Brie and Arugula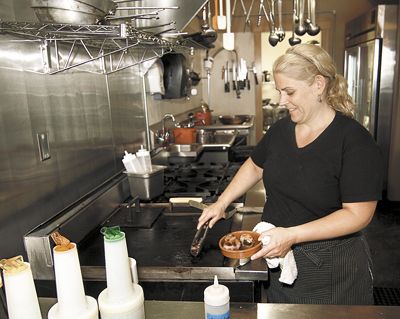 Recipe by Chef Caroline Hamina {Biggio Hamina Cellars, McMinnville}
"This recipe originated at The Third Street Grill in McMinnville 15 years ago. I have added the caramelized onions, brie and arugula and made it an open-face sandwich served on a baguette." - Caroline Hamina
WINE PAIRING: Biggio Hamina 2008 Pinot Noir, Willamette Valley
INGREDIENTS
2 sweet onions, sliced
2 pounds pork brisket (8 ounces per person; can substitute tenderloin)
2 tablespoons extra-virgin olive oil
1/8 cup dried sweet cherries
2 ounces bourbon
½ cup chicken stock
2 tablespoons cold butter
* salt and pepper, to taste
2 tablespoons olive oil
1/3 baguette, sliced in half
8 ounces Brie (2 ounces per person)
* caramelized onions
1 cup arugula (1/4 cup per person)
DIRECTIONS
1. In a medium sauté pan over low heat, melt 1 tablespoon of butter and add sliced onions. Slowly sauté until onions carmelize. Set aside. 2. Preheat oven to 425°F. Heat a large sauté pan over medium-high heat and add olive oil. Sear the brisket on all sides until a rich brown color, about 2 minutes on each side. Remove pork from heat and finish in the oven for about 7 minutes, or until cooked through (internal temperature of 155°F). 3. Deglaze the pan with bourbon; then add cherries and chicken stock. Reduce sauce; then add cold butter slowly to emulsify sauce. Warm baguette and caramelized onions. Layer baguette with onion, Brie and arugula. Slice pork and arrange on top of arugula; then top with sauce. Serves 4.
Biggio Hamina Cellars
At Biggio Hamina Cellars, established in 2007, owners Todd and Caroline Hamina aim to make wines true to varietal and terroir. The McMinnville winery produces Pinot Noir, Riesling, Syrah and Pinot Gris. The Haminas work with growers to ensure the vines are cared for in a sustainable manner.
Guests can try the couple's more than 10 offerings at Biggio Hamina Cellars' wine bar/tasting room, located at 1722 S.W. Hwy. 18, Ste. C, McMinnville. The wine bar also serves food made by Caroline, an experienced professional chef.
The wine bar is open Thursday, noon to 7 p.m., and Friday and Saturday, noon to 9:30 p.m. For more information, visit www.biggiohamina.com or call 503-737-9703.