Dishing Up Good Grub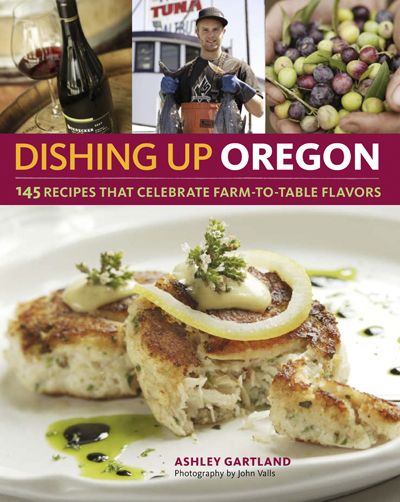 Review By Janet Eastman
If anybody questions the breadth of Oregon's culinary curiosity, hand them a copy of "Dishing Up Oregon: 145 Recipes that Celebrate Farm-to-Table Flavors" by food journalist Ashley Gartland. Inside are stories of chefs, innkeepers and winemakers, and the recipes inspired by their backyard bounty.
Of course, the state's star ingredients are spotlighted: hazelnut-crusted salmon, roasted pears with sage, and grilled figs stuffed with Rogue Creamery's Oregonzola.
But little else here is predictable. That's because Oregonians are mavericks.
Chef Vitaly Paley writes in the book's foreword: "There are no food traditions to follow, no rules on how to cook, just great ingredients." Proving the point are recipes for blackcurrant barbecue sauce, whole roasted fava beans with Maitake mushrooms and ricotta, and — ready for this? — elk tartare.
"Everyone is putting their own imprint on the culinary scene, creating these incredibly unique dining experiences based on Oregon's diverse products," said author Gartland in a recent interview.
While researching the book, she traveled beyond her Portland home to report on the people shaping the state's locavore culture. Profiles of hands-on operators explain just how they ended up in Oregon nurturing asparagus, cranberries or sheep, or organizing farm dinners.
Gartland began seeing Oregon growers and chefs as dreamers. Some travel the world to bring back what they love. The Durant family of Oregon Olive Mill planted Arbequina olive trees on their Willamette Valley property. Viridian Farms' Leslie Lukas-Recio and Manuel Recio cultivate European ingredients like pimientos de Padron on their Dayton farm. Earl and Hilda Jones of Abacela in Roseburg were the first to grow Tempranillo and other Spanish varietals here. The couple share their recipe for paella, which includes the unlikely duo of chorizo and kielbasa.
The 288-page paperback (Storey Publishing, $19.95) is captivating from the first flip through. Photographs by John Valls elevate just-picked produce to poster art. Purple, white and green heads of cauliflower look like hydrangeas arranged by a Parisian florist.
Commendably, the food shots were not styled in a studio, but photographed where the chefs prepared the dish. Scott Dolich of Park Kitchen in Portland poured his parsnip-almond soup into his own rustic bowl topped with kumquat-caperberry garnish for its close-up. Writes Gartland: "The lively soup is silky and bright and proof that a talented chef can transform a lowly root vegetable into something incredibly refined."
Gartland studied traditional cookbooks, but she didn't want to organize hers by courses or seasons. Instead, her chapters are ingredient-driven. The seasonal vegetables chapter includes recipes for cremini-stuffed squash blossoms and fresh nettle pappardelle. The cheese and dairy chapter has garlicky bagna cauda dip and yogurt panna cotta with strawberry-rhubarb sauce. Fish extends "Beyond Clam Chowder" with razor clam po' boys and spaghetti with Albacore ragù.
The recipes represent, she said, "everyone's spin," including her own. She approaches wine as food in a bottle. Albariño is used to poach shrimp in a shrimp-and-white bean salad, Tempranillo syrup is drizzled on grilled quail and beef short ribs are braised in Cabernet Sauvignon. She also presents fruits outside the baking world with recipes for cherry-basil bruschetta, watermelon panzanella and strawberry risotto.
It took Gartland almost a year to find, sample, select, test and retest the recipes in her book. And she even had a head start. She worked for Marché Restaurant in Eugene while earning a bachelor's in journalism at the University of Oregon. Since she moved from Seattle to Portland in 2006, her food stories have appeared in MIX, Saveur and Tasting Table.
Along her culinary journey, she has encountered surprises, including a Dagoba organic chocolate and Dungeness crab bisque created by David Briggs, a Portland chocolatier who doesn't have a sweet tooth but a craving for savory infusions.
Throughout the book, you can feel Gartland's enthusiasm for her adopted state. Her introduction begins: "I fell in love with Oregon at a farmers' market." And with the help of this book, so will everyone else, perhaps while indulging in lavender-honey crème brûlée, tomatillo-green apple sorbet or a heaping scoop of stout ice cream.
The book is part of Storey Publishing's "Dishing Up" series and will be released in November. Pre-orders can be placed with Amazon or, in keeping with the buy-local spirit, Gartland encourages supporting area bookstores.
Janet Eastman is a former Los Angeles Times staff writer who has reviewed books for 30 years. She now covers wine and food in Oregon for various publications and websites.