Jonesin' for Some Cheese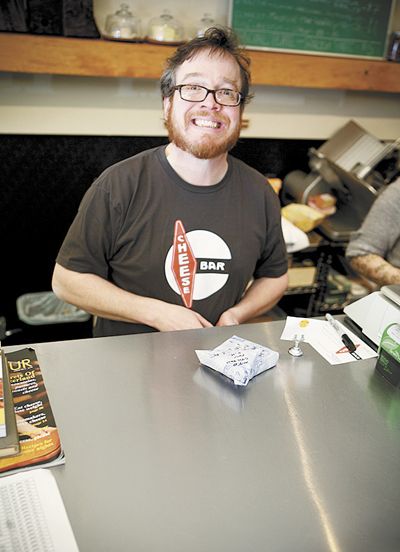 By Christine Hyatt
For a cheese lover, the make-it-or-break-it secret weapon in any cheese experience is a skilled cheesemonger, the hallowed title bestowed on specialists who buy and sell it. They set the stage for your enjoyment: sourcing, cutting, wrapping, pairing and waxing poetic about hundreds of cheeses, connecting you with the perfect cheese at its ideal stage of ripeness.
I recently caught up with Portland cheesemonger extraordinaire Steve Jones at his café, Cheese Bar (6031 S.E. Belmont), located in the shadow of Mt. Tabor, where this self-described "cheese geek" shared his passion for the cultured curd.
For five years, his previous venture, the eponymous Steve's Cheese, was a foodie mecca in trendy Northwest Portland. In early 2009, Jones took a leap of faith, making good on a longtime dream with the launch of Cheese Bar.
The cozy and unpretentious neighborhood café includes all the cheeses, cured meats and accompaniments that lured customers to Steve's Cheese, alongside some stellar upgrades. The open floor plan includes seating ideal for lingering over cheese plates and sandwiches. To whet your whistle, there are more than six beers on tap, 50 in bottle, select food-friendly wines and even a few local "soft" drinks that pair well with cheese.
"It's been a good move," Jones said. "We're in a real neighborhood here, and we've developed a loyal clientele who come in often. We also have a very devoted following from our old location that regularly visits us over here."
It's a good thing, not just for the neighborhood foodies, but also for the producers who have come to rely on Jones' passion and expertise to raise awareness and build sales of their unique creations. It has also opened doors for new cheesemakers in this emerging industry.
"I like working with the smallest producers I can," he said. "That's our main focus. I'm 15 years into the cheese business, and now often a producer will recommend a friend or a neighbor. That's my favorite way to find a new product, something that another cheesemaker or artisan is excited about."
It hasn't always been that way. "When I started, there weren't that many American cheeses," Jones noted. "You had to work hard, and, often, you'd find some pretty mediocre cheese, but you had to buy it to put something in the case."
Luckily, times have changed for the better. To illustrate this, Jones is quick to point to his evolving product mix.
"Five years ago, when I opened Steve's Cheese, we were only 25 percent American," he said. "Over the years, the quality and availability has gotten better and better, to the point where now 50 percent of our case is American, and we definitely wouldn't be against filling the case with American Artisan cheeses."
Connecting with the small, local producer is not just a phrase. Cheese Bar boasts more than 200 cheeses on any given day, with about a quarter of those sourced from greater Northwest producers, something Jones is particularly excited about.
"I think we're positioned where, in 10 to 15 years, we could be the pre-eminent cheesemakers in the country," he said. "We have more green grass for longer periods of time. We've got a really tight community of cheesemakers that are inclusive rather than exclusive. I think our Oregon Cheese Guild is young and strong and vibrant. Cheesemakers are connecting, sharing expertise, making it so much easier to be better."
Stellar Northwest cheesemakers aren't the only ones to celebrate in the Oregon cheese scene. In early July, Jones represented the Northwest at the Cheesemonger Invitational in New York. Forty cheesemongers from the U.S. and as far away as Australia and Ireland competed in challenges designed to show off their cheese chops.
The challenge began with a taste test of six mystery cheeses. Only 25 mongers made it to the second round, which focused on precision cheese cutting and wrapping. Mongers had to cut and wrap two quarter-pound pieces in a timed round.
Ten contestants were left standing for the final round, in which each created an "ultimately profound" pairing. Mongers were allowed to bring one cheese-friendly pairing to accompany one of the available cheeses.
Steve brought bacon caramel corn from Xocolatl de David, wowing the judges and emerging victorious at the end of the evening.
"In the first round, I had no idea if I'd make it through," Jones said. "I had hoped for top 10, and I would have been more than happy with that. It still seems really surreal."
If you're lucky enough to live in Portland or just happen to be passing through, make the time to visit with Jones and his team at Cheese Bar. Your culinary horizons will be expanded with some unforgettable pairings.
BUSINESS INFO
CHEESE BAR
Address: 6031 SE Belmont St., Portland
Hours: 11 a.m. to 11 p.m., Tues.–Sun.
Phone: 503-222-6014
Website: www.cheese-bar.com
Click here for results from the 2011 American Cheese Society judging & competition.