Dining Like a King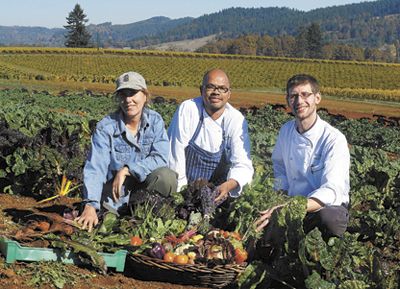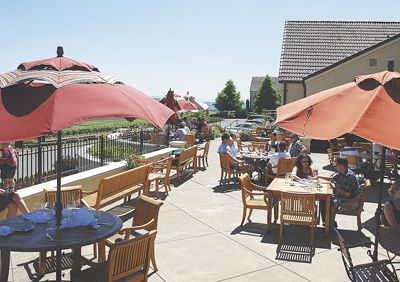 By Karl Klooster
When, in the late 1980s, aircraft radio tycoon Ed King Jr. joined son Ed King III in laying plans for a new winery just south of Eugene, they didn't go halfway on anything. King Estate was then and remains today the largest winery in Oregon.
A dominant, hilltop setting was secured near the town of Lorane. On it was constructed a stunning, Tuscan-style structure. Superbly situated estate vineyards surrounded it. A nursery of unprecedented size and scope was created nearby.
Interior design and layout. Quality of materials and equipment. Attention to detail. All were "first cabin." And, since fine wine and gourmet food are as one, the food aspect was given equally deliberate consideration.
The Kings devised a strategy based on setting a new standard for Oregon Pinot Gris, dominating the category and taking it nationwide. Adopting an equally aggressive stance in regard to Pinot Noir, they set out to emphasize the food friendliness of both wines.
Rising star Stephanie Pearl Kimmel was recruited as the winery's culinary director. Focused on pairings with both Pinot Gris and Noir, she soon began developing innovative dishes from a state-of-the-art commercial kitchen installed on site.
Succulent hors d'oeuvres and other small tastes were served to visitors. Attendees raved about elaborate private dinners. As an outgrowth, Kimmel compiled and edited the "King Estate Pinot Gris Cookbook," published in 1995.
Following closely on its heels was The New American Pinot Noir Cookbook. With inspiration from the characteristics of the respective wines, the books featured original recipes from some of America's most celebrated chefs.
Among them were such luminaries as Alice Waters of Chez Panisse in Berkeley, Charlie Trotter of Charlie Trotter's in Chicago, Greg Higgins of Higgins in Portland, Michel Richard of Citrus in Los Angeles and Roy Yamaguchi of Roy's Restaurants, which span the Pacific.
Videotaped sessions of chefs preparing wine and food pairing recipes were produced and aired on Oregon Public Broadcasting, bringing further acclaim.
Kimmel ultimately left the winery to devote full time to her Marché restaurant, which redefined fine dining in Eugene. But during her tenure, the Kings realized that, despite being off the beaten track, they had considerably underestimated visitor potential.
Call it the cachet of the castle on the hill, the wine in the cask, the cuisine on small plates, the cookbooks in bookstores or all of them combined, the reputation of King Estate was rapidly growing, both in and out of Oregon.
A tiny tasting bar in the North Tower, supplemented by a small private dining room, weren't going to cut it. The winery needed to expand its capability to meet, greet and accommodate a wine-interested public.
Returning once again to the drawing table, the Kings decided to put all hospitality under the roof of a brand new building. It would house a visitors' center featuring a full service restaurant and a grand tasting room that could also serve as a reception hall.
Like their earlier decision to create Oregon's most elegant and imposing winery, this one was also designed as a showplace. Other wineries had commercial kitchens, often hosting elaborate private events, but none had ever considered actually opening a restaurant.
In 2005, what is simply called The Restaurant at King Estate opened its doors. It was initially managed by Deanne Hall of Eugene City Bakery, but a little over a year later, executive chef duties were assumed by Michael Landsberg.
Landsberg, a 1988 graduate of the Culinary Institute of America, boasts a lengthy and distinguished résumé. After completing his intensive, hands-on training at CIA, he went to Europe, where he served stints at four Michelin-rated restaurants, including the luminary, three-star Au Crocodile in Strasbourg, France.
Returning stateside, he further developed his skills at top restaurants in New York, San Francisco and Los Angeles. Along the way, he spent a year as an instructor at the California School of Culinary Arts and four years as executive chef at Inn of the Seventh Ray in Malibu.
In 2004, he accepted the position of chef de cuisine at Kimmel's Marché restaurant, and the Kimmel/King Estate connection soon came into play. When he moved to the winery job, he knew the estate's 30 acres of organic gardens and orchards would be at his disposal.
Using seasonal, organic ingredients whenever possible, Landsberg leads King Estate's culinary team in pairing a broad-based menu featuring creative takes on continental entrées with a diverse portfolio of wines from the winery's four proprietary brands.
Though most of the wines originated with grapes grown on the winery's 1,000 acres of estate vineyards, some do not, which actually broadens the offerings.
Among the Domaine, Signature, Acrobat, NEXT and NXNW brands, you can select from Pinot Noir, Pinot Gris, Chardonnay, Cabernet Sauvignon and Riesling. Additionally, the restaurant offers library wines dating from the early 1990s.
This being a winery restaurant, waiters undergo rigorous training in wine education, presentation and service, more akin to what would be expected of wine stewards or sommeliers rather than wait staff, even at upmarket dining establishments.
The restaurant is open seven days a week. During the busy summer season, a staff of 100 is needed to keep things running smoothly.
The best part is the competitive pricing for such a delectable dining experience.
The filet mignon is the most expensive entrée at $32. Most are in the mid $20s. Appetizers, served all day, range from $7 to $14. Main courses at lunch run $10 to $14, and Saturday and Sunday brunch $10 to $13.
A very active and supportive member of the community, King Estate has been the title sponsor of Lane County's annual Chefs' Night Out fundraiser the past three years. The event is held in April at the Hult Center in downtown Eugene.
Each January, King Estate's Crab Fest showcases the winery's Pinot Gris, accompanied by an all-you-can-eat buffet of steamed Dungeness at the height of the season.
The winery's own annual event has already established itself as a local tradition. Last year's seven crab fest seatings attracted more than 600 crustacean-hungry, Gris-thirsty attendees.
As for King Estate's situation in the marketplace, according to marketing Director Sasha Kadey, the winery's total sales increased by 11 percent in 2009 and by 37 percent in 2010, despite the recession.
"Our efforts to achieve national distribution have paid off," he said. "We're very pleased."
That also means those 100 people who work for The Restaurant at King Estate can continue serving eager patrons coming from Oregon and well beyond to enjoy a gourmet dining experience.
With Landsberg in the back of the house, and restaurant manager Austin Kumm in the front, they won't be disappointed. All things considered, it's a good bet this establishment would make its mark anywhere.
WINERY INFO
King Estate Visitor Center & Restaurant
Address: 80854 Territorial Rd., Eugene
Hours: Daily, 11 a.m. to 9 p.m.
Phone: 541-942-9874
Website: www.kingestate.com