WACO's Crazy for Wine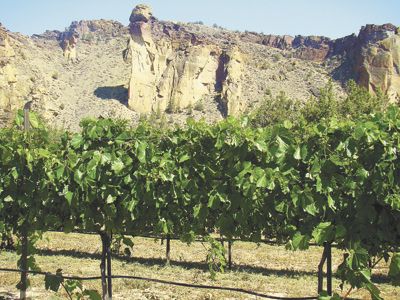 By John Gottberg Anderson
They call themselves "WACO," and pronounce it "wacko." But that doesn't mean members of the Winegrowers Association of Central Oregon consider themselves any crazier than other Oregon grape farmers.
"I honestly believe there is a future here for wine," said WACO vice president Kerry Damon, of Terrebonne's Ranch at the Canyons.
Four principal growers, including his own Monkey Face Vineyards, have established vineyards, said Damon. Adding several other producers with an acre or less devoted to grapes, the total winegrape acreage in Central Oregon totals nearly 30 acres. "It's a start, and it's come quickly," he said.
Many of those who attended the first WACO meeting in Redmond in 2007 were Deschutes and Jefferson county landowners who simply "wanted to know their options," Damon said. "They had five or 10 acres available, and they wanted to see if they should consider grapes."
Doug Maragas of Maragas Winery, Cindy Grossman of Faith Hope & Charity Vineyards, and he were among the early leaders in the organization, Damon said. "We formalized a mission to elevate the growing of grapes and the production of wines to a world-class level of still and sparkling wines," he said.
Given the unique growing conditions of the high desert climate, that hasn't always been easy. "The creation of our own AVA is still quite a way away," Damon admitted.
On Aug. 11, several leaders in the Oregon wine industry visited WACO and presented a workshop to about 30 men and women at the Ranch at the Canyons.
Chris Lake, director of the Southern Oregon Wine Institute at Umpqua Community College, encouraged growers to consider hybrid grapes rather than vinifera, despite the modest success that Maragas has achieved with the latter.
"Hybrids ripen better and are subject to less disease," he said. "They are generally more cold-tolerant. And growers in Minnesota, New York and Ontario have demonstrated that a rich hybrid wine is better than an unripe vinifera."
Hybrid grapes such as Frontenac, La Crescent, St. Croix, Vignole, Marechal Foch and Marquette are showing well in climates such as Central Oregon. Here, he said, the growing season extends only between 88 and 100 days, and precipitation ranges between 8 and 12 inches a year.
"Temperature is the key ingredient to successful cool-climate wine growing," Lake said. "The challenge is in getting the fruit and wood fully mature. How can you warm the grapes as much as possible? How can you shorten the vegetative cycle for earlier harvest?"
Microbiologist James Osborne, an enology specialist with the Oregon State University Extension Service and the Oregon Wine Research Institute, addressed the unique challenges of making high quality wines with hybrid grapes.
Hybrids, said Osborne, tend to have more pronounced color but lower tannin levels than vinifera. Decreasing skin contact can help with the former issue, he said, while the use of oak barrels adding enological tannins can assist with the latter.
Sugar and acid levels also must be monitored and adjusted, he said.
"You can make great wines with hybrid grapes," Osborne said, "but you must tailor your grape-growing and winemaking approach to specific grapes. The wines should reflect the varietal."
Damon said that his vineyard, located directly across the Crooked River from Smith Rock State Park and its prominent "Monkey Face" rock formation, is growing seven different hybrid wine grapes, both whites and reds.
Educated in enology at the University of California-Davis, Damon worked at the Anderson Valley's Navarro Vineyard and Healdsburg's Christopher Creek Winery before moving to Central Oregon and joining Ranch at the Canyons in 2004.
"People said you had to be a little 'wacko' to be able to grow wine grapes in Central Oregon," he recalled. "I think we're proving them wrong."
John Gottberg Anderson writes about restaurants and travel for The Bulletin, Bend's daily newspaper. Raised in Eugene, he returned to Oregon five years ago after three decades of chasing grapes around the world.