Volz Knows His Vino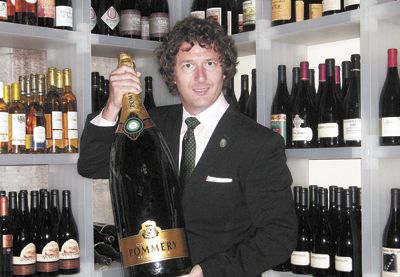 By Jennifer Cossey
Robert Volz is Oregon's newest Advanced Level Sommelier, as certified through the prestigious international organization The Court of Master Sommeliers.
No one can doubt that Volz has taken great strides in his career by passing this extremely difficult exam. But Volz is not done learning, or testing. He hopes eventually to earn the title of Master Sommelier, of which there are only 180 who have passed the exam worldwide, 112 of whom are in North America.
Volz, one of only 372 people ever to have passed the Advanced Exam, is the owner of Pour Wine Bar & Bistro in Portland. Pour is dedicated to the promotion of quality wines, especially those from smaller, family-owned producers in the Northwest, focusing on single-varietal wines and classic blends, such as those from the Rhone Valley and Bordeaux.
Volz, 43, was born and raised in Bremerton, Wash., and moved to Oregon at the age of 18. While studying at the University of Oregon, he put himself through college working in restaurants, doing everything from busser to server to chef.
With a degree in journalism and an emphasis in public relations, Volz moved to Bend to work/ski at Mt Bachelor. "Problem is that snow does melt, and jobs do end." From there he moved to Portland, where he started writing for the Portland Tribune and The Oregonian, focusing on food and restaurants. Eventually seeking a new challenge, he opened Pour.
Curious about wine from an early age as a back-of-house (think cook and dishwasher) employee, he decided to try his hand at front-of-house (think server or busser) work, in part, to learn more about wine.
"I decided to ask the boss if I could work front-of-house a few days a week. I had the following reasons: They got to taste wine, they dressed sharp, they didn't leave each night with scalded hands and hair smelling like fryer oil, they had money in their pockets from tips each night and they got to meet girls."
It turns out he had a knack for all, becoming one of the restaurant's better waiters, using his detailed knowledge of the food to better describe the plates to guests.
As with most wine professionals, Volz had "the moment" where he tasted a wine, his head spun around with excitement, and he finally understood what had everyone so fired-up.
"[One day,] David Lett from The Eyrie Vineyards came in showing off his Pinot Gris and Pinot Noir. At the time, Chardonnay was all the rage. I hated it. Pinot Gris was a revelation. Apple, pear, almond blossoms, a slight bitter quality," Volz said. "Then I tasted the Pinot Noir. It was a 1989. Cherry notes, all kinds of cherries, Bing, Rainier, Black Republican plus a little Marionberry, all balanced with a little mushroom/earthiness. OK, I liked wine."
While Volz loves his Oregon wines, he also has other favorites. Among them, bone-dry Rieslings from the Mosel in Germany and the Clare Valley in South Australia and, loyal to his home state, he is also thrilled with what is coming out of Washington, "They are blessed with perfect weather and an amazing soil, which allows for ungrafted vines."
The Advanced Level exam is a grueling three-day test.
Part One: Theory. A written test of overall wine knowledge consisting of regions, service standards, vineyard classifications, winemaking technique and soil types, to name a few.
Part Two: Service. Students are put through a series of practical service experiences and are tested not only on their ability to successfully complete these tasks but also their capacity to answer questions at the same time on subjects such as cocktails ingredients, beer, styles of sake, vintage qualities and producers from around the world.
Part Three: Blind Tasting. Test takers are given 24 minutes to taste through six wines, establishing the varietal, country, region, sub-region, vintage and quality.
Pass all three parts and you are an Advanced Level Sommelier. Pass only one or two, and you have to start over again next year. Needless to say, it is an exacting test and requires more then a little study and dedication. Volz himself had taken the exam three times previously.
While no one can take the test for you, having people to help you along the way is crucial. "I am thankful for Shayn Bjornholm, Master Sommelier, for offering tasting classes/discussions through the Guild of Sommeliers in Washington, as well as Rob Ord, a Vinum wine rep and educator for taking the time to coach me through tastings."
So how does one study for a test like this?
"I would rise at 5 a.m., study until noon, head to Pour to do prep work, clean and shop for the bar and then hit the books from 2 p.m. until the first customers arrived around 4:30," Volz said. "If I had enough energy, I would stay there after work and study some more."
Volz has proven through hard work, perseverance and dedication anything can be accomplished. The money, time and sacrifice it takes to pass such a test is staggering and those who are current or future fans of Pour will surely be all the better for Volz's diligence.
He has several goals for his Portland establishment and seems to have a good handle on the one first on his list, "learn as much about wine as I can, so I can serve my customers with the knowledge and proper service they deserve."