Terminus Now on Tap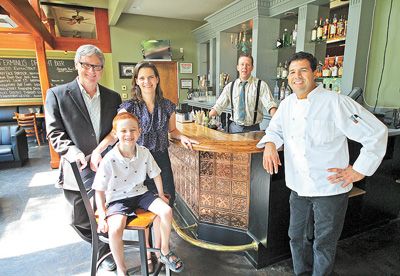 By Nancy Raskauskas
A stroll past new restaurant Terminus on a recent evening finds the back patio packed with diners enjoying dinner and a sweeping view of the Willamette River.
A local couple, Matthew and Katherine Otten, are the owners behind the new establishment, which they describe as an "upscale public house" with "Pacific Northwest and Mediterranean influences" on the menu.
The couple has a wealth of experience in the downtown restaurant scene. He's worked at Solstice Cafe, Block 15, Strega, Terzo and Aqua. She's worked for Luc since it opened last year.
Now, they are focusing all their energy on Terminus. The name, a Latin word, literally means boundary stone and can also be translated as "end of the road."
It's fitting for the restaurant at 603 N.W. Second St. It resides in the historic Corvallis train depot that now sits on the edge of downtown and next to the Willamette River at Michael's Landing.
The Ottens have updated the decor since the last tenant with freshly varnished wood, a coat of paint in greens and grays, tin accents under the bar and new black upholstery in all the booths. The long dining areas retain a bit of a train station feel.
The soft opening was two weeks ago, and business has been picking up ever since.
Terminus' lunch menu ranges in price from a $5 cup of fresh soup to $16 summer herb grilled chicken.
Other available lunch entrées include pommes frites, organic salad, sauteed calamari steak, roasted portabella mushrooms, meat and vegetarian pasties, house pizza, burgers, artichoke ravioli and grilled wild salmon.
The dinner menu ranges from $10 to $27 and adds entrées such as potato mushroom Napoleon, lamb osso buco, pan-seared fillet of halibut and filet mignon.
Desserts include crème brûlée, Queen of Sheba cake and cobbler.
Yes, there is a kids' menu.
On Friday, Executive Chef Hamid Serdani said this is just a starting point, and he plans to highlight seasonal ingredients throughout the year.
Serdani worked as a chef and cooking instructor in Cape Town, South Africa, before moving to the United States eight years ago.
He worked for Three Rivers Grill in Hood River for several years before moving to Corvallis to become the chef at Le Bistro. In recent years, he has worked as a private chef — doing supper clubs and cooking demonstrations.
Well-known local bartender Chris Churilla will work full time at Terminus. He oversees a drinks list of a dozen classic and contemporary cocktails, ranging in price from $6.50 to $8, eight beers on tap, and 17 wine selections.
Terminus follows quickly on the heels of Riverfront Restaurant, which opened in the summer of 2010 and closed on June 13, after an 11-month run. Before that, generations of Corvallis locals knew the location as for its longtime tenant, the upscale Michael's Landing.
Story courtesy of Nancy Raskauskas of the Corvallis Gazette Times (Aug. 1, 2011).