Incredible Edibles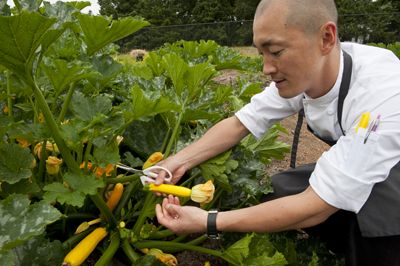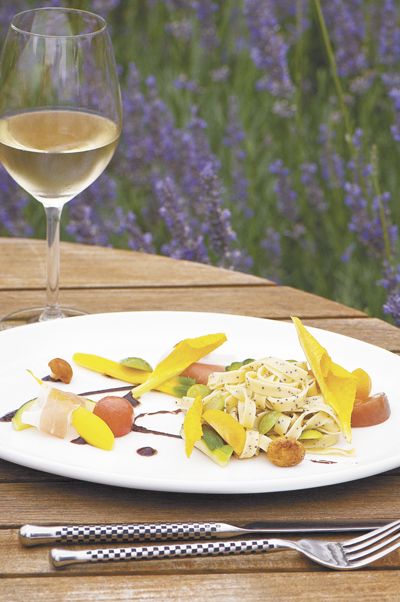 By Kerry Newberry
Sunny Jin, the executive chef for JORY Restaurant at The Allison in Newberg, steps into the middle of his one-acre sun-drenched kitchen garden just outside the restaurant. Jin's classic white chef jacket is a crisp contrast to the profusion of exuberant green rows he tiptoes among. Vibrant vegetable tops splash across the soil in meticulously straight lines. Herbs, fruits and flowers mingle around handwritten signs for wild garden kale, Easter egg radishes, buttercrunch lettuce and petite rapini leaves.
JORY's chef first began using flowers frequently while living in Napa Valley. "I would walk to work every morning and would literally stop to smell the roses," he said.
Eager to experiment, he wondered what varieties were edible and which might just give you hives (side note: always confirm a flower is, indeed, an edible). "After some research and field analysis — eating the neighbor's lawn ornamentals — I grew to appreciate their culinary appeal," Jin said.
The chef cultivates an abundant range of edible flowers in his kitchen garden, harvesting herb flowers such as purple chive florets, lavender-pink thyme, basil and aromatic white oregano blossoms. "We utilize vegetable blossoms like cucumber, pea, broccolini, radish and squash; and, of course, the more mainstream varieties like chamomile, borage, poppy, marigold and chrysanthemum."
In the summer garden, jewel-toned nasturtiums burst boisterously near the lemon-colored squash blossoms. "I absolutely love nasturtium," Jin said. Known as a gardeners' dream, the striking blossoms are a picturesque top to plate and sweet and peppery to taste. "The spicy quality is a little accent on the palate."
Some of the most common edible flowers, nasturtiums are also some of the most beautiful, ranging from trailing to upright, and blooming in glorious sunset colors. "Empress of India" is a scarlet-hued blossom with dark blue-green leaves; early-blooming "Whirlybird" dazzles with buttery yellow and burnt orange tones, and old heirloom "Alaska" not only displays a medley of colors, buy also has variegated white and cream leaves.
The tangy flavor and spark of color lend versatility in the kitchen. Nasturtiums are not only a beautiful accent to green salads or a novelty pizza topping, they can be minced and incorporated into butters and white cheeses, and used to flavor oils, dressings and vinegars.
Recently, Jin added the flowers to an endive salad with beets, roasted hazelnuts and an apple purée. "Whether we chose to admire them for their aesthetics, or add them to an entrée, the flowers add elegance to any plate," he said.
David Padberg, chef de cuisine at Park Kitchen, also plates flowers to enhance a dish and enliven the senses. "My interest in flowers goes back to my grandmother, and a passion for gardening," he said. As a child, he loved his grandparents' garden and watching the life cycles of plants.
As Padberg pursued his culinary career, he was inspired to incorporate edible flowers into his cuisine as an extension of seasonality. "Sometimes, roasting lamb with lavender and hay can be a great way of celebrating a specific time, or using rosemary blossoms at the beginning of spring," he said.
When roses are in full bloom, he finds their scent a wonderful accompaniment to summer berry dishes. "Most of my flower uses are about aroma," he added. In other instances, their use is about color.
Hibiscus is a great flower for infusing a deep red into dishes, Padberg explains. The cranberry-like petals with citrus overtones also add vibrancy to salads or simply as a garnish. The chef suggests nasturtium and the brilliant yellow and orange calendula petals as a perfect match to dishes with carrots or apricots.
Calendula, also know as pot marigold, was a popular edible flower as far back as the Roman Empire. The easy-to-grow perennial herb is very versatile in the kitchen, with flavors ranging from slightly tangy to peppery, and spicy to bitter. The petals add rich, warm burnt orange hues, evoking a harvest moon.
"I used them for a recent farm dinner on an entrée of rabbit ballotine with peas and carrots, and people loved the color motif," Padberg said. He uses the same idea in a current menu item of smoked goat with apricot mole and kohlrabi pico de gallo. "The apricots and calendula imitate each other.
"The flavor of flowers is usually bittersweet, if not entirely bitter," Padberg said. One example is the wild and nutritious yellow petals of a dandelion. He learned a technique from Japanese master chef Hisao Nakahigashi to integrate the biting tones. The master chef made chicory salads with boar and dandelions as accent. "The bitter greens need to be mellowed with rich fats or sweetness," Padberg explained.
A more delicate flavor Padberg uses in the kitchen is star-shaped periwinkle-blue borage blooms. The annual herb blossoms and imparts a hint of cucumber, which is fitting because they are harvested in the same season as the summer gourd.
"I almost always pair them together, either garnishing a chilled cucumber soup with borage, or my current salad of cherries, cucumber, farro and goat's milk feta."
Gregory Denton, executive chef of Metrovino in Portland, accents his fare with edible flowers throughout the year, using fresh flowers in the spring, summer and fall months and dried flowers, specifically hibiscus flowers, during the winter.
"Besides the obvious beauty edible flowers bring to a plate, each flower that we use has a specific purpose on the dish we are serving it with," he said. "If we are serving a pea salad, we would serve the pea, the tendril and the flower, so that the customer can eat the evolution of the pea."
The grilled Cattail Creek lamb shoulder salad on the menu has Asian flavors, including onion and chive, so the chef embellishes with the sweet-smelling onion blossoms that Patrick Thiel of Prairie Creek Farm provides to the restaurant.
"We call them 'little dynamites' because that sweet smell contains some heavy weight flavor."
Kerry Newberry is a Pinot-sipping, vineyard-hopping wine and food writer. She resides in Portland.
For cooking inspiration, try out the recipes from local and innovative chefs creating artful culinary delights with incredible edibles.
For Flower-Powered Palate-Pleasing recipes, click here.