IPNC Celebrates 25 Years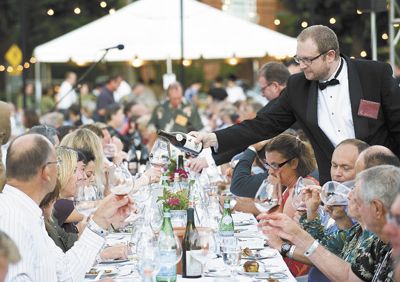 By Karl Klooster
The warm, sunny weather winegrowers have been yearning for finally arrived just in time for the recent 25th annual International Pinot Noir Celebration in McMinnville.
Saying the "weekend," however, doesn't quite do justice to a nearly nonstop agenda that began July 29 and didn't wrap up until late afternoon, July 31.
It's no exaggeration to say Pinot Noir took center stage the entire time. It's been that way since 1987, when a still youthful industry started its ascent to worldwide prominence by staging the very first IPNC on the campus of Linfield College.
Though both wineries and attendees were fewer in number back then, the fundamental concept has remained essentially the same. It has undergone refinement in content and execution but no fundamental change.
The formula is simple: Expose people to outstanding examples of one of the world's great wines, put those wines in the context of complementary cuisine and conduct tours of Yamhill Valley wine country, Oregon's preeminent Pinot Noir growing region.
As much as IPNC showcases Oregon Pinot, it also goes to some lengths to share the limelight with Pinots from other states and nations, thus well deserving its "international" name and reputation.
For the 2011 celebration, 76 wineries presented their wares, 35 from Oregon, 17 from California, 14 from France, four from New Zealand, two from Canada and one each from Washington, Australia, Austria and Chile.
Attendees, many of whom put the IPNC on their calendars a year ago, arrived at Linfield's Riley Hall Thursday afternoon to register. Though event activities didn't begin until Friday morning, some had Thursday evening prominently marked as well.
Event veterans, as well as those tipped by people in the know, had secured seats for one of 27 pre-IPNC dinners hosted by area wineries. Over the years, these nearly always sold out wine and dine warm-ups have become almost as heralded as the culinary main events.
The official dining portion of IPNC consisted of seven meals. Wine was optional only at breakfast.
The dining was supplemented with one formal tasting, two casual tastings and a vineyard tour divided over two days in order to accommodate all 800 attendees.
Winery owner tour guides took their guests to several sites across the valley, offering an innovative cross-section of experiences. One group, led by Doug Tunnell of Ribbon Ridge's Brick House Vineyards, wound up at Cristom in the southern Eola Hills.
Friday evening's La Grande Fête, dubbed "Côte d'Or meets Côte d'Oregon," topped IPNC's culinary hit parade. Created and orchestrated by nine stellar chefs, it, like all the IPNC meals, was served al fresco.
Leif Benson, longtime executive chef at Timberline Lodge, and Jason Stoller Smith, his successor, led the list. They were joined by Philippe Boulot and Phil Oswalt of the Multnomah Athletic Club, Michael Stanton of The Heathman, Vitaly Paley of Paley's Place, Ben Bettinger of Beaker & Flask, Robert Reynolds of Chef's Studio and John Taboada of Navarre.
Held on Linfield's spacious intramural field, the evening featured Burgundian-inspired Northwest cuisine. Proceeds from an auction of rare, large format Oregon Pinot Noirs went to benefit the IPNC Endowment.
On Saturday evening, the colorful Northwest Salmon Bake filled Linfield's Oak Grove with a fun crowd of fish-eating pinot sippers. Where else but in the Pacific Northwest generally, and Oregon particularly, could such a pairing be more appropriate?
Sunday's Sparkling Brunch concluded IPNC's agenda for full-ticket participants, just in time for the several hundred who descended on the Oak Grove for the Passport to Pinot.
This Sunday afternoon offered the opportunity to taste all 76 featured wines, and meet their makers, is adjunct to the annual celebration.
It came about through popular demand. After all, many avid Pinot lovers aren't able to devote three full days even if they could afford it.
The passport event routinely sells out, and IPNC's silver-studded 25th was no exception.
Oregon's premiere wine celebration was once again outstanding. These folks really have their act down pat.