Check, Please!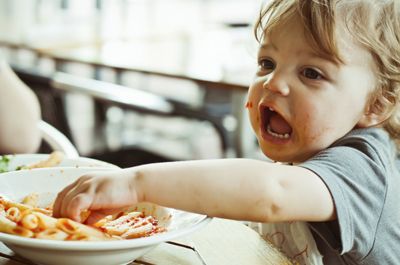 By Hilary Berg, OWP Editor
Going out to eat with a toddler can be a recipe for disaster
In this, OWP's Restaurant and Food Issue, I'd like to think back to when eating out was a pleasure.
My husband and I used to dine out all the time, but since my son has hit the toddler stage, we've traded white tablecloths for color-me-in placemats.
Even then, when we frequent "family-friendly" establishments, we begin every meal the same: apologizing to the wait staff for the chaos about to ensue.
First, there's the highchair. My son, Theo, would prefer not to sit in one. If he could talk, he would say — and by "say," I mean scream — "Get me out of here! How am I supposed to be able to explore the place if you have me strapped in? Come on!"
Second, there's the question of what to order for him from the menu. When he was 6 months old, he devoured pureed green beans. I was so excited. I thought for sure he was going to be a good eater.
Wrong. Nowadays, it's all chicken nuggets — seriously, those little things are like the fast food equivalent to crack for kids.
When we finally find something that he will actually eat, he will take his hands and smear it around the table. Then, if the nearby tables are "lucky," he will throw the food, putting on a fantastic show.
And with determined effort, he will try to grab all the dangerous "no-no's" on the table — knives, forks, wine glasses, water glasses, piping hot food from our plates.
You get the picture. Going out to eat with a toddler is a fiasco.
But, it doesn't have to be. We could get a baby sitter. In fact, we recently promised each other to give ourselves "date nights" at least twice a month.
How great to choose whatever restaurant we want and maybe even sit at the bar if the tables are full — ahh, simple pleasures. Since we won't be in a rush, we can enjoy a multi-course meal and most definitely order a bottle of wine, Oregon made, of course.
Whenever I see a wine list with a lot of local choices, I get excited and you should, too.
In recognition and gratitude, OWP — along with the Oregon Wine Board — honors those establishments with our Superior Cellar Awards (page 26).
Next time you make plans to dine out, check our list of restaurants. If your favorite isn't on our list, ask its manager or wine steward that more Oregon selections be made available.
Simple enough, right? (If only dining with a toddler was this easy.)
Say "yes" to Oregon wine.
And just say "no" to chicken nuggets — and by "say," I mean scream.