Gluten-Free Devotee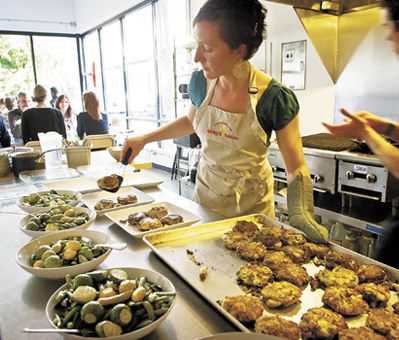 By Leah Jorgensen
In 2007, when I was first diagnosed with celiac disease, it was relatively challenging to find gluten-free menu options in Oregon restaurants that were both delicious and safe to eat. Fast-forward four years, there are now many establishments that cater to my diet restriction; the caveat, however, comes with cross-contamination in the kitchen.
Many people with gluten sensitivities are not necessarily in jeopardy when it comes to trace amounts; yet, those of us with celiac disease, an autoimmune disorder that affects the body's ability to break down gluten protein, are at risk whenever venturing to restaurants without dedicated gluten-free kitchens.
Luckily, such restaurants exist, with rapidly expanding menu options, increased availability of alternative ingredients and an improvement in kitchen precautions to better address the many diet restrictions and preferences of Oregon diners.
In Portland alone, there are numerous restaurants that fit the bill — from the sophisticated and long-served gluten-free menu at Andina, to the clever dishes available at the Buddha Bites food cart, to the almost entirely gluten-free menu at Corbett Fish House. Italian restaurants like Mamma Mia's and A Cena offer excellent gluten-free pastas, and there are several top-notch gluten-free pizza options now available at Hot Lips, Pizzicato, Dove Vivi, Mississippi Pizza and more.
One of the finest dedicated gluten-free kitchens in Portland is Abby's Table, with fresh food friendly to all types of eaters. Abby's hosts family-style dinners that feature Portland's local produce in a beautiful themed meal. Dinners are always 100-percent gluten-, dairy- and soy-free, with an omnivore and vegan option to please any palate.
Owner/chef Abby Fammartino has been cooking almost her entire life and has a passion for the nutritive and health-supportive qualities of foods. She attended the Natural Gourmet Institute of Food and Health in Manhattan. Fammartino is able to easily craft inventive and delicious allergy-friendly cuisine that everyone loves. A world traveler, she offers inventive twists on local and seasonal ingredients in her recipes.
I recently signed up for a Wednesday night dinner and decided to pair it with a selection of Oregon wines pulled from my personal cellar. At Abby's, it's B.Y.O.B. — beer or wine. This particular night's theme featured the Pacific Northwest, so choosing local wine was essential. Fammartino sent me the menu in advance so I could plan my pairings.
Here is what my friends and I devoured and drank that evening:
First Course: Shoot soup with sorrel cream, fava beans, peas, haricot verts, sunflower shoots and shallot buds.
Pairing: Sineann 2009 White Table Wine, Yamhill-Carlton.
The wine was floral and fresh with notes of white peach and apricots, and a hint of honey and orange blossom on the nose. The fruit and acidity of the wine opened up the palate to delicately accompany the herbs and white pepper present in the rich and summery soup.
Second Course: Cucumber, baby beet, carrot and radish salad with orange-bergamot mint and lemon-balm vinaigrette.
Pairing: J. Cristopher 2010 Cristo Irresisto Rosè, Columbia Gorge.
Fresh, crisp with biting acidity and hints of pink grapefruit, this refreshing, sweet-tart wine brought out the earthiness of the beets, carrots and radishes, and the herbaceous qualities of the vinaigrette.
Main Course: Local grilled chicken with strawberry-basil chutney served with baby zucchini, sugar snap peas and morel mushroom-fingerling potato fritters.
Pairing: ArborBrook Vineyards 2007 Estate Block 777 Pinot Noir, Chehalem Mountains.
I selected the 2007 because of its lean, Burgundian style with soft, elegant flavors of Asian plum, red fruits, tobacco and tea leaf, which embraced the strawberry-basil chutney and the robust side dishes.
Final Course: Rhubarb crisp with hazelnut crumble topping and a dollop of Dream Date (Abby's Table dipping sauce made of raw cashews, California dates, vanilla, coconut milk and sea salt).
Pairing: Kandarian Wine Cellars 2008 "Ice Box" Pinot Gris Dessert Wine.
This lighter-styled sweet wine was clean and bright with notes of honey and ripe apricots offering a pleasant contrast to the toasted, nutty kernel-grain flavors of the crisp and crumble and the creamy texture of the Dream Date.
Before dessert was served, I talked with some of my tablemates. I was curious about other gluten-free dieters' experiences when dining out.
"I'm usually asking the server so many questions, and I never know for sure if what I'm going to eat will be safe because of cross-contamination," said Laura Woolf, who was diagnosed with celiac disease in October. Woolf's husband, who has graciously taken on his wife's new food restriction, was so excited about Abby's Table that he bought a dinner package offered online.
After dessert, a woman sitting at my table stood up to address the sold-out dining room. "I am so grateful to share this amazing, nourishing food with you. I want to thank Chef Abby for opening up this special place and for feeding us so well."
At the end of the meal, Fammartino joined her dinner guests to thank everyone for being there and to discuss the food she prepared and how she acquired her ingredients. She trades her sauces for ingredients. There was no money exchanged for food in this night's meal; she bartered goods for goods with local farmers and food purveyors.
Abby's Table is not just about serving the gluten-free population. It is about great food that just happens to be gluten- and dairy-free with an unpretentious consciousness about nutrition, good health and well-being. It is equally matched with a hint of hedonism. While most of the patrons have diet restrictions, many do not.
Sous chef Eric Belanger said it best. "My chef friends often ask me, 'Why [do you choose] to cook this way?' They just don't get how great this food tastes."
Leah Jorgensen is a communications expert who has worked in the wine industry for over a decade. She consults for several wineries and writes about travel, wine and gluten-free living.
BUSINESS INFO
ABBY'S TABLE
Address: 609 S.E. Ankeny St., Portland
Hours: Wednesdays; 7 p.m. (family-style dinner: $24); Saturdays; 7 p.m. (dinner + cooking demonstration: $40)
Reservations: Required; make online
Website: www.abbys-table.com