Showcase Chardonnays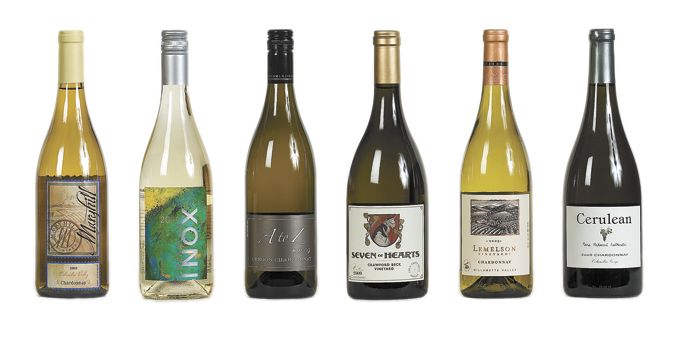 Maryhill 2009 Chardonnay, Columbia Valley • $9.95 (3,866 cases)
Bring me your big, your bold, your buttery — buttery in the senuous sense of temptingly toasty in the aroma, voluptuously full and rich in the mouthfeel and sensuously satisfying throughout the taste impression. And look at the price. So low we had to check it twice. Get to wherever they sell this stuff. Buy a bunch. Drink some now and stash the rest for a while.
Chehalem 2009 INOX Chardonnay, Willamette Valley • $17 (4,967 cases)
"Nicely balanced middleweight" aptly describes this stainless steel-fermented Chardonnay that has emerged as a consistent winner vintage after vintage. Sweet fruit accompanies tart acidity, round softness complements crisp freshness. The outcome is a ready-to-enjoy palate pleaser.
A to Z Wineworks 2009 Chardonnay, Oregon • $14 (9,367 cases)
Blend it, and they will come. You don't need to boast a high pedigree of place when the taste says, "drink me." Enticingly floral and piquantly grassy on the nose, velvety smooth and viscous in the mouth. The descriptor "apple butter" tells an interesting tale of both taste sensations — crisp and rich. Silky smooth and well balanced throughout.
Seven of Hearts 2009 Crawford Beck Vineyard Chardonnay, Eola-Amity • $24 (224 cases)
Such lush, suave flavors may be atypical of Chardonnay but are enjoyable nonetheless. Sweet spice entice in the expansive aroma leading to flavors of peach and orange offset by enough acidity to maintain balance. A delicious mouthful that makes one wonder what unusual coupling occurred between clone and soil.
Lemelson 2009 Chardonnay, Willamette Valley • $16 (185 cases)
When you can get butterscotch to overlay lively acidity, you've got a good thing. A wafting aroma of buttered popcorn and an apricot-dominated, stone-fruit flavor finish off the formula for a delightful drinker.
Cerulean 2009 Chardonnay, Columbia Gorge • $25 (200 cases)
Lots of tempting taste layered into a lean, clean framework. Green apple, stone fruit and melon all make themselves known as the wine plays over the palate. A hint of anise adds an ethereal touch to the finish.
The Oregon Wine Press tasting panel has selected the above wines based on overall quality and value within their respective categories. To the best of our knowledge, they are currently available in the retail marketplace. But a call to the winery or your favorite wine merchant will best determine where they may be purchased. The above wines have met the following criteria: produced by an Oregon winery; retail price up to $25 per 750 ml bottle for all still table wines except Pinot Noir, which can be up to $30, $25 per 375 ml bottle for dessert wines and $35 for 750 ml sparkling wines. Recommended wines were selected using a double-blind method and a 20-point ranking system for appearance, aroma, taste, balance and finish.