Dwelling on the Vines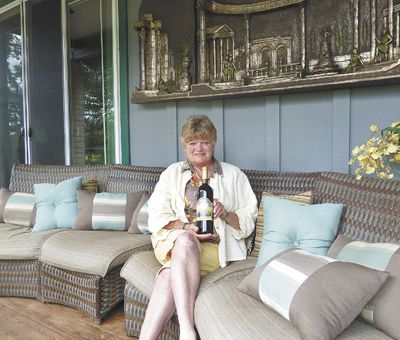 By Janet Eastman
Vicki Nickerson invites you to taste her estate Merlot while lounging on the elegantly furnished deck that wraps around her house. Lena Varner welcomes you to try her Sangiovese on her lushly landscaped backyard patio. And Laura Lotspeich extends her hospitality by serving her Cabernet on a terrace off her living room that frames views of vineyards and hills.
Can wine tasting get any homier than this?
More vineyard owners and small-lot producers are opening parts of their residences to sell their estate wine. But how do you discover these domestic tasting patios or decks, often hidden off country roads? Many don't have signs pointing the way. Most are too small to advertise.
To make it easier for wine explorers, eight boutique wineries along Highway 99 in the Rogue Valley have joined to spread the word that they are open for business.
Nickerson of Aurora Vines, Varner of Ledger David Cellars and Lotspeich of Trium Wines are part of the Bear Creek Boutique Wineries, a collection of home-based operations approved by the Oregon Liquor Control Commission to serve tastings and sell wine made from their grapes and bottled with their wineries' label.
Within a 15-minute drive of Ashland, there are two leisurely days' worth of wine tasting and talking with hands-on growers who sell much of their fruit to larger producers, but retain enough to make 500 to 3,000 cases a year.
Even though they share the warm, dry Bear Creek Valley, varying microclimates and elevations allow for even ripening of Merlot, Cabernet Franc, Tempranillo, Viognier and other varietals. New winery Ledger David is growing 11 varietals on three-year-old vines, including Chenin Blanc and Malvasia Bianca.
Donna Tenuta, whose Paschal/Tenuta Winery vineyard was first planted in 1990, is pleased to help newcomers. "It's always nice to send our tasting room visitors up the road to see and taste something else," Tenuta said. "Since we all live so close, it's in our vested interest to grow this area and it's beneficial for us to help the new people get exposure and help them grow bigger so they can then refer their visitors to us."
This October, the group is planning joint harvest celebrations in which the public will be invited. Where the parties take place will be as distinctive as the wines.
Of the Bear Creek Boutique Wineries, five - Grizzly Peak Winery, Paschal/Tenuta, Trium, Pebblestone Cellars and Weisinger's of Ashland - have well-established tasting rooms separate from the landowners' nearby homes.
The owners of Aurora and Ledger David can point to where their tasting room will be built on their property. And StoneRiver Vineyard is somewhere in between: Paul and Virginia Lange converted an existing fruit market into a tasting room near their vineyard.
Pat Ellis of Pebblestone says that before she and her husband Dick opened a freestanding tasting room on their Medford property last September, strangers would knock on their front door and ask if they were pouring samples.
Lotspeich says most people are respectful of the homeowners' privacy and appreciate when they are invited. The tasting experience offered in someone's living space, they find, is different from one at larger wineries with completely stand-alone businesses.
"In some ways, it's a step back in time when wineries were connected closely to the person doing all the work and making all the wine," Lotspeich said. "At the same time, it's a step forward to let more people experience sustainable farming and the lifestyle of raising our families where we farm."
Sometimes, however, visitors want to settle in and stay beyond closing time. "They say to me, 'You live here, so it's not like you have to lock up and go home,'" said Lotspeich, who graciously reminds them that, yes, she does.
Overall, however, she's happy with the idea of welcoming complete strangers to her home.
"It's both an affordable and reasonable way to provide tastings and to really share our vision and experience in the wine industry with the public," she said. "We live here, we get to see the view and enjoy the sunset, and we get to share this with others."
For more information about Bear Creek Boutique Wineries, visit www.bearcreekwineries.com.
BEAR CREEK BOUTIQUE WINERIES
ASHLAND
Grizzly Peak Winery
Wines crafted with Old World finesse in a hillside setting.
Address: 1600 E. Nevada St., Ashland
Hours: noon to 4 p.m, Thurs.–Sun.
Phone: 541-482-5700
Website: www.grizzlypeakwinery.com
Weisinger's of Ashland
The first vines were planted in 1978–1979. Wine, hospitality and views have kept visitors returning to this tasting room with a large deck.
Address: 3150 Siskiyou Blvd., Ashland
Hours: 11 a.m. to 5 p.m., daily, May–Oct.
Phone: 541-488-5989
Website: www.weisingers.com
MEDFORD
PEBBLESTONE CELLARS
The winery's 26-acre property is on an ancient riverbed of sandy, rocky soil. Estate-grown wines are Rhone and Bordeaux varietals.
Address: 1642 Camp Baker Rd., Medford
Hours: noon to 5 p.m., Thur.–Mon., May–Oct.
Phone: 541-512-1704
Website: www.pebblestonecellars.com
TALENT
AURORA VINES
Located on an 87-acre mountain estate, the tasting room offers Bordeaux-style Merlots.
Address: 2275 Pioneer Road, Talent
Hours: Appointment only (day in advance)
Phone: 541-535-5287
LEDGER DAVID CELLARS
This winery, in a century-old orchard, offers 11 varietals of estate wines.
Address: 925 Anderson Creek Rd., Talent
Hours: Opens 2012 (preview by appt.)
Phone: 541-512-1808
Website: www.ledgerdavid.com
PASCHAL/TENUTA WINERY
The Tuscan-like winery makes small-lot blends and estate Pinot Noir.
Address: 1122 Sun Crest Rd., Talent
Hours: noon to 7 p.m., daily, May–Oct.
Phone: 541-535-7957
Website: www.paschalwinery.com
TRIUM WINES
Pours of Bordeaux Growers Cuvée, Cab and Viognier are offered.
Address: 7112 Rapp Lane, Talent
Hours: 11 a.m. to 5:30 p.m., daily, April–Oct.
Phone: 541-535-4015
Website: www.triumwines.com
STONERIVER VINEYARD
On historic Brookbank Farms, Stone-River is one of Oregon's earliest registered farms.
Address: 2178 Pioneer Rd., Talent
Hours: noon to 5 p.m., Thurs.–Mon.
Phone: 541-535-4661
Website: www.stonerivervineyard.com