Parallel Production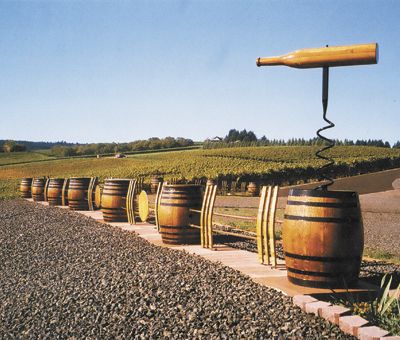 By Karl Klooster
When Herb and Eleanor Sims decided to buy some land in New Zealand's Central Otago region, it was with the idea they would have a warm, inviting place to go during winter in the Northern Hemisphere.
At the time, it didn't occur to them that this far away locale would create a synergistic connection shared today only by a handful of individuals and companies in the world.
The two met and married in the mid-1990s while working for the state-owned Saudi Arabian Oil Company. Both enjoyed the outdoors, so they coordinated vacation time and visited places that offered exceptional hiking opportunities.
One destination was New Zealand, where they were captivated by the natural beauty and charmed by some congenial Kiwi acquaintances. As a result, they wound up buying 10 hectares, approximately 25 acres, in the Gibbston Valley.
The property lies in the Central Otago region of South Island, which is developing a reputation for outstanding Pinot Noir.
Herb retired from his management position in 1999, but Eleanor, a Philippines native in the healthcare field, had more she wanted to accomplish. She gained admission to a residency program in the Yakima, so they made the move to Central Washington.
In 2002, Herb headed back to New Zealand to plant five of their acres in Pinot Noir.
"It was a good time to invest there," he said. "The U.S. dollar was strong against the New Zealand dollar."
After Eleanor completed her residency, she secured a position as a physician at the Virginia Garcia Memorial Health Center in McMinnville.
In 2003, Herb and Eleanor came across a 10-acre parcel on Worden Hill Road, in the heart of the Dundee Hills, 7.5 acres of which had been planted to Pinot Noir in 2000.
The property came with a house, so they settled in and began deciding how to manage their two-continent, two-hemisphere wine operation.
Their Dundee Hills property, featuring a southwest-facing slope at the 500-foot level, came with impeccable credentials. Neighboring operations included Dick Erath's Prince Hill Vineyard, not to mention the Maresh Red Hills, Winderlea and Ana vineyards.
Now called the Sims Estate Vineyard, their Dundee Hills plot was planted to PN2, PN4 and Dijon 667, 777 and 115 clones. That nicely complemented their site in Central Otago, which they planted in the region's two most successful Dijon clones, 113 and 114. Right now, their combined production from both sources is about 300 cases, and they don't ever imagine it going above 500. They are shipping all their New Zealand wine to Oregon for sale.
With the help of a pair of close friends, the Simses are turning their local grapes into wine at their own facility. They are having their New Zealand Pinot made under contract in Central Otago.
They are marketing locally under the Barrel Fence Cellars label at $28 to $38 per bottle. They have wines for sale at the tasting room and a few select stores, including NW Food & Gifts on Third Street in downtown McMinnville.
Theirs is a fascinating, only-in-Oregon story. They own and manage two pieces of prime vineyard land half a world apart, drawn together by the common denominators of Pinot Noir and the 45th parallel.
The queen of cool-climate grapes and the mystical latitudinal line for cool-climate winegrowing. It's quite a combination.
In the Willamette Valley, the 45th parallel crosses the state just north of Salem. In France, it lies slightly above the northern boundary of the Bordeaux region and just south of the northern Rhone Valley's Côte-Rôtie.
In the entire Southern Hemisphere, the latitude cuts through only one landmass — New Zealand's South Island. Except for Antarctica and a handful of tiny islands, it's the southernmost point of land on earth.
The name Barrel Fence Cellars comes from the Simses' strikingly handsome fence, fashioned out of barrels. You can get a look in the accompanying photo, or better yet, see it for yourself.
WINERY INFO
BARREL FENCE CELLARS

Address: 8880 Worden Hill Road, Dundee
Hours: 11 a.m. to 6 p.m. Fri.–Sun.
Tasting Fee: $5 (includes four wines)
Phone: 503-538-7177
Website: www.barrelfencecellars.com