History-Mystery Tour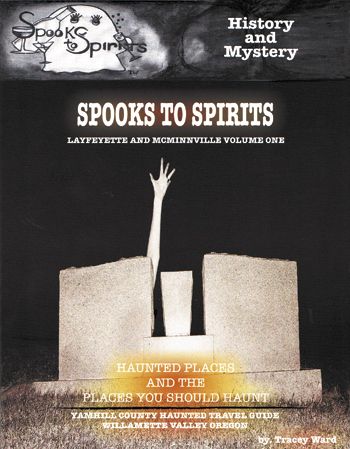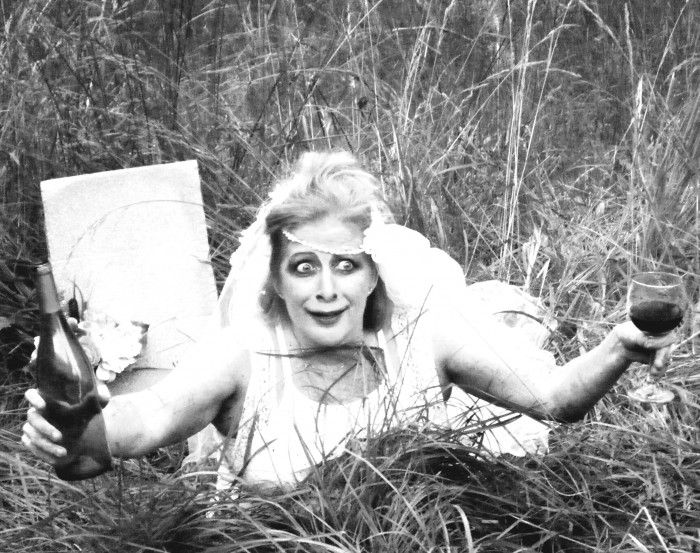 By Starla Pointer and Karl Klooster
Things that go bonk in the night hereabouts can be found in "Spooks to Spirits," a book and CD series by avid apparition admirer and paranormal-oriented author Tracey Ward of McMinnville.
Billing the stories therein as "Haunted Places and The Places You Should Haunt," Ward invites readers and listeners to take a trip back in time via her Yamhill County Haunted Travel Guide.
She also offers recommendations on superb, not spooky, places to go for sightseeing, shopping, dining and staying including 30 top local wineries where the spirit of hospitality is the order of the day.
Tracey Ward's first home in Yamhill County came with its own otherworldy tenant. It didn't scare her; in fact, she said, it was a bonus for someone who has always been fascinated with the supernatural to actually live in a haunted house.
Three decades later, Ward is actively seeking out Yamhill County hauntings, both current and historical, for her new multimedia travel series. "I love history. I love mystery. I love how they intertwine," she said.
The idea is to spark a fascination with history and hauntings, not to terrify people. Ward said the "Spooks to Spirits" materials should appeal to local residents, as well as wine country tourists. She also hopes the materials will be used by schools.
"It hasn't been a problem finding enough historic haunting material for each segment," Ward said. "Rather, the challenge has been narrowing down the abundance of stories."
She has done extensive research and read thousands of pages of archives at the Yamhill County Historical Society Museum — itself, one of the most haunted places in Lafayette, according to Ward — and the Oregon Historical Society in Portland.
All the hauntings described in "Spooks to Spirits" are historically documented, she said. "For every story, I read several accounts. All the accounts are a little different. For each one, I tried to find at least two documented accounts that agreed."
For instance, she found several regarding the infamous curse of Lafayette. The majority agree that the trouble began when a crook named Richard Marple was hanged at one of the town's occasional "necktie parties."
Being the county seat at the time, executions by hanging were held outside the courthouse on Main Street. As he breathed his last, his mother cursed the city to burn three times. Eventually, that came true.
In addition to learning about the Lafayette curse, she has discovered a great deal about the steam-powered paddlewheelers that carried passengers up the Yamhill River to Dayton and Lafayette.
She also found that some of the earliest settlers in the area were from the Peoria Party, who were enticed by Jason Lee in the late 1830s to cross what would become the Oregon Trail.
She has visited all the sites described in her books. For the video part of "Spooks and Spirits," she and her crew filmed in Lafayette bed and breakfasts and at the Jason Lee home in the Mission Mill historic site in Salem. They've also filmed in numerous locations indoors and out around the county, including graveyards.
The television segments feature costumes from Gallery Theater. The segments were captured by Paul Hernandez, as well as videographers from McMinnville Community Media and by Ward, herself.
Family members also play major roles. Her husband, radio personality Lars Ward of KCYX, is the narrator. Children Alex, 20, and Victoria, 16, are actors in the historical re-enactments; Alex plays guitar for the soundtrack, as well.
"It's a very worthwhile project and a lot of fun," she said.
Ward is convinced that unseen entities also have contributed to the project because strange things have happened during filming at two separate sites. "We've had our own personal hauntings," she said.
Since she and her crew have been careful to treat their subject with respect and historical accuracy, they haven't been disturbed by the events.
Ward is planning six volumes of "Spooks to Spirits," each focusing on a different geographic area of the county. The first, featuring Lafayette and McMinnville, was released in April 2011. Two others will be issued this year; the next three in 2012.
The second volume, featuring Dayton and Dundee, is scheduled for completion at the end of August and for release Sept. 15. It includes high-spirited accounts of the port and the fort in Dayton and haunted happenings at the old nut-processing factory, now home to Argyle Winery in Dundee. "They're really fun stories." she said cryptically.
For wine buffs who are the supernatural, she didn't mention the spookiest winery story of all. But "Ghost Hill" is outside of Carlton, so the telling of its legendary tale will have to wait until the Yamhill and Carlton volume comes out.
"Spooks to Spirits" materials will be available at area hotels, wineries and other businesses, or through Ward's website, www.spookstospirits.com. She also plans to develop a version that can be downloaded to an iPad or auto navigation system.