Barn Well Worth It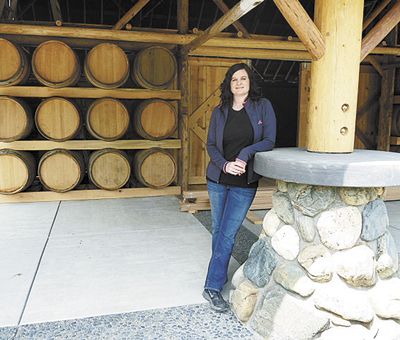 By Janet Eastman
Red Lily wine is finally getting a home of its own. Owners Rachael and Les Martin are overseeing the finishing touches on a tasting room and winery on their Jacksonville property.
Starting mid-July, visitors will be invited to turn off Highway 238 onto a tree-lined road crossing over the Applegate River, leading to the two new buildings. A restored 80-year-old barn adjacent to the tasting room and a sandy beach on the river will also welcome wine tasters.
"This is an amazing, special place for patrons to enjoy wine or a picnic lunch," Les says. "Our whole philosophy is really to create a destination winery, that is, a place where people can go to not only enjoy wine, but to stay a while and relax and enjoy the other aspects of our property."
For their new construction, the Martins hired designer Ken Snelling and chose an architectural style — "Upscale Barn" — honoring the rural location.
The roofs are galvanized metal. Some exterior walls have cedar siding. Rocks from the Applegate River were used in columns. Wood covering the sides of the horseshoe-shaped tasting bar was salvaged from the renovated barn. Tractor seats became bar stools. Barn poles were also incorporated into the décor.
"We thought about converting the barn into a tasting room, but that would have meant replacing what is great about it," says Rachael, standing underneath the old feeder barn's 25-foot-tall ceiling. "The barn is my favorite part of the property."
Rachael is hanging chandeliers made of old wine barrels from the barn's ridge beam. Used oak barrels also serve as walls for the barn.
It is only natural that this couple, who came to farming as a second career — she grew up in Medford and earned a degree in criminal law; he was a CPA for Las Vegas casinos — would protect the land.
They recognize that the business of wine starts with farming.
Nine years ago, the Martins moved to the valley and eventually bought this property, which was homesteaded in the late 1800s.
Rachael learned to make wine by apprenticing for Sarah Powell and other esteemed winemakers. Working with Randy Gold and Sherman Lamb of Pacific Crest Vineyard Services, the Martins planted their first two acres of Tempranillo on Thompson Creek in 2003.
While waiting for those vines to mature, the Martins purchased fruit from another grower.
They made their first vintage at RoxyAnn Winery in Medford in 2003 and continued that successful custom-crush relationship until they had a winery designed especially for them.
The Martins planted four more acres of Tempranillo on their land in 2008. Earlier this year, they planted even more, plus other Spanish varietals, Verdejo, Grenache and Graciano, on a 14-acre site around a knoll on the property.
This fall, for the first time, they will bring their grapes to their winery to be crushed and coaxed into their respected wines. And this summer, they will have a tasting room in which they can pour past vintages and sell directly to consumers.
"We absolutely love the Applegate Valley and its tremendous beauty," says Les, who credits his in-laws, Larry and Becky Sullivan, for luring him away from the bright city lights. The Sullivans live on the property in a restored farmhouse.
Rachael will celebrate her 40th birthday this month and also toast the opening of Red Lily Vineyards' winery and tasting room.
"I'm excited about having our hands in every aspect of growing the grapes, making the wine and selling the wine," she says. "It feels good to be in charge of our success."
Story first appeared in the Jacksonville Review, June 2011. Janet Eastman writes about Southern Oregon wine for national publications and websites. Her work can be seen at www.janeteastman.com
WINERY INFO
RED LILY VINEYARDS
Address: 11777 Highway 238, Jacksonville
Hours: Grand Opening: Aug. 13
Phone: 541-846-0475
Website: www.redlilyvineyards.com