Gettin' with The Times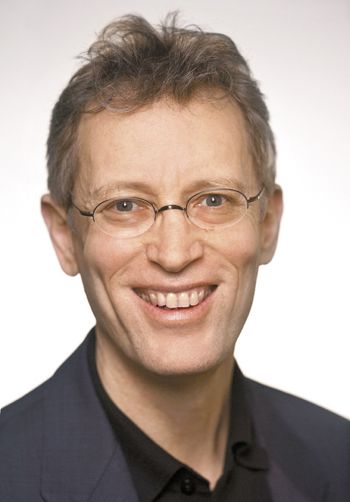 Eric Asimov is the chief wine critic for The New York Times, a position he assumed in June 2004 after covering wine with The Times' tasting panel and in his "Tastings" column for the Dining section.
Asimov created the "$25 and Under" restaurant reviews in 1992 and wrote them through 2004. He is a co-author of "The New York Times Guide to Restaurants 2004," the fifth edition of the guide. He has also reviewed takeout food for The Times in his "To Go" column and has offered commentary on food and wine on WQXR since 1999.
His freelance work previously appeared in Food and Wine, Details and Martha Stewart Living. His first book, "$25 and Under: A Guide to the Best Inexpensive Restaurants in New York," was published annually by HarperCollins from 1995 to 1998.
At The Times, he was editor of the Living section from 1991 to 1994 and editor of "Styles of The Times" from 1994 to 1995.
Asimov is a graduate of Wesleyan University, in Middletown, Conn., and did graduate work in American studies at the University of Texas at Austin. He is married to Deborah Hofmann, editor of The New York Times Best Seller List, has two children, Jack and Peter, and lives in Manhattan.
He is the son of Stanley Asimov, former vice president for editorial administration at Newsday, and Ruth Asimov, a ceramic artist. He is a nephew of the late author Isaac Asimov.
OWP: How did you first become interested in wine?
It's, of course, a long story, but it grew out of an obsession as a teenager with food and cooking. I came to realize, particularly as a graduate student at the University of Texas at Austin, how important wine was to assembling a meal. The food enhanced the wine and the wine enhanced the food, and together, particularly when sharing with family and friends, everything was better. I continue to be fascinated with food and wine, though I am not fetishistic about matching.
OWP: What do you love most about your position as the chief wine critic of The New York Times?
EA: Obviously, it's a wonderful thing if your avocation is also your vocation. I feel blessed. I'm especially happy that my employers permit me to write about wine as I see it, as an expression of culture. That is, wine is not just what's in the glass, although Americans have been conditioned to believe that. Good wine is so much more than that.
It's history, it's people, it's the aspirations of previous generations in old wine-producing regions and the hopes for future generations in newer regions. It's economics and personalities, and politics and science, and nature, too. All of this makes wine fascinating and unique.
To boil it down to tasting notes and a score seems wrong to me. Of course, not all wine falls into this category. By far, the great proportion of wine is a product that may taste good to a lot of people. I don't find these sorts of wines as interesting. So I focus on the smaller proportion that does interest me. It's a little like restaurants; most people eat in franchise or chain restaurants and are satisfied with that. But people who are seriously interested in food are far more concerned with restaurants that treat food as something more than a product, even if this is a small proportion of the total number of restaurants. I feel that way about wine.
OWP: What are your overall impressions of Oregon wine?
EA: It's hard to speak in such a general way, but since you asked … As with most places, Oregon has its ups and downs, but great raw materials. I am very interested in the differentiation of terroirs, though I don't always see it in the wines. Some great Pinot Noirs, and also Pinot Noirs with so much polish and sheen that they could come from anywhere.
I've really enjoyed Oregon Pinot Gris, but sometimes it's too obviously made with little thought. As I would urge producers everywhere: Make the wines that you love, rather than the wines you think people want. Of course, that's easy for me to say, as I have no monetary investment in the wines, just an emotional one.
OWP: What do people in New York think of Oregon wine?
EA: I have no way of calculating this precisely, but my general feeling is that New Yorkers have a positive impression of Oregon wine.
OWP: What Oregon wine producers have impressed you?
EA: Many have, and at the risk of annoying those I omit, I will single out Eyrie, Belle Pente, Soter, Bethel Heights, Adelsheim, WillaKenzie. I've always liked Argyle's sparkling wines.
OWP: What wine region are you most excited about right now?
EA: These days, I'm fascinated with Sicily. Also the Jura, the Loire, the Mosel, Jerez, Beaujolais, Valtellina, Santa Cruz Mountains and many old standbys.
OWP: What's one of the most memorable wines (Oregon or otherwise) you've tasted?
EA: Old Eyrie Pinot Noirs. I once drank a 1979 and an '89 with David Lett not long before he died in 2008. Sensational.
OWP: Any new books in the works?
EA: I'm hoping my book "How to Love Wine,'' which I'm just finishing up for William Morrow, will come out next year.