Nitty Gritty
Dirt Man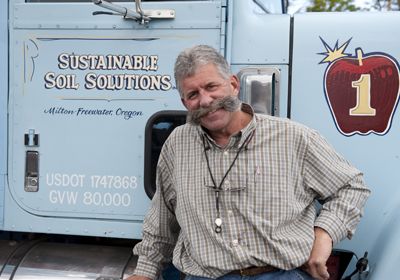 By Mark Stock
What's old is new, once more. It's a truism of fashion, politics, the arts and agriculture. Out in the fields, farmers have been practicing freshness and sustainability since the first rows of tomatoes, corn and tobacco were planted.
In the middle of the 20th century, industrialization caused separation between the farmer and his crop. Fertilizers and other chemical synthetics increased yield, while improved transportation and refrigeration systems shipped bananas to Maine and maple syrup to Arizona.
Somewhere between then and now, the farmer grew tired of what a colossal business agriculture had become, and the consumer began to wonder why his store-bought tomatoes were flavorless. And while there's always been a certain strand of purity running through viticulture, similar realizations shook the growing wine industry. Suddenly, harmful sprays and mechanized winemaking gave way to Biodynamics and gravity flow wineries.
Rick Trumbull is a 21st century agrarian and very much a part of this reenergized sustainability movement. Sporting a lengthy mustache framing a confident smile, Trumbull has a Foghorn Leghorn feel about him. When he talks about soil, his arms tremble with excitement and often can't resist the urge to get a little muddy.
A celebrity of sorts, Rick is the cousin of Pennie Lane Trumbull, the angelic groupie immortalized by Kate Hudson in Almost Famous. Mr. Trumbull recently started Sustainable Soil Solutions in Northeastern Oregon. Based in Milton-Freewater, just south of the sprawling Walla Walla wine scene, the family-owned company directs growers towards cleaner, greener, all-natural horticulture.
Philosophically, Trumbull is training people to be more than mere cultivators. He's pushing for stewardship, a feeling of responsibility for the land and its future. It's a mindset born not only from his own family, which boasts some 50 years of tree fruit experience, but from a transcendent conference he attended a while back.
"It was a real life-altering experience," said Trumbull. "I was used to conventional farming, but conventional farming doesn't have all the answers."
The Acres USA Conference is an annual gathering devoted to commercial-scale sustainable agriculture. Set in Ohio, the weekend-long event attracts eco-minded industry leaders from all over the nation. Here, the discussions are less about crop numbers and more about soil health and nutrition. In many ways, it's a celebration of all things green and a chance to collectively decide the next best move forward.
Trumbull returned to his home in Milton-Freewater with a transformed perspective, one that would serve as the basis for a new company. Meanwhile, the Walla Walla Valley was planting Cabernet and Merlot at such an alarming rate, you'd think that it was being federally subsidized.
Enter Sustainable Soil Solutions, started about four years ago. Trumbull's siblings are his coworkers. The company creates all-natural products for enhancing soil structures and increasing vigor. "When you have nutritional balance in the soils, there are no pests," Trumbull said. "It's the imbalance that attracts the unwanted things."
When soon-to-be producers consider planting, they go to Trumbull, the local dirt expert. Sustainable Soil Solutions can outfit a grower with the proper preparatory work for fertile grounds. "You only get one shot at a pre-plant with perennials," Trumbull said. "So you have to make sure the stage is set."
He remarks about the similarity between trees, his lifelong forte, and vines, a somewhat new development but still closely related. "Walla Walla is leading the way in this new movement," Trumbull said. "The attitude has changed a lot, and people here really believe in what we're doing."
Like the sustainable movement itself, Trumbull is relatively new to organics. He was a seller for Tri-River Chemical for many years, back when high yields silenced any concern over environmental damage. What he does now is a combination of five factors he believes is paramount in establishing a viable crop habitat. They are, in no particular order: Biodynamics, organics, conventional, radionics and biological.
To be fair, it's better not to use the o-word, as any expert will tell you it's a murky subject. And while Trumbull admits there are no "silver bullets" in agriculture, he does incorporate a naturalistic approach, using products like molasses, fish oils and soft-pack phosphate to achieve strong subsurface health. This mindful, all-encompassing business plan has attracted the likes of Leonetti, Pepper Bridge and a handful of other celebrated Northwest icons, who count on the Trumbull family for thriving soils.
"We live in a land of plenty, but we're very wasteful," Trumbull admits. We exchange a few humbling words about water usage and the future of the West. When I ask him about consumers complaining about the price of wine, he chuckles. "Most people don't realize all the work that goes into a bottle," he said. "There is so much investment, from so many areas." And if part of that investment is in securing the future of the ecosystem, it's a hard point to dispute.
Perhaps green culture is only a fad. This writer struggles to believe it, for the very reason that when it's practiced properly, it ensures a certain perpetuity of quality. In grapegrowing, that means a freshness and vitality in the wines for the indefinite future. It's good, responsibly crafted wine, vintage after vintage.
And for Trumbull, we trust, that means more work out in the fields.
For more about Sustainable Soil Solutions, visit www.soiloflife.com.
Mark Stock, a Gonzaga grad, is a Portland-based freelance writer and photographer with a knack for all things Oregon.