Raising the Hoof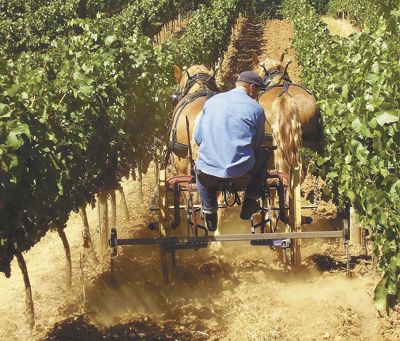 By Kerry Newberry
Winston Churchill once said: "The farther backward you can look, the farther forward you are likely to see." A new generation of vintners and winegrowers across the state of Oregon are taking this sentiment to heart; integrating hoof power in the vineyard and discovering a new world of possibilities from reveling in the old.
One of the first vignerons in the region to practice horse power for vineyard cultivation is the winsome Frenchman and acclaimed winemaker Christophe Baron of Cayuse Vineyards in the Walla Walla Valley. Baron hails from the Marne Valley in Champagne and a family of French vignerons that used horses to plow their vineyards as recently as 1957.
Inspired by his past, Baron welcomed Zeppo, a three-year old Belgian draft horse to work the rocky Horsepower Vineyard in 2008, at that point eliminating all powered machinery from the two-acre plot of Syrah and Grenache. Farming Biodynamically since 2002, Baron believes the horse power completes the circle by integrating animals into the farm while showing respect for the old ways.
The horse is used to plow the vineyard — one way to till, weed and invigorate the soil, without the use of fertilizers, chemicals, insecticides or fungicides. Beyond the environmental benefits, the horse is also a connection to his past, walking behind a horse and feeling the earth under his feet just as his grandfather did, generations ago.
This is one reason why Brad Ford, winemaker at Illahe Vineyards & Winery in Dallas, Ore., recently invested in a team of Percherons — strong and stately French-bred draft horses — known affectionately as Doc and Bea.
"We don't use them for plowing, which is the number one thing people ask," Ford said. "The vineyard has 100 percent cover crop, so come spring and summer, mowing is their main job." Ford first envisioned horses working the vineyard five years ago, when his closest neighbor — a cattle rancher and horseman — would canter by on horseback with his daughters.
The winemaker saw hoof power as a means to reduce tractor runs and to minimize soil impaction. "We would be able to limit our diesel use, and it would be an attractive thing for people to come and see," he added. The image of two grand horses hauling grapes to the winery at harvest certainly evokes old-world romance. And it works.
After the pickers load trailers with buckets — occasionally feeding Doc and Bea a handful of grapes — the team trots the road between vineyard rows and deftly backs up onto the crush pad.
The duo can cart four to five tons in the morning, a half-ton at a time. "When you think of the production you are doing, it may not make an economic impact." Ford noted. "But it does make a romantic impact."
Romantic as in wooing that hard-to-get girl with countless bouquets of roses. It took Ford over five years to learn how to drive the pair, finesse the harnesses and take care of them. That's with guidance from a horse trainer. "It's a lifetime pursuit," he said.
The learning is not all roses either. "It's less comfortable and more noisy," Ford said.
Sometimes, the horses stop for no reason. Ford wonders: Are they tired? What are they doing? And realizes on certain days, horses don't really want to do what we are doing; they just want to eat grass.
Ford also recognizes the time investment and the question of efficiency and economics. "There is a reason people use tractors," he said. The most significant challenge is that the technology needed is not only highly specialized — it doesn't exist.
"It's up to us," he said. "We are kind of inventing as we go along." The 'we' is only a handful of people using draft horses in west coast vineyards. The community is what's missing. "It's a complete shift. You can call anybody on the hill and ask what to do with grapes, because they know," Ford said. "You can't do that in this situation."
The benefit outweighs the challenges. "When I'm behind the horse mowing a row it reminds me of going skiing or riding a motorcycle. It's exciting." A tractor driver since the age of six, Ford finds very little excitement driving a tractor. "You are just driving it," he said.
"But these guys, you are talking to them," he explained. "You are working with somebody the whole time. You aren't alone out there listening to your iPod on the tractor."
As the winemaker dedicates a portion of his time with the two horses instead of an air-conditioned tractor cab, he's observed the very distinct personalities of his team. Doc is calm, plodding. Bea is more excitable. What Ford is continuously awed by is how well the two horses work together.
The longterm intent at Illahe is to incorporate the animals into a more holistic program of historical winemaking — a reason why the winery is adding more wood fermenters into its repertoire. "The less plastic we use, and the less machinery we use, I think the better our wine is going to be," Ford said.
As for the pleasure and practice of hoof power in the vineyard: You need a lot of time. "But it can only be a good thing: slowing down."
On the other side of the valley, Brian and Jill O'Donnell of Belle Pente Vineyard & Winery near Carlton introduced a herd of goats to their property in 1993 to clear rampantly wild thistle and blackberry before planting the first vines a year later.
"We had all this land and thought about what we wanted to do with it," Brian explained. "A lot of our neighbors said you should put animals on it; that's the easiest and most productive thing to do."
The cadre of goats inspired a few years of cheesemaking on the side, until the arrival of more quadrupeds when the family was gifted a couple of sheep in 1995. With his boots planted near the first two-acre block of gnarled Gamay Noir vines, Brian gestures to the idyllic polka-dot pasture below.
Twenty-five ewes and 40 spring lambs frolic and feast in the afternoon sun — a mix of six English mountain breeds. "The ram we have is a Navajo-Churro, which is a breed that descended from what the conquistadors brought to New Mexico back in the 1500s," Brian said.
Left of the sheep near a historic barn, five Highland cattle — an ancient Scottish breed with elegant horns and tousled coats — enchant. The wooly yak-like creatures are certainly the most exotic lawnmower and compost source found in wine country.
The cattle at Belle Pente are raised mostly for beef, but they can mow down the property, too. The Highlands dine similarly to the goats, eating grass first, followed by brush, broadleaf and blackberries — but skip the thistle.
"Every year we are trying to use less and less resources from outside, whether it's electricity in the winery, water, chemical or fuel," Brian noted.
The herd usually consists of three mature cows and two calves. The O'Donnells share the bull with a few people, including the Ponzi-Hamachers and some other friends that also have small herds. A full-time bull for so few cows doesn't make sense, hence the four-month rotation to visit the ladies. That's one lucky bull. "He doesn't realize it yet; it's still a challenge to get him in and out of the trailer," Brian said.
The vigneron has found a good balance on the farm with the 25 ewes, five cows, the small goat herd and a mobile tractor with chickens. The gaggle of geese — also a gift — he's still contemplating. Though the geese squawk and warn the chickens of approaching hawks, he jokingly likens their personalities to that of gangsters.
The intent of the animals on the property is an effort to burn fewer fossil fuels and decrease tractor passes through the vineyard. A perk to hoof power is that in areas where you can't get tractors, the animals can go. Even the nooks and crannies where weeds thrive are pristine.
"The hope is that we can get down to zero mowing by bringing the animals in and moving them through in a timely fashion," Brian said. The vigneron is fairly confident that they can eliminate at least one complete tractor pass every year in addition to the one that has already been replaced with the four-legged flocks.
"When you look at the entire animal side of the operation — the money we get for selling the lambs versus what we spend on feed, the time we invest is probably pretty close to breaking even," he says. "It's turning grass, which we can't eat, into meat which we can."
A rooster crows near the resting cattle; tall grasses rustle in the breeze. As Biodynamic farmers, the holistic system evolved organically for the O'Donnells.
"There's an aspect beyond just what the animals do. It just makes it feel more like a real farm to have animals here in the area surrounding the vineyard," Brian said. "It feels more like a farm rather than a country club."
Garden designer-turned-farmer Stephen Hagen and his family began tilling soil in Junction City with the intent of establishing a nursery that, by kismet, became a vineyard, Old School Vineyard, with their first vines planted in 1999.
As fortune would have it, Hagen and his wife turned out to be farmers at heart. "I love everything about farming because you are anything from an electrician to a midwife and everything in between," Hagen said.
The entire property spans 150 acres, with 21 acres of vines, sourcing fruit to wineries such as Harper Voit, Antica Terra, REX HILL and Broadley Vineyards.
Initially seeking a draft horse for trail riding, Hagen segued into driving horses after finding a mentor who taught him how farms use hoof power. He now integrates a team of Belgian draft horses — Ike and Olivia — into the farm work. Each horse weighs approximately 1,800 pounds.
"We use them to disk, cultivate, drill cover crops and mow," Hagen said. The pair also cut and rake their own hay and spread their own compost. From time to time, the horses have done some thinning of the woods on the property as well. "They love to work," Hagen said.
"What I love most about it is it's not just horsemanship," Hagen added. "It's agriculture and horsemanship put together perfectly." Hagen appreciates the various powers of observation that happen at slower speeds: farming with less noise and closer into the ground. "It's just a far more intimate way in being involved with your agriculture."
Though horse driving is a lost art, Hagen envisions a young guard of really talented farmers who are interested in resurrecting the skill. The challenge, as Ford from Illahe mentioned, is finding information, resources and the tools and time to hone the craft.
The farmer is not a purist — he also drives a CAT tractor for certain tasks. "My goal with it is to find the things that are appropriate with live horse power and where a tractor is necessary," he explained. Driving horses stimulates the senses the way a tractor never can, where foresight and timing become critical, working within precarious power limitations.
"I've put my team in situations and quarters that make most horse folks' skin crawl, but my team trusts me to keep them safe, and I trust them to listen closely," Hagen said. "They have moved loads and put forth efforts that have humbled me and brought tears to my eyes."
The horses are not just doing what they are told — or going through the motions. Like an opera singer who discovers the power of his voice, they were born to do this. "It is cool to see a young draft the first time they really get it, put their shoulder into a load and PUSH. It's like a light goes on."
In addition to the horses, Hagen also uses chickens and sheep in the vineyard and has even run geese and turkeys.
"I love wine and I love my vineyard but even more so than that, what I love about growing is trying to find a way to make the whole farm work as a living organism." Hagen believes this is possible only by integrating animals into the farm. "Otherwise, farming just becomes a matter of trucking things in from wherever we get fertilizer."
Adding animals to vineyard practices is a wholehearted endeavor. "I admire them and love being around them. That's what I really get out of it," Hagen said. "More than any reduction in the fertilizer inputs or anything like that, I really love just taking care of them."
The fertilizer input on the farm has decreased every single year since Hagen integrated the animals into the vineyard. "This year was the first year we got our soil labs back, and basically, we didn't have to do anything."
"I think that the more that we can look at farming this way, especially for a varietal like Pinot Noir, it's only going to make our wine more site specific," Hagen said. "The more you can just take things and cycle them through an animal's body and put them back into the ground, the more unique your site and your wine will be."
Kerry Newberry is a Pinot-sipping, vineyard-hopping wine and food writer. She resides in Portland.