WOW's Gonna Wow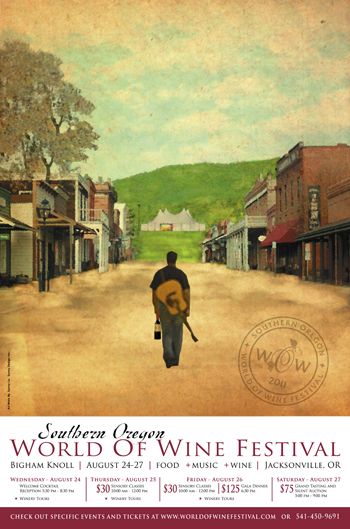 By Janet Eastman
The ninth annual Southern Oregon World of Wine Festival, August 24–27, will look and feel different than past WOWs, and not just because the big-tented Grand Tasting of 150 wines will be held for the first time on a sprawling site in Jacksonville.
The festival now spans four days of winery tours, sensory classes and People's Choice voting, either in person or via smart phones. More 21 to 35 year olds will be lured in with Tweets, videos and other digital interactivity yet to be announced (think Google mapping, Foursquare check-ins, QR codes). For the first time, there will also be a pop-up wine store, set up at Bigham Knoll Event Center and an e-commerce website.
"The festival is expanding its days in celebration of the quiet explosion that has occurred in the Southern Oregon wine industry," said Mike Green, WOW's new marketing consultant, formerly with Dow Jones Local Media Group and a Huffington Post blogger. "New vineyards, new wineries, increasing varietals and business have attracted the interest and participation of world-renowned wine judges and adventurers."
For more on WOW, visit www.worldofwinefestival.com.