Pinot Love Letter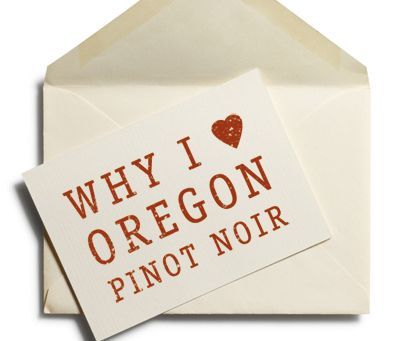 Willamette Valley Vineyards (WVV) has just concluded its annual "Why I Love Oregon Pinot Noir" contest. WVV asked Pinot Noir fans from around the country to put into words their affection for Oregon's famed varietal. The most touching entry was chosen to win an all-expense-paid trip to Oregon wine country and WVV.
After sifting through dozens of photos, poems and stories, a small committee within the winery chose the winning entry: Catherine Wilkinson of Dewey, Ariz.
She wrote: "A long hot day in a car with four young kids with hand puppets. We're on our way to Yellowstone Park, stopping for a night in Jackson, Wyoming. Hauling luggage, sleeping bags, kids, a stinky dog, empty French fry containers, and my questionable sanity into a motel room. Begging husband to run to nearby market to find a bottle of wine. I bathe the kids all together in a questionably clean bathtub, aching for a glass of wine. Husband returns with a bottle of Oregon Pinot Noir. Husband back to market for corkscrew while I coerce the kids into their pajamas and freaked out dog into kennel. Four kids asleep at last, we open that beautiful bottle. With delicious relief, we sit on the floor in a cheap motel, sipping wine from Ninja Turtle plastic cups and I fall in love with Oregon Pinot Noir forever."
Her response to winning?
"I'm beyond excited to be coming to Oregon to visit Willamette Valley Vineyards this fall and to enjoy not only the delicious wine, but also the glorious Oregon weather, the fabulous food and the once-a-year celebration of the grape harvest," Wilkinson said. "What a great trip and I am READY for a big glass of Oregon Pinot Noir!"
Entries for next year's "Why I Love Oregon Pinot Noir" contest will be accepted May 1 through June 30, 2012. See www.wvv.com for more details.