New Shipper Celebrates Diversity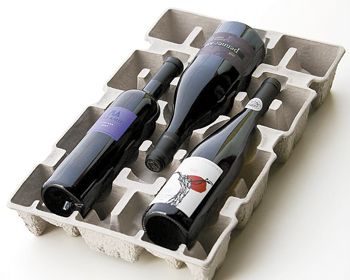 As winemakers throughout Oregon experiment with packaging wine in taller and bigger bottles, they face a perplexing problem: how to ship the various sizes and shapes of bottles in a cost-efficient, single shipping.
Western Pulp Products (WPP) has a solution.
The Corvallis-based manufacturer of molded fiber wine shippers, recently introduced the 3-6-12XL Vintner's Choice Wine Pack, a new addition to its line of premium molded fiber wine shippers.
The lay-down shipper accommodates a number of extreme bottle profiles, including Burgundy bottles (diameters up to 3.65 inches), high-shouldered Bordeaux bottles and slender Mosel and Alsace-style bottles (up to 14.25 inches tall).
Developed with input from leading consumer-direct fulfillment and supply chain services for the wine industry, the 3-6-12XL wine shipper is compact, cost competitive and able to withstand the hazards of the distribution environment. It also offers a minimum 1-inch clearance around the perimeter for increased protection and shock absorption during storage and shipping.
"Wine bottles have grown taller and fatter over the past several years, creating a packaging challenge for both wineries and fulfillment houses," explained Jim Lee, WPP marketing and sales manager. "Our new design not only accepts multiple bottle profiles from around the world, it allows the carton's depth to remain constant, ensuring more efficient pack out and eliminating the need for multi-scored flaps."
As with all of WPP's wine shippers, the 3-6-12XL is certified by Scientific Certification Systems (SCS) as containing 99 percent post-consumer recycled paper content. WPP has long worked to conserve natural resources and use recovered paper as an important raw material in producing innovative molded fiber packaging. By providing SCS-certified shippers, the wine industry can help meet consumer demand for green products and materials.
For more information, call 800-547-3407 or visit www.westernpulp.com.