Wünderbar!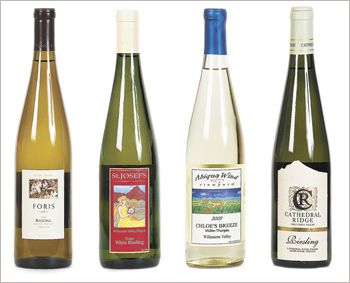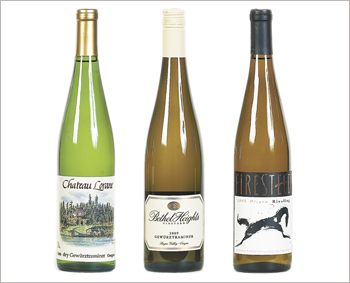 Cathedral Ridge 2009 Riesling, Columbia Valley • $18 (275 cases)
Autumnal honey and spice entices in a wine that, while light-bodied, delivers rich taste impressions of sweet clover and brown sugar. The flavor is further intrigued by a nicely executed balancing act between sweetness and acidity.
Chateau Lorane 2008 Oregon Dry Gewürztraminer • $16 (88 cases)
The effort to replicate Alsatian-style Gewürz in Oregon has thus far met with mixed results. Here, however, the winery has succeeded admirably. Aroma and flavor profiles include characteristic butterscotch spice complemented by rose petal, cinnamon, basil and lemon. Good balance completes the package. Too bad there's so little of it.
Bethel Heights 2009 Gewürz-traminer, Rogue Valley • $18 (235 cases)
Yum yum may not be a usual wine descriptor, but it accurately conveys the immediate reaction upon tasting this Gewürz whose stone fruit lushness is complemented by crisp, citric acidity. The aroma is floral rather than spice but still very nice.
Firesteed 2008 Oregon Riesling • $12 (6,000 cases)
Varietal character is evident throughout this dry-style Riesling. The fresh, floral aroma, crisp acidity and lively mouthfeel are reminiscent of German Mosels. Green apple, lemon zest and cucumber flavors please the palate and linger in the finish.
Foris 2009 Riesling, Rogue Valley • $13.50 (625 cases)
Climatic conditions in the Illinois Valley seem very well suited to the slow ripening that brings out the best in Riesling. This is an excellent example of the variety across the board — fresh, clean, just off dry with green apple and honeysuckle flavors.
St. Josef's 2010 Estate White Riesling, Willamette Valley • $9 (700 cases)
Having emphasized Riesling since the winery's founding in the mid-1980s, St. Josef's has developed a soft expressive style with floral and earthy aromas leading to an appley sweetness complemented by crisp minerality. And what a value!
Abiqua Wind 2009 "Chloe's Breeze" Müller Thurgau, Willamette Valley • $12 (320 cases)
Many domestic Müllers are relatively unremarkable. But this east Willamette Valley example has a good deal going for it, including price. Citrus notes on the nose lead to fresh, zesty flavors marked by a touch of sweetness and a hint of licorice.
The Oregon Wine Press tasting panel has selected the above wines based on overall quality and value within their respective categories. To the best of our knowledge, they are currently available in the retail marketplace. But a call to the winery or your favorite wine merchant will best determine where they may be purchased. The above wines have met the following criteria: produced by an Oregon winery; retail price up to $25 per 750 ml bottle for all still table wines except Pinot Noir, which can be up to $30, $25 per 375 ml bottle for dessert wines and $35 for 750 ml sparkling wines. All wines must be currently available to consumers. Recommended wines were selected using a double-blind method and a 20-point ranking system for appearance, aroma, taste, balance and finish.