Nose-to-Tail for Two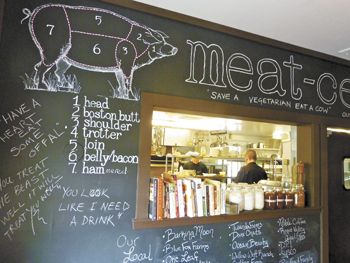 By Janet Eastman
Smithfields is a serious Ashland steakhouse with a clear-cut culinary focus, and yet, people respond to it in different ways.
Oregonians notice the wall-size blackboard that lists local food producers and say Smithfields has a "Portland" feel. Bay Area visitors are reminded of beloved neighborhood hideaways where the owners passionately work the kitchen and the dining room, and nothing — not a new wine or a new face — goes unnoticed.
Brits, however, recognize the name Smithfields as a centuries-old meat market in London, and they instantly pick up on the unpretentious pub vibe.
Whatever. Everyone agrees the reason they have chosen this homey restaurant off a downtown street is the food: braised beef, brined pork, char-grilled lamb. Nowhere else in Ashland can you order from "nose to tail." Chef Neil Clooney uses the whole animal to create honest, flavorful food reminiscent of the best dishes from farmhouse kitchens.
Across the nation, steakhouses serve up comfort food, mostly with uncomfortable pricing. Smithfields takes a different route. A plate of succulent slices of grilled hanger steak with rich bearnaise or green peppercorn sauce, crispy fries and guilt-free watercress costs $18.
There are juicy 7-ounce filets, tender 8-ounce New York strips and tasty pork and lamb chops ($24 to $30). For multi-meat appreciators, there is duck leg confit cassoulet with pancetta and spicy Merguez sausage ($17). The menu also includes the rarely offered, "neglected" cuts: pig cheeks, pig feet, beef heart and bone marrow.
Fish, chicken and eggs also benefit from Clooney's culinary skills. A luscious pan-seared sturgeon with sorrel-hazelnut pesto and asparagus risotto ($24) evokes the spirited flavors of an Oregon summer.
Despite the pro-meat sayings written in chalk across the blackboard — that the word "vegetarian" means "lousy hunter" and that "bacon is the gateway meat" — non-carnivores don't have to sit out the experience. Smithfields offers a wild mushroom ravioli with tempura-fried rabe ($16) and grilled porcini mushroom with a lasagna of wild leek and mustard greens ($18).
Many of the seasonally derived dinner entrées include a starch, vegetable and salad of some sort. Take-charge diners can also compose their own entrées by ordering a special side, from bacon-barbecue beans to broccolini with shallot garlic confit or sugar snap peas with almonds.
Smithfields has a nice wine list, focused on international finds and local producers. Soon, the restaurant and bar will offer its private-label Merlot made by Herb Quady from Applegate Valley grapes. Quady, the busy winemaker for Troon Vineyard and Quady North, says he was lured in after Smithfields hosted a winemaker's dinner for him. He's now a fan. "I appreciate Neil's cooking," says Quady, "and the restaurant's concept is cool."
The restaurant occupies the ground floor of a former four-plex apartment located off a side street near shops and theaters. The interior décor is spare: hardwood floors, copper tabletops. No fabric obscures the windows' street views. A large cutout in an interior wall frames the humming kitchen. Here, meats are seared on a 1,200-degree broiler and a "white-hot" grill.
The efficient wait staff, clad in black, sweeps through swinging doors to deliver plates from the kitchen to the dining room. A few times during the day, Clooney leaves his well-equipped kitchen and walks around the room, talking about soccer and listening to diners' thumbs-up food reviews.
The restaurant's popularity and its hard surfaces sometimes move the noise level up high, making it difficult to eavesdrop on the Oregon Shakespeare Festival actors and other interesting people populating the place.
Matthew Domingo and Erin Daugherty, founders of Farm to Fork Events, eat here, appreciating the restaurant's commitment to locally sourced ingredients. Smithfields chefs Clooney and Braden Hitt are creating several of this year's Farm to Fork dinners, set up in fields throughout Oregon.
Smithfields procures hormone- and antibiotic-free beef from Salant Family Ranch in Jacksonville, Painted Hills in Fossil and Carlton Farms. Pork comes from Willow-Witt Ranch in Ashland. Lamb from Tawanda Farms in Montague, Calif. Chicken from Draper Valley Farms.
Barking Moon Farm and Blue Fox Farms, both in Applegate, supply organic produce. Freshly baked bread arrives daily from SunStone Artisan Bakery and Deux Chats Bakery, both in Ashland.
Rogue Valley Quail Eggs in Central Point provides the centerpiece for a flavor-packed $7 appetizer of quail eggs wrapped in ground turkey and grated Parmesan cheese, and rolled in breadcrumbs. Clooney serves the two deep-fried eggs with celeriac remoulade and parsley chips.
Everything is prepared in house, right down to the ketchup for the Burger n' Bun ($13), a humble-sounding dish that has been elevated with melted onions and rosemary cheddar. Desserts include ice cream and sorbet made on site, and ambitious mousses, tortes and crème brûlées ($5 to 7).
Clooney and business partner Dee Vallentyne ran Dragonfly Cafe & Gardens in Ashland for six years before opening Smithfields in January. Clooney, who grew up in London and tasted the world's culinary treasures while working on the Queen Elizabeth 2 cruise liner, is a two-time winner of the Oregon Iron Chef competition. He's been celebrated by food reviewers, chefs and locals.
Ashland resident Susan Crowell brings out-of-town guests to Smithfields because of the consistent quality. "When I come here," she said on a June evening, "I know the food will be cooked to perfection and the meats will have incredible flavor."
This time, she was dining with six others, including Margaret Merrill of Los Angeles. The first-time visitor to the restaurant said she liked the feeling of the place.
"I immediately felt I had become a part of something very positive," she says. "The energy is welcoming and the manager [Vallentyne] is totally on top of everything, yet had plenty of time to discuss any questions thoroughly."
But to answer the question: Does it feel like Portland? San Francisco? London?
She shrugs. Who cares? "My hanger steak had a perfect amount of flavorful, hot sear on the outside," she says, adding: "The fries were the best, and I only wish I'd allowed myself to eat them all!"
Janet Eastman is an Ashland-based journalist who covers Southern Oregon wine for www.examiner.com and other media.