Oregon's "Wineopolis"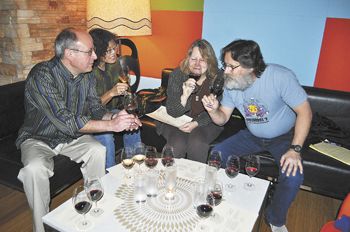 By Gail Oberst
Need a short list of Oregon wine stops for a long weekend in Portland? No worries. As a longtime Oregon travel writer, I was happy to compile this short list of recommendations for Oregon Wine Press readers, with help from my garagista friends who own a Willamette River-front condo.
Stay at a hotel that loves wine
The historic Hotel Vintage Plaza, with its own "wine goddess," Cindi Marconi, and 117 plush rooms each named for a Northwest winery or vineyard.
The good: Guests receive a welcome packet with both guided and self-guided wine tours in town and within walking distance. The hotel also has a free wine tasting event each evening in its lobby, and if you can't get away from the hotel, its bar, Pazzo Cellars, has a great wine list.
The bad: The rooms are so comfy, you may not want to leave. Resist the urge. There's too much to see and do.
Wine flights on deck
Three places educated and impressed us with tasting notes, extensive wine lists and flights in vertical and horizontal configurations that boggled our minds. At Marconi's suggestion, we visited Vino Paradiso, Metrovino and Oregon Wines on Broadway.
The good: All were close to downtown, or in the Pearl District, and all were different enough from the other to make each an adventure in itself. Well-informed, friendly staff offered comparisons among Oregon and international wines as well as small plates and recommended food pairings.
Vino Paradiso has a trendy Pacific Rim fusion vibe, Metrovino a modern splash of chrome and glass, and Oregon Wines on Broadway was a laid-back wine bar with an exciting list at reasonable prices.
The bad: We had time for only three wine bars, but next time I visit, Vinopolis, Liner & Elsen Wine Merchants and Thirst Wine Bar are on my short list. Yours may differ.
Eat like a king
Don't be overwhelmed by Portland's wide variety of cuisine. Wherever you eat, chase it down with Oregon wines. We began at Noble Rot, ate dim sum in Chinatown, and for Sunday brunch, visited the Driftwood Room at Hotel deLuxe, formerly the Mallory Hotel.
The good: Noble Rot, a restaurant and wine bar perched atop an industrial building on the trendy eastside of the Willamette, affords diners with incredible city views. Their wine flights, when combined with dinner, will make you feel lucky to be alive.
The bad: There are so many great restaurants in Portland, your chances of sticking to your diet are nil.
Visit urban wineries
We visited Boedecker Cellars, Grochau Cellars and Hip Chicks do Wine to get our winery fix.
The good: The first two are conveniently located in the same space in Northwest Portland's industrial district.
Since 2003, husband-and-wife winemakers Stewart Boedecker and Athena Pappas have been handcrafting limited-production Pinot Noir, Pinot Gris and Pinot Blanc under Boedecker Cellars and Pappas Wine Co., the couple's second label. Before building the Portland facility, they made their wine in Carlton.
Grochau Cellars owners John Grochau and his wife, Kerri, are the other owners/founders of the facility and have been making wine since 2002. Mostly Pinot Noir fill their barrels, but they also make Pinot Blanc and reds sourced from the Rogue Valley.
On the opposite side of the Willamette River, near Reed College, East-sider Hip Chicks do Wine offers a wide assortment of wines and a venue for many fabulous events. Owners Laurie Lewis, self-proclaimed "Wine Goddess," and Renee Neely, the "Wine Maven," having been making wine since 2001.
The bad: You won't be able to keep up with the new urban wineries, but it's worth the effort. When I plan my next trip, my list will include new wineries ENSO, Vincent Wine Company, Helioterra Wines and Seven Bridges on my list. All the wineries mentioned recently formed PDX Urban Wineries, a group to promote Portland's producers.
You can't go wrong in the City of Roses, but if you need more guidance and suggestions — I touched only the tip of the ice berg — I suggest Portland's Visitor Association website, www.travelportland.com.
PORTLAND PLACES
Hotel Vintage Plaza
422 S.W. Broadway - www.vintageplaza.com
Vino Paradiso
417 N.W. Tenth Avenue - www.vinoparadiso.com
Metrovino
1139 N.W. 11th Avenue - www.metrovinopdx.com
Oregon Wines on Broadway
515 S.W. Broadway - www.oregonwinesonbroadway.com
Noble Rot
1111 E. Burnside Street No. 400 - www.noblerotpdx.com
Hotel deLuxe
729 S.W. 15th Avenue - www.hoteldeluxeportland.com
Boedecker Cellars/Grochau Cellars
2621 N.W. 30th Avenue
www.boedeckercellars.com - www.grochaucellars.com
Hip Chicks do Wine
4510 S.E. 23rd Avenue - www.hipchicksdowine.com