The Doc Is Zin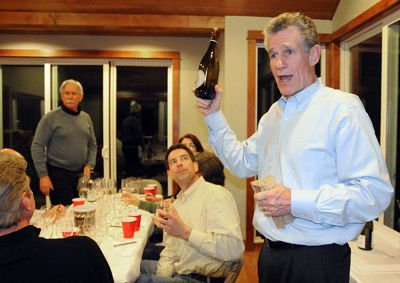 Story by Janet Eastman / Photos by Denise Baratta
Dr. Peter Adesman, M.D., is standing before a group of 30 wine appreciators, holding a glass of 1998 St. Innocent Pinot Noir and inspecting its ruby color against the sun setting over the Medford hills.
Hours before, however, he was in a scramble, preparing for his now legendary monthly blind tastings, which he has hosted for 20 years.
Some say Peter Adesman, a physician, has influenced more people's view of wine in the Rogue Valley than any distributor, retailer, restaurateur or wine writer. He admits he has transformed people's buying habits, moving them beyond California Cabs and Chardonnays to pretty Pinots and even sweet wines — great German ice wine and French Sauternes.
Over the years, Oregon winemakers and wine appreciators of all levels have followed Adesman, first tasting in his kitchen, then graduating as the group grew to his living room, then to a garage and now a new freestanding building designed with wine tasting in mind in his Medford backyard.
Here, the group pours from precious bottles Adesman has collected from his world travels and long stored in his wine cellar, or bargains he has found at Oregon wine shops or on dusty shelves at discount grocery stores.
"I'm not a shill for one shop," Adesman says, "and I can choose anything since I don't represent the industry. The only part I represent is the consumer, which is the most important part."
Galaxy Wine Company sales rep Ron Stringfield has attended Adesman's private tastings for years and still shakes his head in appreciative disbelief: "For someone who is not a wine professional, he's the most generous guy I know. He gets a personal satisfaction from sharing his cellar treasures with a larger group."
Home wine tastings are as ubiquitous as corks. On special occasions, hobby sommeliers may dig deeper into their wine cache and declare, "Tonight's the night to open this." But few have the variety and inventory as Adesman; sellers in both the northern and southern part of the state claim him as a major client. One friend says Adesman could drink a bottle a night for 10 years and still not exhaust his collection.
For one tasting, he opened a 1971 Giacomo Conterno Barolo Monfortino, then later learned he could have sold it for $1,200. But the price tag is not the point. Passion is. Adesman says with pride that a 1985 Sassicaia instantly changed Medford businessman Bryan DeBoer into an oenophile and an engagingly vocal guest at the monthly tastings.
Very few wine lovers, too, have a spouse who understands to this extent the desire to spend vacations gathering information, experiences and wine bottles, then sharing them with friends back home.
During the tastings, Adesman's wife, Robin Miller, pops into the room with their dog, Lucy. Miller greets the group, but she doesn't stay for any of the 14 to 18 tastes. "She's incredibly accommodating," says Adesman of Miller, a well-known internist, medical correspondent and author.
The gatherings are robust, with plenty of judgment and ribbing shot around the room, especially when it comes to Adesman's push to expose his friends to sweet wines. After blind tasting a 2002 Daniel Vollenweider Spätlese, one man in the group declared the grapes had been stomped by a big-footed brute who had just eaten a strudel.
Despite the silliness, the tastings are not happy hours, says Eric Pottmeyer, who owns Sec Wines, a Portland retailer specializing in artisanal wineries.
"Peter does a great job of presenting wine. It's a social gathering with an intellectual twist," says Pottmeyer, formerly of Liner & Elsen Wine Merchants in Portland. "People pay attention to what they're tasting and come up with their personal impressions."
At the end of the gatherings, Adesman asks: "What is the flight of the night?" Voices call out favorites. Jokes are lobbed. Then the group settles down and waits to hear what Adesman says.
For a man who does not work in the wine industry, who has no allegiance to anything but his palate, Adesman's opinion has a lot of sway.
Tasting Day
It takes a lot of work for one person to put on an interesting, educational blind tasting, particularly when no one else is supplying the wine or even dreaming up the night's theme.
After days of gathering bottles of wine and an hour before the first guest arrives at 7:15 p.m., Adesman arranges five tables and covers them with tablecloths. He cuts up baguettes of French bread and places the slices in bowls.
Each place setting gets a blank sheet of paper for tasting notes and a red plastic spit cup. Years ago, Adesman used to supply the wine glasses, but he'd stay up all night washing them. Now, tasters walk into the room holding their own box of wine glasses that they will use, then carry home again.
Adesman has made other changes since he started the tastings soon after he and his wife moved to Oregon in 1991 from New York. Peter organized tasting for friends there, too. He remembers being invited to an event and bringing a 1981 Beaucastel Chateauneuf-du-Pape. Someone else arrived with a 1983 Chateau Margaux. The rest of the wine offerings, says Adesman, were awful, including "Bull's Blood, Hungarian wine that was undrinkable."
This experience motivated him to start educating people about the beauty of better wine.
"We would do a horizontal tasting, say the best of 1985 when Sassicaia and Chateau Margaux were priced at $78 to $88 a bottle," he recalls. Now, they're $400 to $800 or more.
In the early '90s, he focused on California wines and a few international ones. Now, two monthly tastings a year are dedicated to Oregon Pinot Noirs.
Tonight, Adesman is inside the new building, 500 square feet under a vaulted ceiling that serves as a dance studio for Adesman's wife, and one night a month, a tasting room. He has organized 14 bottles into their respective flights, wrapped each in a brown paper bag and secured a rubber band around the neck.
The theme, this time, is Pinot Noirs and as usual, there are four flights, arranged by vintage or price.
"It's very important in all blind tastings to be fair and not create bias," Adesman says. "There is no reason to taste a $100 Bordeaux against a $12 Cab from California. I'm always looking for a fair fight."
His day job, gastroenterology and internal medicine, affords him the luxury of buying the wines. Winemakers also bring a bottle or two. In the past, Adesman has hosted Mike Etzel of Beaux Frères, John Quinones of RoxyAnn and the late Sarah Powell.
Importers and reps show up, too, like Tom Kelly from Small Vineyards. Wine buyers William Koch of Ashland's Market of Choice and Cheryl Garvey of Ashland Shop'n Kart are regulars, as are wine consultants like Chanda Miller.
Everyone raises hands to vote on the wine of the flight and the nose of the night. Novice wine tasters, some former students of Adesman's Southern Oregon University's wine appreciation extension class, toss out one-word reviews: "Sexy!" "Gorgeous!" Adesman then calls on wine pros — wholesales, retailers, winemakers — to defend their positions.
"Will this be better in a couple of years?" Adesman asks. "Absolutely not," answers a veteran taster. "I disagree," says another. "For those who have differences with me," says Adesman, "I'm usually wrong."
Wine rep Stringfield says Adesman appreciates barrel character more than he does and Adesman often sees a "flaw" that Stringfield thinks complements the wine. Still, Stringfield enjoys the jostling.
"Peter is mindful of celebrated vintages and his product selection is astute. He knows when he's looking around the planet which regions have happy vintages," says Stringfield, adding, still with a note of disbelief, "and he brings those wines back here for us."
Janet Eastman is an Ashland-based journalist who covers Southern Oregon wine for www.examiner.com and other media.