Merriment at Maryhill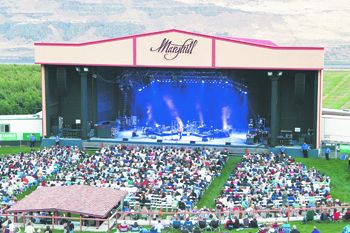 By Karl Klooster
Those currently concerned over whether or not wineries should be allowed to stage sizable public events on their premises might want to take a look at how Maryhill Winery and Klickitat County worked together in the Columbia Gorge.
Owners Craig and Vicki Leuthold, who founded Maryhill in 1999, put on monthly concerts from June through September at a 4,000-seat amphitheater they built adjacent to the winery.
"County officials didn't throw up any roadblocks," Craig said. "Quite the contrary. They couldn't have been more cooperative. This was a new thing for both of us, and we worked together on meeting all the requirements."
A great deal of planning went into traffic control and safety issues. So far, everything has gone smoothly, and profitably, for all concerned.
Eager customers paying to see renowned musicians have proved a boon to business on both sides of the Columbia.
From the famed Maryhill Museum on the Washington side to hotels and restaurants in The Dalles and other locales across the water in Oregon, the Leutholds' concert series has been a welcome addition to the commercial scene.
Since its beginning in 2003, the series has attracted sell-out crowds. So much so that during 2006 and 2007, the concerts were put on hiatus pending construction of the amphitheater, which opened for the summer season of 2008.
Over the ensuing three years, the series has consistently sold out the reserved seating in front of the stage and packed the general admission area, where attendees lounge on a terraced lawn.
The star-studded headliners have included Bob Dylan, The Temptations, Willie Nelson, B.B. King, Crosby, Stills, Nash & Young, Lyle Lovett, Jackson Browne and Earth, Wind and Fire. That's impressive in anyone's book.
An overflow attendance of 4,300 marked the largest Maryhill crowd to date. They descended on the Gorge venue for a 2010 concert featuring Train, the San Francisco rock band that roared back to prominence in 2009 with the top-10 hit "Hey, Soul Sister."
It was the most downloaded iTunes song of 2010, the best selling single in Columbia Records' history and a certified RIAA (Recording Industry Association of America) quintuple platinum.
This year's summer series includes Yes and Styx; The Gipsy Kings; Michael McDonald and Boz Scaggs; and Counting Crows. (See sidebar for details.)
With that lineup, there's something special for music appreciators of all ages.
Styx and Scaggs are both 70s icons, of course. And over the years, five-time Grammy winner McDonald has done lead vocals for Steely Dan and The Doobie Brothers.
Yes, a progressive rock band from England, has been around since 1968. It has sold more than 50 million albums, and still had enough mojo to produce a new album earlier this year — "Fly From Here."
Scheduled for release July 12, just a week before the group's appearance at Maryhill, "Fly" could very well propel attendance on the high bluff above the Columbia River into the stratosphere.
The Gipsy Kings, who burst onto the American scene in 1989 with their progressive Flamenco beat, can't be beat when it comes to energizing an audience.
Last, but far from least, on the 2001 Maryhill Concert Series agenda comes Counting Crows, the Berkeley-based rock group whose energetic and passionate performances have earned it a reputation as a quintessential live performance band.
As if all that marvelous music isn't enough, you can also revel in the portofolio of wines that earned Maryhill "The 2009 Winery of the Year Award from Northwest Wine Press.
A huge passion for wine brought the Leutholds to leave their jobs in Spokane and founded Maryhill a dozen years ago. The success of their venture has since brought them to a production of 80,000 cases annually, ranking 15th in Washington.
"Our original business plan called for about 20,000 cases," Craig said. "But our Winemaker's Red took off beyond our expectations, and we're now doing more than 30,000 cases with that one wine."
The winery's reds include Sangiovese, Zinfandel, Merlot, Syrah, Malbec, Cabernet Franc and a vintage Port. Its whites include Chardonnay, Sauvignon Blanc, Pinot Gris, Viognier and Riesling.
Modest pricing has them ranging from $14 to $24, with a top of $36 for a proprietor's reserve Zin.
"We have 80 estate acres planted, and we source from another 350 acres," Craig said. "It gives us excellent diversity."
As for the concert series, he emphasized their plan was to make Maryhill a destination winery from the outset.
"We needed to give people a reason to come out to this beautiful but remote place," he said. "Once they're here, it sells itself."
If your trip to the Gorge and Maryhill Winery involves a weekend, take a tour of nearby Maryhill Museum. It's a magnificent edifice of truly palatial proportions filled with original art and artifacts.
There's considerable history behind the place as well. Railroad tycoon Sam Hill built the manse as his residence and sought to create a self-sustainable, farming community here in the first two decades of the 20th century,
It's a fascinating experience in its own right, and a wonderful way to top off your visit to one of the most dramatically beautiful scenic areas in the Pacific Northwest.
MARYHILL WINERY 2011 SUMMER CONCERT SERIES
Presented by Sterling Savings Bank
THE PLACE
Maryhill Winery & Amphitheater
THE PERFORMERS
July 30: Yes and Styx
Aug. 6: The Gipsy Kings
Sept. 17: Michael McDonald and Boz Scaggs
Sept. 24: Counting Crows
THE PRICE
Tickets vary for each concert, ranging from $45 to $105.
THE PARTICULARS
All concerts start at 7 p.m.
Maryhill is located at 9774 Highway 14, Goldendale, WA.
For more details, call 877-627-9445 or visit www.maryhillwinery.com.