Glaser Estate Embarks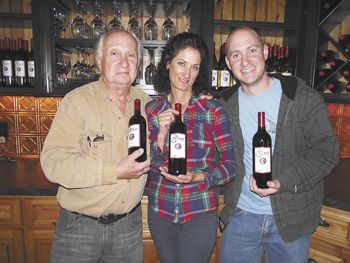 By Wine Press Staff
Southern Oregon's wine industry continues to expand with the addition of fresh faces and new projects. In the case of David and Sandy Glaser, making wine is only a part of their operation at Glaser Estate.
After moving from Newport Beach, Calif., to Roseburg in 2003, the Glasers, along with their children, Jessica and Leon, found a picturesque spot along the Umpqua River. There, they tended the already established orchards, and welcomed cows and chickens to the land.
After settling into the community — including David continuing his career as a gastroenterologist — the Glasers, especially Sandy, found themselves drawn to the area's burgeoning wine biz.
Sandy enrolled in the then-brand-new Umpqua Community College's Southern Oregon Wine Institute, and in 2010, she graduated.
The Glasers have a quarter acre planted — with plans to develop the remaining four this summer. To help keep the vineyard manicured, they introduced Babydoll sheep to the property; they act as four-legged weed control — no gas required.
Since the vineyard has yet to produce, they currently buy fruit from outside sources, including Pinot Gris and Sauvignon Blanc. In 2010, they produced 370 cases, but for 2011, the Glasers plan to bottle 1,500, which will include bulk wine — Pinot Noir, Baco Noir, Cabernet Franc — from neighboring wineries.
They make the wine at their Roseburg facility, but they also have ambitious plans to make spirits there as well.
Leon — soon to graduate from Oregon State University — will head up Glaser Estate's distillery, which will include a variety of offerings, starting with brandy, rum, whiskey, lemoncello, chocolate liqueur, butterscotch liqueur and milk liqueur — Sandy says it's delicious.
The copper still is expected to be delivered by its Spanish makers at the beginning of July. Once it's in house, Leon plans install it and have his product available within a month.
"What we are hoping to do with the distillery is to fill in the gaps when we are not winemaking," Leon said. "Since we are not going to have [the distilling and winemaking] overlapping, my mom and I can both give our full attention both to the wine and spirits in their own time."
Since the turnaround time is much faster than wine, the Glasers plan to produce the spirits as needed, with a goal of 400 cases for the year.
Whether its whites, reds or rum, the Glasers' goal is to make high-quality, small-lot wines and spirits, with bottles hand-numbered and gently treated. ◊
WINERY DETAILS
Glaser Estate Winery
Address: 213 Independence Lane, Roseburg
Hours: Friday–Sunday, 11 a.m. to 5 p.m.
Website: www.glaserestatewinery.com
Extras: Cheese and charcuterie available