Hitting All the Right Notes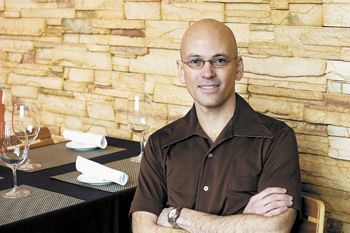 Timothy Nishimoto was born in Florida and grew up in Long Beach, Calif., the second of three children.
At a young age, both music — he started singing and performing at the age of 2, winning a dance contest at the age of 5 — and good food were part of his life. He credits his Japanese grandmother with teaching him that food and drink are so much more than nourishment. "From her, even a plate of peanuts was well presented," he recalls.
Nishimoto graduated from Cal State Long Beach in 1990 and moved to Portland in 1991, where he has held a variety of restaurant positions — Bima, Papa Haydn, Santa Fe — both on the floor and in management. In 1999, he began work as a wine steward for what was then Nature's Northwest in the Laurelhurst neighborhood.
While working at Nature's (which was bought by Wild Oats and ultimately bought by Whole Foods) for six years, Nishimoto created an impressive wine selection. At this time, he began to develop a plan to start his own wine business.
Parallel careers as a wine steward — now certified by the Court of Master Sommeliers — and a vocalist — he started singing with Pink Martini in 1994 and officially joined the band in 2003 — kept his spare time to a minimum. But, when the opportunity arose to acquire Vigne, he jumped at the chance.
He renamed the business Vino Paradiso Wine Bar & Bistro and opened its doors in 2005. Since then, the establishment has been a mainstay in the Pearl District wine and bar scene. It also has garnered some impressive press from publications like The New York Times (2007 Travel Guide), which called Vino Paradiso "Portland's swankiest wine bar."
Nishimoto continues to sing and play percussion for Pink Martini. Produced by Heinz Records, the band's albums include: Sympathique (1997), Hang on Little Tomato (2004), Hey Eugene! (2007), Splendor in the Grass (2009), Joy to the World (2010) and a new album due to be released this fall.
OWP: How did you become interested in wine?
TN: I've been in the restaurant business since I was 15, so I've been around wine for over 30 years. But it wasn't until I tasted a Grgich Hills Chardonnay (1982), when I was about 19, that I had my first wine epiphany. Literally, that first sip was the moment I "got" it, and since then I've been crazy about wine.
OWP: What inspired you to open your wine bar, Vino Paradiso, in Portland?
TN: Being a restaurant manager while I was going to school for business, and being so passionate about food and wine, it was only natural that I would dream about opening my own restaurant.
When I moved from L.A. — where I grew up — to Portland 20 years ago, I felt like could make my mark here. (The L.A. restaurant business is totally nuts ... fun, but restaurants can be a hit one year, and the next year you can hear a pin drop in the place).
In 2005, I had been working at Wild Oats as a wine department manager at the Laurelhurst store for six years and had been an official member of Pink Martini for two years, when I discovered that the wine bar, Vigne, was for sale. I really wanted to open up a wine shop, but this was an opportunity I couldn't pass up. I made an offer, they took it, and I went, "Oh, shit!" And, here I am, six years later.
OWP: What Oregon wine producers do you think deserve more attention?
TN: I think we all know that Oregon is known around the world as Pinot Noir country. When I am on tour, I miss my Willamette Valley Pinot; I love it. But, I would love to see some of the great producers in the Rogue and Applegate valleys get a ton more attention.
In my opinion, anyone who is doing great things with varietals other than Pinot Noir deserves more attention. And, I'm not talking about someone who makes 12 Willamette Valley Pinots, and one random Bordeaux varietal. I would just like to let the world know that Oregon also makes great Syrah, Viognier, Merlot, Chardonnay and Tempranillo. We're not a one-trick pony. Also, Biodynamic producers in the state deserve more attention.
OWP: Besides Oregon, what wine regions are you most excited about?
TN: Being in the band is amazing for many reasons, but one perk is that no matter where we tour around the world, we're pretty much always in a wine-producing region.
My two professional worlds are so completely different, but they collide constantly. I am always exposed to, and learning about, wine regions that are sort of off the beaten track of most American wine lovers, and I tend to obsess about the region I've most recently visited.
The band played in Buenos Aires in March, and I stayed an extra week to tour Mendoza and Patagonia, Argentina, which was an eye-opening experience, to say the least. Take one look at the Vino Paradiso glass list, and you'll see that I'm still excited about Argentina.
OWP: What are some of your favorite plates at Vino Paradiso?
TN: By the time this interview comes out, we will have transitioned to a new chef and a new focus on the food to the cuisine of Piedmont, with a new name that reflects our focus on our food program not far behind.
My new chef, Aren Steinbrecher, and sous chef, Jason Bokros, who are both long-term alumni of Genoa, will concentrate their efforts on creating Piedmontese dishes.
OWP: Do the other members of Pink Martini share your passion for wine?
TN: Thank God for Dan Faehnle, our guitarist. I don't know what I would do without him on tour. He is a big wine fan, and we just go all out when we're on the road, going out to restaurants and wine bars. We talk wine and food constantly with wild abandon, and Thomas, our crazy bandleader, just looks at us cross-eyed. We love it! Thomas thinks I should open up a place called Timmy's Wine Shack.
OWP: What type of music pairs best with wine?
TN: People ask me all the time what my favorite wine is, and I always say that it depends on my mood and what I'm eating. The same goes for music. But, some of my favorite memories are of being in the kitchen (at home, which is rare these days), drinking a white wine while cooking dinner, and listening to opera really loud. Does it get any better than that?
OWP: Any new music projects in the works or on the horizon?
TN: Yes, we're currently recording an album with the amazing Japanese chanteuse, Saori Yuki, and I got to do a couple of duets with her. My favorite song on the album, "Midnight Bossa Nova," is the one I sang with her in Japanese. The album is kind of a concept album, and all of the songs are covers of songs that were originally done in 1969, which was the year her first album came out. I believe the release date of this album is slated for fall.