Will Work for Music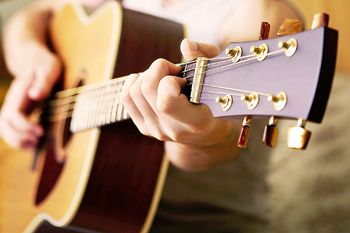 By Hilary Berg, OWP Editor
I can't imagine a world without music. Can you?
No singing. No dancing. No whistling, humming or foot-tapping. There would be no guitars, no pianos, no saxophones. Nothing. No musicals on Broadway or Main Street. No dance recitals. No radio. It's absurd, inconceivable to even consider such an existence.
Music is such an integral part of human nature; remove it and our collective soul would wither and die.
If you ask Aaron Meyer, the subject of our cover story (see page 22), he would agree with my sentiment. A violinist from a young age, Aaron creates music from the heart. He also has a passion for wine, which makes his story perfect for what I call OWP's "entertainment issue."
Alongside the article written by Mark Stock, we have included a summer schedule of music and other performances that take place throughout Oregon wine country. There is live music by all types of artists, Shakespeare among the vines, movies under the stars and more.
One winery, in particular, really impresses with big names on stage. Maryhill, located on the Washington-side of the Columbia River in Goldendale, has booked, yet again, another stellar lineup of superstars. Yes and Styx, Gipsy Kings, Michael McDonald and Boz Scaggs, and the Counting Crows will perform in the winery's grassy amphitheater. The shows always sell out, and it's easy to see why. The mix of first-class music, fine wine and stunning scenery promises guests a memorable time.
All the wineries mentioned in the summer schedule offer this winning combination. Just pick a place, pack a picnic (if the winery says its O.K.) and put on your dancing shoes.
At the end of the issue, we feature yet another musician who has a passion for wine, Timothy Nishimoto. Have you heard of the band Pink Martini? Well, if you haven't, it's time you have a listen. Timothy has been with the band — lead by China Forbes — since 1994, and he is also owner of wine bar Vino Paradiso in Portland's Pearl District. Timothy is the real deal, both on vinyl and in vino (see page 42), and I am honored he enthusiastically participated in our Q&A.
It's a real pleasure to meet people who have such passion for life, love of music and appreciation for wine. I can't imagine life without any of it.