Trek to Trouvére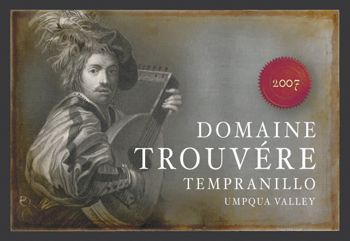 Don and Wendy Lange recently opened a new tasting room in Dundee; but if you're looking for Lange Estate wines, you'll have to go to the family's original tasting room on Buena Vista Drive. This new locale is reserved for their second label, Domaine Trouvére.
The new space is located above Red Hills Market on Seventh Street. The upstairs proximity to the popular artisan deli and grocer is perfect for customers, says Wendy. "People can order nibbles and come up and taste or buy a bottle and go down there and have lunch. It's wonderful."
The brand's slogan, "Old World Elegance, New World Style," harmonizes well with the tasting room's overall ambiance. Harkening back to simpler times, the interior blends with the vibe of the building, which looks like an Old West general store.
Trouvére's label was inspired by a 14th century painting that was then rendered in the 16th century as an etching. Called the "Four Ages of Man," the artwork features a young man with a lute. It was his instrument that caught the couple's attention — both are accomplished musicians.
At some point, they would like to feature live music at their new place, but for now, the Langes and tasting room staff are happy to welcome visitors and pour wine.
Domaine Trouvére is open Wednesday through Sundays, noon to 5 p.m. Wines available include Tempranillo, Syrah and Pinot Noir.