Jacob Williams Builds Winery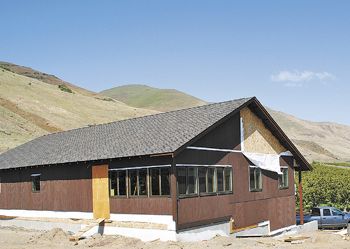 Brad Gearhart is ready to park the commuter winemaking lifestyle and settle into a permanent relationship with place. If all goes to plan, he hopes to consolidate operations for his Jacob Williams Winery about 10 miles east of The Dalles for a public opening in early July.
Jacob Williams now rents tasting room space in Lyle, Wash., and makes wine out of a warehouse in Hood River. It wasn't always thus.
After more than two decades as a designer and builder of spec homes, Gearhart jumped into winemaking in 2003, with the Dry Hollow label and former college roommate — and Wasco County District Attorney — Eric Nisley.
Gearhart spun off his own label — named after his two sons — a few years later and moved the production equipment west. Now he's headed back, closer to the big red varietals for which his wine has gained growing acclaim.
One highlight? His '07 Cabernet Sauvignon earned honors as the Best Red Wine at the '10 NW Wine Summit.
Construction started in March on four buildings a mile east of the Cascade Cliffs winery along Washington State Route 14, between Dallesport and Maryhill. Overlooking Avery County Park, the tasting room will feature a wraparound patio and sweeping vistas.
"It's a big improvement," Gearhart said. "We'll have everything there on site and can do tours, barrel tastings and have more events. We're kind of limited now."
Inside or out, Gearhart's dad, Len, will help visitors try Cab, Merlot, Zinfandel, Syrah, Cab Franc and, in the furure, Malbec — plus a couple of whites. Gearhart himself does much of the cellar work, guided by consulting winemaker John Haw, formerly with Maryhill and Sokol Blosser.
For more information, visit www.jacobwilliamswinery.com.
News brief by Stuart Watson