One, Singular Selection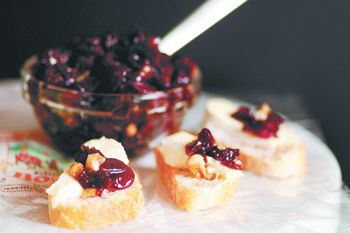 By Christine Hyatt, Cheese Chick
As the summer solstice approaches and warmer temperatures settle in, I'm always struck by the very tangible shift in my palate. My yearning for robust, heavier reds is replaced by an affinity for light, bright whites, both sparkling and still.
Similarly, my go-to cheeses for summer perfection morphs from a plate of varied selections to a single standout star. The simplicity of one center-of-the-plate cheese feels right as the pace of life slows and becomes more relaxed.
When indulging in a single cheese experience, the cheese in question must rise to the occasion. I've selected three of my favorites to share for your summer pairing pleasure. They are perfect to satisfy four to six people and complement well with a variety of peak-of-season berries and stone fruit.
Capriole's O'Banon is one of those cheeses that was a bellwether for an emerging American cheese industry, a sign that something different was afoot. In the late '90s, when I was new to cheese, I remember working a newly arrived holiday shipment, which included a new cheese from Indiana that rivaled those from France.
Leaf-wrapped cheeses have become more mainstream in recent years; but at that time, they were quite rare. O'Banon was — and still is — one of the finest. Cheesemaker Judy Schad, a grande dame of the American goat cheese industry, took her cue from French Banon, a centuries-old style of chestnut leaf-wrapped goat cheese made in the Haute Provence region. The 'O' in the name is a nod to her friend, former Indiana Governor Frank O'Bannon.
Adding a distinctly Southern touch, chestnut leaves are soaked in Woodford Reserve Bourbon rather than the traditional eau de vie. Each six-ounce round is lovingly hand-wrapped in leaves and then tied with raffia. Opening this beautiful package reveals a dense, decadent round of goat cheese, which has fruity nuances from the leaves and bourbon.
You'll find this cheese cryovaced and fairly moist beneath the wrapping. Fear not, you can improve the look and taste of this cheese by removing the wrapper and allowing the leaves and paste to dry a bit. If you are lucky enough to have a cheese dome, go ahead and use it, storing cheese in the refrigerator for several hours or more, allowing the moisture to evaporate.
Robiola Tre Latte was another monumental discovery, this time at the Fancy Food show in San Francisco in 2006. I could barely contain myself when I tasted it for the first time. It's a cheese I never tire of.
"Tre latte" indicates it is a blend of cow, sheep and goat milk, which will shift throughout the season as milk supply changes. Summer is a favorite time to enjoy this cheese because it incorporates a higher portion of rich, savory sheep milk.
While I like Brie and other ripened cheeses, the sometimes dense and occasionally medicinal tasting layer of penicillium can be a bit much for me. This is never a problem with Robiola.
I enjoy the subtle textural difference of the rind juxtaposed with the luxurious paste. The transitional layer that lies just beneath the rind creates that perfect bridge, a showcase of the aging process at work.
This delicate cheese must be air-shipped from the Piedmont region of Italy to arrive in good condition. At its peak — only two to three weeks old — it is a marvel of cheesemaking craft, with its unctuous texture and compelling flavor that won't last long on the table.
The last cheese is quite new to me. Nettle Meadow Farm Kunik is from the Northeast and is, perhaps, one of the finest examples of an American-made triple cream that I've come across. Fresh goat's milk is blended with Jersey cow milk and cream, raising the butterfat content to triple crème territory of 75 percent or more. This addition of extra cream is what gives Kunik its intensely buttery flavor and rich mouthfeel.
Nettle Meadow makes the cheese on a 50-acre goat and sheep farm in the Southern Adirondacks in the town of Thurman, New York. In addition to the dairy animals, the farm also boasts an animal sanctuary, where senior animals enjoy their golden years.
Kunik is the most well known of the Nettle Meadow cheeses and certainly the one with the widest distribution, and for good reason. The cheese is incredible with a subtle rind, velvety, smooth paste and a healthy dose of sea salt. The goat's milk lends a bit of a tang, which is a nice counterpoint to the buttery sweetness of the cream.
Keep your summer simple by serving one of these exceptional cheeses alongside seasonal berries and a sparkling wine or fragrant, fruity white wine such as Viognier for a dynamite warm-weather pairing.
SPICED CHERRY CHUTNEY
This easy, tangy-sweet accompaniment is bursting with fruit flavor and a hint of spice. Makes a great pairing with sheep's milk or blue cheese."
INGREDIENTS
2 tablespoons butter
½ cup onion, finely minced
¾ cup dried tart cherries, coarsely chopped
2 tablespoons balsamic vinegar
1 tablespoon water
2 tablespoons brown sugar
½ teaspoon ground nutmeg
¼ cup toasted walnuts, chopped
DIRECTIONS
In a large skillet over medium-high heat, melt butter. Add onion and sauté onion until translucent, about 3 minutes. Add cherries and stir thoroughly until coated with butter. Add balsamic, water, brown sugar and nutmeg. Continue to cook and stir, until almost all liquid has evaporated, about 2 minutes. Remove from heat and add toasted walnuts. Transfer to serving dish and allow to cool before serving. Refrigerate leftovers and use within five days.