Bask-et in the Sun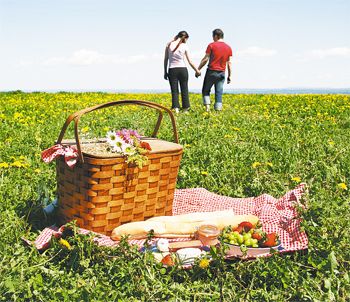 By Kerry Newberry
Hello, summer. We've been waiting for your wildness and whimsy — the long and leisurely days when time is on our side. Languid evenings tinged with pink-hued sunsets and the sizzle that makes us want to savor every moment outside. Eating al fresco is the ultimate summertime pleasure, and there is something completely carefree about planning a picnic adventure.
For inspiration on what to pack for the best basket bites, we talked to a few of the top chefs in Willamette Valley wine country. From farm fresh peaches to duck liver parfait, and crispy baguettes paired with fresh chèvre, the chefs shared tips, nibbles and their favorite escapes for your next moveable feast. Get ready to pack a basket and head outside.
Chef Eric Bechard, Thistle and Community Plate, McMinnville
In the Basket: During the summer, when picnicking is at its prime, I would opt for a Willamette Valley peach, duck liver parfait (from Thistle, of course), fresh still-warm baguette and a bottle of something white and refreshing.
Tip: A picnic is not something to over think. I always have these seven items when making an extended outdoor journey: fruit, meat, bread, knife, blanket, wine and its key. The knife is essential unless you don't mind sharing bites of a juicy peach among friends.
Fave Spot: I enjoy hiking the Niagara Falls in Willamina and anywhere along the Coast range —Grand Island is another favorite.
Red or White: I recently had a bottle of Ghost Hill Pinot Noir Blanc that was delicious — Adelsheim's Auxerrois is another one that I love.
The Charm: Picnicking is a great simple escape, a miniature vacation you can have within moments of home.
Chef Jean-Jacques and Deborah Chatelard, Bistro Maison, McMinnville
In the Basket: A bâtard from Ken's Artisan Bakery and ripe tomatoes from the Farmer John's Stand at the Thursday McMinnville Farmer's Market.
Le Grand Fromage: We order additional Pierre Robert just for these outings. Of course, it sits on the counter the day before, so it is truly ripe, creamy and so decadent.
Some Surprise:
Hers: Fumée de Sel, Fleur de Sel smoked using French Oak Chardonnay wine barrels.
His: "Bootie" Olive Oil. (He means from the heel of Italy's Boot, the region of Puglia, she says).
Tip: One afternoon we stopped at Carlton Farms for some steaks on our way to a picnic. They only had frozen options that day. When we reached Beverly Beach, we sat out the frozen steaks to defrost. Upon our return, an hour later, our steaks looked more like Swiss cheese after the birds spent the last hour pecking at them. Our tip: Defrosted meat, unless you have security detail against animal invasions.
Fave Picnic Memory: We ended up forgoing the picnic and dined at the Bay House, watching spiraling black and white Orcas.
Fave Spot: Niagara Falls Trail follows a stream through four wooden bridges, one of which has an observation deck with views of the waterfalls. They also allow dogs.
The Vista: With no hesitation, Red Ridge Farms & Olive Mill. The vistas, services, amenities are top class.
Table or Blanket: At our age, we are too old for a blanket. We'd rather sit side by side on the bench and eat from one plate. Maybe it's true about what they say: middle-age foreplay.
Red or White: Always red, always Oregon. Always really special bottles of the finest Pinot Noirs
Chef Sunny Jin, JORY Restaurant, The Allison Inn & Spa, Newberg
In the Basket: There are a few basic, yet necessary items that define a great picnic for me. A fresh baguette from Pearl Bakery, chevre from Briar Rose Creamery, Castelvetrano or Arbequina olives, and the best cured meats you can find (Whole Foods, Trader Joe's) like sopressata, coppa and prosciutto.
The Vista: Pack a lunch and head over to Penner-Ash. Their 2007 Pas de Nom is enough reason to go and visit, but the view down the valley channel that leads your eyes to Mt.Hood in the background is enough to keep you there 'til dinner!
Red or White: Red. No question! I'm a big fan of huge Oregon Pinot Noirs. I have on occasion started my meals with a Bergström or Archery Summit Pinot Noir.
Table or Blanket: Blanket. In fact, don't forget the paper cups for your wine. The point is to have fun, relax, and live only for that moment.
Kerry Newberry is a Pinot-sipping, vineyard-hopping wine and food writer. She resides in Portland.
DUCK LIVER PARFAIT
By Eric Bechard, Chef/Co-Owner of Thistle and Community Plate
INGREDIENTS
½ pound duck livers
1/3 pound butter
1 shallot, chopped
2 tablespoons sherry-style wine
* salt and pepper, to taste
DIRECTIONS
1. In a pan, sauté livers at high heat in a small amount of oil until medium rare, about 3 minutes, and then remove. Add shallot, cook for 5 minutes on medium heat until browned; add sherry and reduce to light syrup. 2. Transfer all to a blender. Add butter and purée until smooth; season with salt and pepper. Spoon into small jars. Enjoy!