Farm to Fork Afresh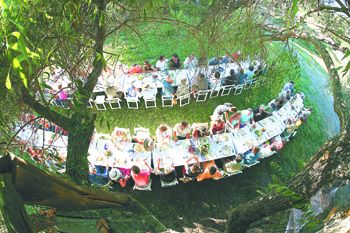 By Janet Eastman
So many food shows spotlight the antics of chefs — the foul talkers, mad scientists and other gastronomic egotists. But no amount of culinary theater surpasses the pure pleasure of eating seasonal, flavorful food locally grown and gently prepared.
Chef Matthew Domingo understands this. Despite media attention and waiting lists for dinner reservations, this busy chef tries to keep diners' attention on the people he calls the real stars: the farmers, winemakers, ranchers, bakers, cheesemakers and other artisan producers.
As the founder of Farm to Fork Events, Domingo is the first in Oregon to offer a statewide series of wine-paired feasts held in fields, barns and orchards.
Unlike most chefs, Domingo never repeats the wine pairing, menu and setting. Some of his upcoming dinners will include unreleased or recently released wine. All ingredients for the five courses will be determined by what's fresh that day.
That makes it harder on Domingo and his rotating team of noted Oregon chefs. But no one is complaining.
"We know what protein we'd like to use. But as far as the produce goes, we may have a wonderful idea in mind, but the weather turns and we have to make changes," Domingo said. "But as adventurous cooks, that's the fun part for us."
This June through October, Domingo and his team will create Farm to Fork dinners at small working farms in the Willamette, Hood River, Rogue and Applegate valleys. Tickets are $75 to $90 and help to support farm-to-school projects and local food advocate groups.
The dinners include a tour of the farms, a talk with the farmers and time to learn their farming philosophy. Just as wineries invite people in to taste their wine and see how it's made, it makes sense for farmers to do the same.
"Many restaurants recognize farmers on their menus, but how often do you get to break bread with them?" asked winemaker Barnaby Tuttle of Teutonic Wine Company. His German and Alsatian-style wines made from Willamette grapes will be featured at the July 16 Farm to Fork dinner at Wealth Underground Farm in Portland.
Tuttle says getting a chef's perspective "refreshes his vantage point." Bringing in a farmer, he adds, "makes the synergy complete."
Domingo, a graduate of the Oregon Culinary Institute, started Farm to Fork Events last year in Southern Oregon after working with David Padberg at Portland's Park Kitchen.
Domingo says the morning deliveries — boxes of immaculately cleaned and fresh produce — at the respected restaurant inspired him to find a new way to support farmers. "Going to Park Kitchen in the morning was like going to church," Domingo said.
Today, he says one of the most rewarding parts of his job is visiting the farms early on the day of the dinner, and picking up food grown for the occasion. Sometimes, he gets to harvest.
"Last year, I was walking alongside Chris Jagger at his Blue Fox Farm in Applegate, picking beets and tossing them in the box," Domingo said. Later that day, he and his cooking team chopped them and "added a little extra love. We want to inspire others to eat this way, cook this way."
Clare Carver of Big Table Farm in Gaston will be the featured winemaker at the Aug. 20 dinner in Forest Grove. Her wines will be paired with Square Peg Farm's pastured pork that guest chef Padberg is cooking in a specially made cast iron smoker.
Carver looks forward to the event, but says her relationship with chefs is year round. Sometimes, when she delivers eggs and wine to them, she is given kitchen scraps for her chickens.
"These relationships with chefs and farmers are what keep us 'in community' with our friends," she said. "That's what Farm to Fork guests get to be part of, our community."
For a list of this season's dinners, visit www.farmtoforkevents.com.
Janet Eastman writes for national publications and covers Southern Oregon wine for www.examiner.com. Her work can be seen at www.janeteastman.com.
SEARED ASPARAGUS with HARD-COOKED EGGS, CRISPY MORELS AND MUSTARD CRÈME FRAÎCHE
By Matthew Domingo, director/chef of Farm to Fork Events
"This recipe can be found in 'Dishing Up Oregon' by Ashley Gartland, in stores October 2011. Matthew Domingo and many other chefs, farmers and Oregon food producers are featured in this new cookbook."
WINE PAIRING
Teutonic Wine Co. 2010 White Wine
INGREDIENTS
4 eggs
¼ cup crème fraîche
2 tablespoons Dijon mustard
* salt
12 medium morel mushrooms
3 tablespoons extra-virgin olive oil
2 tablespoons unsalted butter
1 pound asparagus, trimmed
* fresh tarragon leaves, for garnish
DIRECTIONS
1. Prepare ice water bath. Fill large saucepan two-thirds full with water and gently lower eggs into water. Bring water to a boil, then turn off heat and cover for 10 minutes. Transfer eggs to ice water bath. Once eggs are cool, crack and peel them. Cut in half lengthwise and set aside. 2. Whisk crème fraîche, mustard and pinch of salt together in small bowl. Add water by the teaspoonful, if needed, to achieve a pourable consistency. Set aside. 3. Submerge morels in bowl of cold water and agitate gently to dislodge any grit. Drain in colander and pat dry immediately. Slice off stems and discard. Cut mushrooms in half, lengthwise. 4. Warm 2 tablespoons olive oil and butter in small skillet over medium heat, until butter melts. Add morels and cook until golden brown and crispy around edges, about 5 minutes. Salt to taste. Transfer morels to small bowl. Cover to keep warm and set aside. 5. Warm remaining tablespoon of olive oil large cast iron skillet over medium-high heat. Add asparagus and cook until slightly browned on one side, about 3 minutes. Turn and cook for 2 minutes longer. Asparagus should be cooked through but still have a bite to it. 6. Drizzle a few spoonfuls of crème fraîche–mustard sauce in center of serving platter. Arrange asparagus on platter and drizzle with additional sauce. Arrange eggs and morels around and on top of asparagus spears. Garnish with tarragon leaves.Serve immediately.
Recipe used with permission from Storey Publishing.