Rosés in Still Life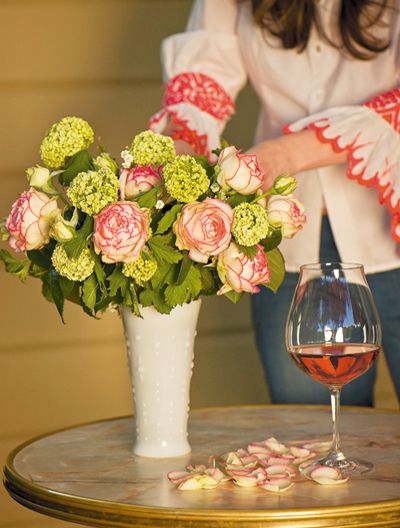 Story by Jennifer Cossey/Photography by Andrea Johnson
If Portland is the Rose City, then the Willamette is most certainly the Valley of Rosé.
As if in a garden, the shelves of stores have begun blooming in blush as wineries release the year's rosés. Wishing for warm weather, many of us order them with our meals and drink them on our front porches, still in our sweaters and scarves. The arrival of the newly released pinks is the first sign that summer is near. The release of rosés coincides beautifully with the beginning of bud break in the vineyards, as fuzzy pink and green heads pop out of vacant vines, adding sprays of color to the valley. There is a palpable sense of excitement, energy and growth all around.
Producers up, down and across the state are staking their claim on this warm-weather tradition, which harkens back to the Old World, where this classic sunny afternoon treat was perfected by the French with their Grenache- and Cinsault-based rosés from Southern France; more specifically Tavel and Lirac.
Other countries, such as Spain, Australia, South Africa and Germany, have dipped their toes in the cool waters of pink wines, so why not Oregon? In the Willamette Valley the majority of rosés are made from Pinot Noir, while producers in Southern Oregon and the Gorge are testing less common varieties, such as Tempranillo and Sangiovese.
There are three main methods for rosé production. While to the naked eye the results look the same (pink); the final product is anything but.
The first and most traditional method is called saignée, whereby the free-run juice is bled off the skins early into its skin contact and before fermentation. This method increases the quality of the red wine left behind and later pressed, creating a happy bi-product for rest of us. Adelsheim is one producer who makes a graceful and sophisticated rosé in this style.
The next method is to blend a finished white wine with a finished red. This creates an inexpensive, thirst-quenching wine, full of character and aroma that pairs nicely with food. Cathedral Ridge Winery in the Gorge uses this technique for its blush wines with Pinot Gris as the base.
A third, less-common method involves choosing vineyard sites specifically for the wine and pressing the grapes exclusively for the production of it. It is a more time-consuming and expensive process but worth the effort. J.K. Carriere Wines in the Chehalem Mountains produces wine in this style. Once pressed, winemaker Jim Prosser puts the wine in neutral oak barrels to ferment and age along with a small amount of Chardonnay lees to increase the complexity and soften the color of the final product. Winderlea Wine Company, A to Z Wineworks and Patton Valley also use this method for their Sangiovese rosé.
Jerry Murray, who many consider one of the best rosé producers in Oregon, is winemaker for Van Duzer. He operates under the same method of production, also allowing the wine to rest on its fermentation lees and then age in steel tanks to retain freshness. With a growing number of producers making their rosés in this style, the trend towards serious-but-playful pink is a welcome one.
The new misconception about rosé is that there is still a major misconception. The idea that "if it's pink it must be White Zinfandel" is outdated and no longer the general rule of thumb or public opinion. For the last few years, national publications have been heralding the value of the pink stuff and more people are starting to listen. You would be hard pressed to find a halfway decent restaurant without a dry rosé option on their by-the-glass list, and retailers are dedicating entire sections of their store to the stuff.
Are there still folks out there that think all rosés are sweet? Yes, and there always will be. In the same way some people will always believe that Chablis is boxed white wine from California and that all Rieslings are über sugary, there will always be those who think that pink equals sweet.
The tides are changing, in Oregon specially. Murray noted, "I like making a wine that shows rosés can be "serious" (but not too serious, it is rosé after all). There is nothing more satisfying than someone scoffing at the "pink wine" and saying they don't like rosé, then seeing the look on their face when they taste it. I like providing an experience that greatly exceeds expectations."
With that said, the sweeter rosés are still a treat. The blessing of having so many micro-climates in our home state is that we get a range of styles. Most rosés from the valley are almost bone dry, but in places like the Gorge, there are some winemakers producing an off-dry style that makes for great, low-alcohol summer sipping. Cathedral Ridge makes a Halbtrocken (half dry) rosé that hints at sweetness without going over the top. It carries refreshing notes of cherry pie and candied raspberries and is a great alternative to White Zin. These styles of wines go perfectly with spicier foods — think barbecue — to tone down the heat.
Rosés are symbols of hope for sun-kissed cheeks and outdoor play. There is nothing quite as perfect as a sunny day, bare feet in grass, friends and a glass of delicious rosé to make a person feel like all is right with the world.
Across the country, the perception and the quality of rosés are changing for the better. In Oregon, the tides are shifting as we see more and more people making wonderful and interesting rosés.
Brilliant Blushes
Cowhorn 2009 Grenache Rosé, Applegate Valley ($18)
With slight tropical characters enhancing the aromatics as a result of 2 percent Viognier added to the wine, this rosé comes alive with watermelon, summer cherries, cold strawberries, orange blossom and rose petals.
Adelsheim 2010 Pinot Noir Rosé, Willamette Valley ($19)
A cornucopia of fruit characters. Strawberry, raspberry, white cherry and honeydew melon flirt with floral notes and hints of fresh herbs and stone.
J.K. Carriere 2010 "Glass" White Pinot Noir, Willamette Valley ($20)
Light and slightly effervescent. The nose has notes of peach, barely ripe strawberry, ruby grapefruit, a touch of fresh grass and honeysuckle. The palate is alive with acids and more citrus fruit characters with touches of lime lingering in the long finish.
A to Z Wineworks 2010 Sangiovese Rosé, Del Rio Vineyard, Applegate Valley ($12)
This 100-percent Sangiovese rosé is expressive if nothing else. Imagine a strawberry and summer cherry tart resting in a light graham cracker crust sprinkled with basil and topped with the zest of a blood orange.
Winderlea 2010 Pinot Noir Rosé, Dundee Hills ($24)
Notes of rhubarb, strawberry, candied lemon and cherry limeade mingle with fresh pink flowers and shortcake. Bright and dry on the palate without being excessively acidic. A surprisingly soft, round and approachable wine for the vintage.
Patton Valley 2010 Pinot Noir Rosé, Willamette Valley ($16)
Salmon-colored in the glass with a touch of effervescence. Aromas of guava, lime, lychee and white pear consort with honeysuckle and cherry blossom on the nose with more floral components announcing themselves on the palate along with the fruit. This wine cries out for shellfish. Break out the oysters for this one.
Van Duzer 2010 Pinot Noir Rosé, Willamette Valley ($16)
Floral and fruity., this expressive wine is laced with suggestions of peach, raspberry, lime, white cherry and white blossom on the nose. The palate is dry and zippy, with more citrus and flowers in the finish.