Will Bike for Bottles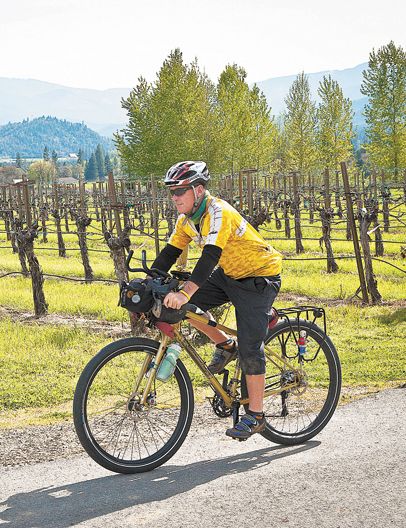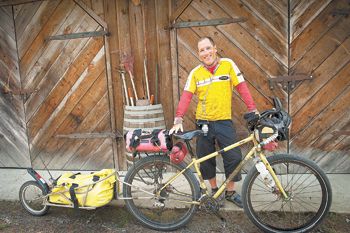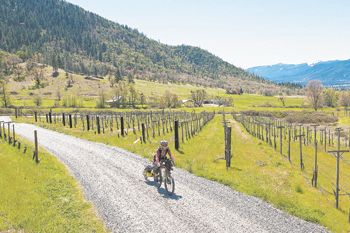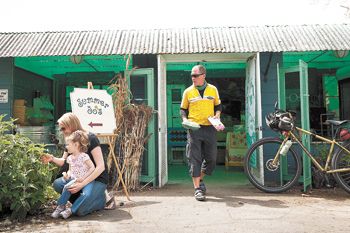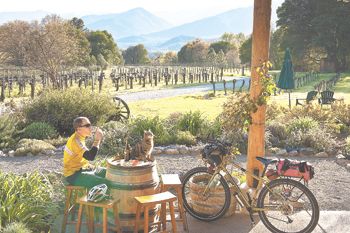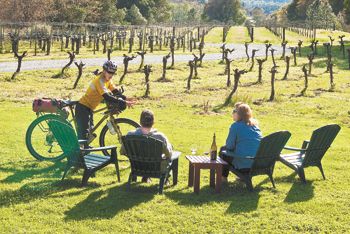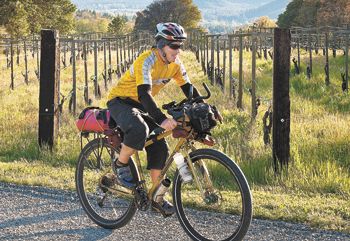 Story by Michael Altman / Photography by Andrea Johnson
With years of zooming around New York, defying traffic lights and breathing untold tons of exhaust and particulate matter long behind me, I've taken to cycling in Southern Oregon. Though I'll admit, cruising along Portland's riverfront on occasion reminds me of the old days.
It may seem taboo to write about the prospects of wine tasting and cycling, however, with careful planning, split tastings, ample hydration, meals and rest between rides, hitting a couple wineries and having a small picnic or tasty lunch at a Rogue Valley restaurant can be a safe cardiovascular-culinary experience.
Since I live in Ashland, miles shy of California, I've never driven from Portland to taste Southern Oregon wines; however, if I were a northern Oregonian interested in seeing my part of the state, I would suggest you go by bike, get off the beaten path and indulge in wine, food and affordable lodging. May I suggest you start your journey in downtown Grants Pass, the closest Rogue Valley town toPortland.
If you're thinking about also visiting the Southern Oregon Coast — close to the California Redwoods and Smith River—for surfing, fishing or beachcombing, Grants Pass is your launch pad.
That said, assuming you left Portland on a Friday morning, you'd get to Grants Pass early enough in the afternoon to unwind, and ride over to Summer Jo's — via G Street's bike lane. It's arguably the best restaurant in Josephine County and among the top farm-to-table restaurants in these parts, not to mention it has a setting to match.
Though Summer Jo's menu isn't vast, it's diverse, and the food is tasty, fresh and high quality, featuring produce from their farm. Grab a table on the porch, lawn, or inside near the open kitchen. Chef Travis Wyant features fish nightly from Port Orford Sustainable Seafood.
Recently at Summer Jo's, I ate lunch accompanied by a two-ounce pour — again, think cycling — of stellar Brandborg 2009 Umpqua Valley Gewürztraminer. The restaurant's new wine steward, Andy Phillips, is an industry veteran and cyclist who may have some riding advice as well as regional wine suggestions.
"We're focusing on a lot of Southern Oregon wines, including Umpqua, and we'll host wine events regularly on Thursdays," Phillips said.
Daylight permitting, instead of going directly back to your hotel, detour to nearby All Sports Park by way of a five-mile loop. If you're lugging little ones or bringing teenagers, this is a stop for fishing, bird watching or turtle spotting from the pond's pedestrian bridge, a Frisbee toss and a walk by the Rogue River. It's a nice size park with ballfields and other amenities. Then it's a quick ride back to your room to get some rest for Day Two. The loop is on moderately traveled but relatively safe, flat roads for which a mirror and lights wouldn't be bad investments, along with a lock and patch kit. Reversing the loop is an option, too.
In the morning, check out the steadily swelling farmers market in Grants Pass.Oak Leaf Creamery's booth has wine-worthy cheeses to match Summer Jo's fresh bread. When I spoke to Oak Leaf owner Dave Peterson, he recommended the Peaceful Mountain Tomme, a farmhouse-style, natural rind, mild, semi-firm pâté," perfect for pairing with Pinot Gris or Riesling. His Billy Blue would stand up to a Port-style dessert wine. The Maine transplant has other cheeses, too.
You missed out on fiddleheads, and may still be too early for wild huckleberries, but whatever is available, pick up some food for the day's ride to the Applegate, where food options are limited.
On to the Applegate Valley. There are several fine wineries, but for casual cycling purposes follow Route 238 toNorth Applegate Road. Schmidt Family Vineyards has a 2010 Pinot Gris for that Tomme cheese, plus great reds, and a Tempranillo-Viognier blend — not a misprint — that's strikingly red in color. Named after the owner, Cal Schmidt, it's called "Cal's Folly."
From Schmidt, you could ride to Troon or Wooldridge Creek wineries or drive to either one and ride the Slagle Creek-Kubli Road area. Last time I was at Troon, May 7, they had a wine club release party, and I saw a couple fixing a flat. Grants Pass residents Lindy and Mark Deatherage routinely ride 50 miles through the Applegate and stop to taste at Troon. Veterans of "ride and taste," they've done so in Italy before.
Troon has a paved driveway, whereas Schmidt and Wooldridge do not — a consideration if you're on a road bike. Nevertheless, all are worth visiting as their wine styles vary, and their driveways aren't that long for a nice walk.
Troon has a respectable Zin, good red blends and a casual outdoor seating area with bocce. Wooldridge may have the best view in the Applegate Valley, and fine wines from vintage to vintage. They released a rosé of Syrah in June and feature Oso de Oro, the Golden Bear, a dessert wine for that blue cheese. If you sit in one of their Adirondack chairs, you may hibernate and refuse to leave.
Other nearby wineries include Slagle Creek, Devitt, The Academy and Plaisance Ranch, all of which have solid wines and limited production. Devitt and The Academy have nearby tasting rooms. Plaisance Ranch is in Williams — call ahead.
Reluctantly exiting the Applegate, take Route 238 towards Jacksonville, a nexus for cycling, where there are two newer tasting rooms in town, South Stage Cellars and Quady North. Old Stage and South Stage roads are connected by California Street, the main drag through "J'ville," the historic mining town that's home to the Britt Festival. You can scout out a loop with online maps or hike the oak woodlands near the Britt stage. If you get to the top, your reward is tosee Mt. McLoughlin to the east. You can make the hike a loop and at the end, ride down S. Oregon Street, back towards town.
Be the judge of when is enough, because I'd suggest seeing a Britt show, if the night is right, and staying in Ashland, which is only 30 minutes from J'ville for day three, though that's a traveler's choice based on timing, preference and, most importantly, safety. There are accommodations in the Applegate and Jacksonville as well.
Ashland is the cultural capital of Southern Oregon, and there are many places to stay and things to do. I'd consider some of the less expensive motels up Siskiyou Boulevard, such as The Palm near Southern Oregon University's campus — in part so you can wake up and go to Morning Glory for breakfast. Afterward, take a ride around Lithia Park, check out the farmers market on Tuesday or Saturday, and proceed to the Bear Creek Greenway bike path via Helman or Oak Streets.
If you're an intrepid rider willing to take a 25- to 35-mile loop, taste as far away as Pebblestone in Medford — it's actually closer to Jacksonville than Ashland — and eat the full scramble first.
Cab Franc is one of my favorite varietals growing in the Rogue Valley, and Pebblestone's 2007 took gold at the 2011 San Francisco Chronicle Wine Competition. Going there will pull you up into the hills west of Phoenix that can be part of a pleasant loop heading back towards Trium in Talent.
Trium's Gris, Viognier, Grower's Cuvée and view are well worth the climb up Rapp Lane. Unless you've got a good bike rack and panniers, shipping wine from these tasting rooms may be wise.
The Oregon Shakespeare Festival is Ashland's top attraction, but I'll make a pitch for ScienceWorks Hands-On Museum, especially if you have kids.
I learned at their recent fundraiser, Science of Wine, that one of their employees, Shannon Troy, is among the top three science performers in the nation. Though her background isn't in theatre, she says, "It's surprisingly addictive." She sparked the crowd with a liquid nitrogen-dipped frozen grape demo — stick that to your mid-palate.
A not-to-miss meal is at New Sammy's Cowboy Bistro, five minutes outside Ashland in Talent. I'm partial to lunch, but that's mostly because their burger is amazing. On the way south from Trium, or before going north, Sammy's is a must. Go for dinner, and stay for dessert. If you're going to let Vernon Rollins suggest a bottle from the best cellar in Southern Oregon, consider taking bus No. 10 from Ashland if it's before 7 p.m. on a weekday, and a taxi back to your hotel. If you're riding from lunch, the bike path is a stone's throw across Highway 99. The buses have bike racks, but don't count on a vacancy.
Crater Lake, Mt. Shasta, Mt. Ashland, Pilot Rock, Table Rocks, the Pacific Crest Trail, rafting the Klamath or Rogue, mountain biking around Applegate Lake — all are within reach and can be part of a day trip from anywhere in the Rogue Valley, and there are still more wineries in Medford and along the Upper Rogue wine trail.
On May 14, I shot a brief video at Valley of the Rogue State Park about the highly nutritious but unfortunately invasive plant, garlic mustard, and then drove upriver to Sam's Valley on Route 234. If I were coming from Ashland, I would have visited Agate Ridge Winery — near Crater Lake Highway — first, but I'd never been to Folin Cellars before. Both wineries feature a number of Rhone varietals and have recently emerged as among the best in Southern Oregon. Agate Ridge has more whites, including Roussanne, Marsanne and Viognier, and both have approachable Grenache and other reds.
Cliff Creek is also in the neighborhood and offers primarily big reds, including Syrah. Riding between Cliff Creek and Folin gives a particular feel for the distinctive landscape of the Upper Rogue wine area; however many riders follow the River down and eventually to the Gold Hill Bike Path.
There are other producers worth visiting throughout Southern Oregon, including in downtown Medford, where Linda Donovan's Pallet Wine Company is a custom crush facility for many regional vineyards. I spoke to Linda recently, and she joked about her new hobby: unicycling at work.
During the recent Taste of Ashland, a fundraiser for Ashland art galleries, I talked to Gus Janeway, another cycling enthusiast, who makes his Velo and Velocity wines at Pallet. He schedules tastings there by appointment. Pallet and downtown Medford are easily approachable by bike via the Bear Creek Greenway.
There are many downstate residents who agree that biking and mass-transit in our region should receive more funding and prioritization. Perhaps someday up-staters will be able to throw bikes on a high-speed train to get here. In the meantime, you won't be disappointed pedaling the foothills and waysides, seeking out the bright, expressive and diverse wines of Southern Oregon.
Michael Altman teaches nutrition at Southern Oregon University and The College of the Siskiyous. He's a practicing nutritionist, herbalist, freelance writer and home winemaker living in Ashland. You can reach him at altmanm@sou.edu.
Meet Cyclist Glenn Charles
Glenn Charles is the author of Wabi Sabi Your Life, an adventure photography blog and much more.
"I strive to inspire others to grow in their own journey of spiritual discovery and life simplification, through writing, speaking and photographing my adventures. My vehicle of choice has been adventure travel; it has been this path that has allowed me to find a new sense of spirit and personal growth."
OWP contributing photographer Andrea Johnson crossed paths with Charles in Southern Oregon, and he agreed to be in front of the lens instead of behind. OWP thanks him for his participation in the photos and his inspiring story. Read it at www.wabisabiyourlife.com