Sensational Summer Sips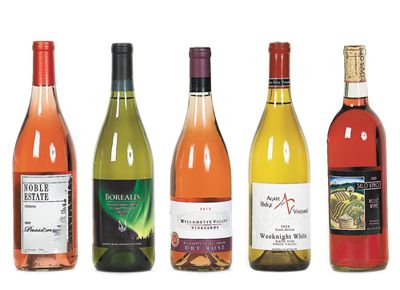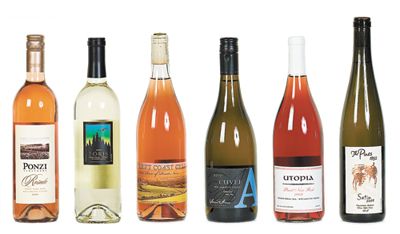 Left Coast Cellars 2009 Rosé of Pinot Noir, Willamette Valley • $15 (70 cases)
This newer producer smack dab on the 45th parallel has put out just a few cases of rosé in 2009, but they've come up with an interesting offering with elements of peachy fruit, tart acidity and oak vanillin. The combination works quite well with a bit of chilling, which is true for every wine in this month's tasting.
Anne Amie 2010 "Amrita" Cuvée White, WillametteValley • $12 (1,160 cases)
Amrita means ambrosia to Buddhists. The exotic name notwithstanding, this undescribed blend delivers tangy taste aplenty owing to rose in the nose followed by the harmonious yin and yang of lime playing off tropical fruit.
Utopia 2009 Pinot Noir Rosé, WillametteValley •$18 (126 cases)
Lip-smackin' may not sound very organoleptically sophisticated, but the combination of ripe, sweet strawberry and lush honeysuckle combined to make for a mighty tasty, or should we say unctuous, wine.
The Pines 1852 2009 "Satin" White Table Wine, Columbia Gorge • $16 (300 cases)
The inspiration for "Satin" likely stems from the wine's soft, creamy character. A 50/50 Pinot Gris and Gewürz blend, butterscotch and vanilla fill the mouth with fat, rich flavors. Acidity being a bit low, it would be best enjoyed soon.
Foris 2009 "Fly-Over White," Rogue Valley • $13.50 (975 cases)
At 63 percent, Pinot Blanc dominates this blend, supplemented by 21 percent Pinot Gris and 17 percent Riesling. Excellent balance throughout is the key that kept us coming back for more. Round, lush tropical fruit, pineapple and lychee nut flavors tantalize in the mouth and linger in the finish.
Ponzi 2009 "Rosato," Pinot Noir Rosé, Willamette Valley • $15 (1,033 cases)
Doing justice to its roots, this 100 percent Pinot Noir rosé possesses a charming blush and firm foundation, featuring bright acidity, a touch of green apple and good balance, all of which make it as food friendly as its more pigmented cousins.
Silo Vino (Terra Vina) 2010 Rosé, Chehalem Mountains • $20 (75 cases)
The first rosé ever from Terra Vina is a field blend of Cabernet Sauvignon, Dolcetto and Syrah from their estate vineyard. A compelling strawberry color sets up the palate for a flood of floral aromas and fresh, mouthfilling red berry flavor.
Agate Ridge 2010 Estate "Weeknight White," Rogue Valley • $15 (194 cases)
There's no mistaking the weedy, wet straw aroma of Sauvignon Blanc here. The variety is 73 percent of the blend with Pinot Gris and Marsanne making up the remainder. Citrus and juicy pineapple culminate in a fresh finish.
Willamette Valley Vineyards 2010 Dry Rosé • $16 (400 cases)
A smart marketer like WVV, doesn't emphasize the word "dry" without good reason. This Syrah/Tempranillo blend is indeed devoid of sweetness but certainly not of flavor. Citrus, tangerine and lively acidity make this very well-balanced wine pleasurable on its own or as a complement to food.
Borealis (Montinore) 2010 "The Northern Whites," Willamette Valley • $16 (7,500 cases)
A racy wave of flavors flows from this light, bright, zesty white. The blend of 34 percent Müller-Thurgau, 34 percent Riesling, 17 percent Pinot Gris and 15 percent Gewürztraminer produces peach, gardenia and fruit cocktail with a mineral backbone.
Noble Estate 2010 "Passion" Carbonated Grape Wine, Oregon • $19 (200 cases)
No pretension here. This is "grape" wine. We're not told what kind, and we shouldn't really care. It's tangy, spicy, sweet and, yes, sparkling, in a soft, fuzzy way. Flavor-wise, it's got a lot: hints of quince, papaya and stone fruits. In other words, though not a serious wine, it's fun.
The Oregon Wine Press tasting panel has selected the above wines based on overall quality and value within their respective categories. To the best of our knowledge, they are currently available in the retail marketplace. But a call to the winery or your favorite wine merchant will best determine where they may be purchased. The above wines have met the following criteria: produced by anOregonwinery; retail price up to $25 per 750 ml bottle for all still table wines except Pinot Noir, which can be up to $30, $25 per 375 ml bottle for dessert wines and $35 for 750 ml sparkling wines. All wines must be currently available to consumers. Recommended wines were selected using a double-blind method and a 20-point ranking system for appearance, aroma, taste, balance and finish.