Carlton Cottage Couples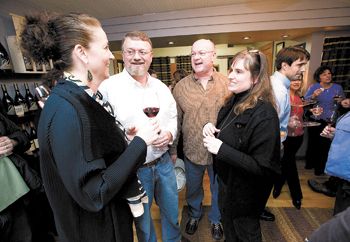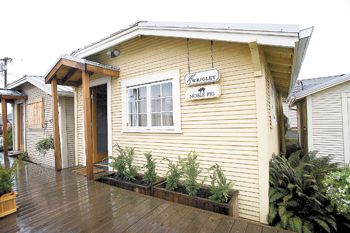 By Karl Klooster
If there were ever a story that illustrates the longstanding tradition of small Oregon wineries working together to support one another, this is the one.
The Willamette Valley's earliest wine pioneers were mostly married couples laboring side by side to make a success of their fledgling ventures. In many instances, that same model holds true today.
And that's the case with both Cathy and Henry Pollak of Noble Pig Winery and Jody and John Wrigley of J Wrigley Vineyards. Though their resources may not be quite as limited as their trailblazing predecessors, they are just as personally and passionately committed.
Following separate paths to the same place, the two couples decided that growing grapes and making wine in the Yamhill Valley was what they wanted most to do with their working lives.
Now they have agreed to share the space, costs and operation of a quaint Carlton cottage converted into a tasting room. In other words, when any of the four steps behind the bar, he or she will be presenting, pouring and selling each other's wines.
Selecting Carlton as the location to put their products before the public might be considered an obvious choice, as the city council could soon be entertaining a proposal to change its signage to "The Great Little Wine Town of Carlton."
More wine visitors than ever are enticed by the critical mass of tasting rooms and wineries accumulated in the central core of Carlton.
Further augmenting their close connection, both couples have established their vineyards in the McMinnville AVA, encompassing the Coast Range foothills just southwest of Mac.
While waiting for estate-grown grapes to mature, both are sourcing fruit from Yamhill Valley Vineyards and Coleman Vineyard. John is the winemaker for J Wrigley and Cathy for Noble Pig.
Both couples eventually plan to operate largely on an estate basis. Both eventually intend to build their own wineries. And both are putting their main emphasis on Pinot Noir.
But as many similarities as they might share, they also show some distinct differences.
Jody and John moved to Oregon by way of Arizona and Idaho, respectively.
John's sister, a friend of Jody's, introduced them in 2006. And all being wine buffs, they soon agreed to take a wine tasting trip to Oregon.
There they discovered an immediate chemistry, and the wine country's beguiling charm helped seal the bond.
John, a Farmers Insurance agent, was particularly enamored with Oregon Pinot Noir. So much so that he immersed himself in learning about the industry and had already taken several trips to Northwestern Oregon in search of vineyard property.
Soon thereafter, Jody and John came across 200 acres on Gopher Valley Road. It needed some serious timber removal, but they decided it would be worth the investment.
"I had looked around a lot here, and in California and Washington," John said. "This was a great piece of land at a price we could afford.
"We could live right there in the midst of the vineyard. So we bought it."
That was five years ago.
After the land was logged and cleared, they planted dormant Pinot Noir, Riesling and Chardonnay vines in the fall of 2008. They are looking forward to harvesting their first estate fruit this year.
In the meantime, the couple has augmented their family with two sons, Jordan and John, now 4 and 2, respectively.
"We've planted six acres and are preparing to put in another 15, with our house in the middle," Jody said.
"There are about 30 more acres we've identified, and perhaps a total of 90 that could be developed over time. We may leave that to the boys."
The first J Wrigley wine was from the 2009 vintage — 170 cases of it. They made slightly more than 300 cases in 2010 and are projecting some 500 cases for 2011, with introduction of an estate label.
Their goal is 2,000 cases annually, all from their estate vineyard.
Avid wine enthusiasts since the late 1990s, Cathy and Henry Pollak were ensconced in Southern California, where Henry had a successful surgical practice in obstetrics and gynecology.
They ventured to the California Wine Country on numerous occasions, savoring most their visits to the Napa Valley. In the process, Cathy caught the wine bug and began to fantasize about growing and making her own wine.
That appeared to be little more than a dream until serious health problems cut Henry's career short, and the couple had to change direction anyway. So they moved to Davis, where she enrolled in the school's world-renowned viticulture and enology program.
For her thesis, Cathy formulated a plan for a marketing and promotion program for a hypothetical winery operation she dubbed Noble Pig. No joke.
She was inspired by the story of diplomatic relations between England and Japan in the 19th century. The English king presented the Japanese emperor with a prized Berkshire pig, which was apparently met with royal delight.
The distinct memorability of the name was confirmed by one of her professors, who was so impressed he advised them to trademark it. In fact, if she was serious about getting the venture off the ground, he offered to invest in it.
"He said he'd put in $200,000," Cathy said. "But we'd had partners in the past, and it wasn't the way we wanted to go."
Like the Wrigleys, the Pollaks honed in on the McMinnville AVA. They bought 88 acres, 56 of which appear to be plantable.
Doing virtually all of the work themselves, they logged the Douglas fir and planted the first four acres in May 2010. They project production of about 1,000 cases within the next couple of years.
As for a long-term goal, Cathy said they initially set their sights on 5,000 cases. But friends in the industry told them the next profitable jump from 3,000 cases, due to the required infrastructure investment, would be at least 8,000 cases.
Whatever the outcome, both couples are confident about the future, based on the quality they see coming out of the McMinnville AVA.
TASTING ROOM INFO
CARLTON COTTAGE
Address: 407 W. Main St.,Carlton
Hours: Thurs.–Sun., 11 a.m. to 5 p.m.
Phone: 503-474-2000
WINERY INFO
NOBLE PIG WINERY
Established: 2008
Owners: Cathy and Henry Pollak
Wines: Pinot Noir and Pinot Gris
Acreage: 88 total; 4 planted
Website: noblepig.com
WINERY INFO
J WRIGLEY VINEYARDS
Established: 2006
Owners: John and Jody Wrigley
Wines: Pinot Noir, Pinot Blanc
Acreage: 200 total; 9.75 planted
Website: www.wrigleywines.com