Geek Out at ENSO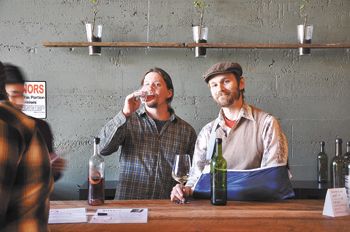 By Wine Press Staff
Cheers, Poindexter. The days of wine being an ambiguous experience, wrought with feigned protocol and aloof adjectives, are over.
A new winery aims to do for wine what many coffee roasters in Portland have already done for coffee: Inform the drinker of the complexities of a good cup or glass, while making it more accessible and natural. Prefer your coffee with just the right boldness, with beans from only that one hillside on that one island with hints of that one spice? There's probably a wine for that, and odds are, you can explore it locally in Portland at the recently opened ENSO Winery & Tasting Lounge.
"Some coffee roasters in town have taken coffee geekery to a whole new level, and a lot of folks seem excited about it," said Ryan Sharp, co-founder of ENSO. "People in Portland really enjoy learning about the process of how something like wine, coffee or beer is made, so we're helping to make wine and the winemaking process more understandable with our sort of educational bent."
Co-founder Chris Wishart launched the winery with Sharp in 2010, beginning with a 300-square-foot garage as their barreling space. The aim was simple: Make quality Northwest wines in town that are foodie-friendly and unique. What has transpired is the new winery and tasting lounge in a retail strip in the Buckman neighborhood, which provides a casual setting to sample the wines at your own pace or engage with the winemakers themselves.
ENSO is part of a burgeoning artisan wine scene inside city limits, joining Hip Chicks do Wine, Boedecker Cellars, Grochau Cellars, Helioterra, among others. Perhaps adding another facility might be too much of a good thing?
"Bah, humbug," said John Grochau, owner of Grochau Cellars. "Yes, there are a lot of local wineries out there, but new ideas like Ryan's will only bring more people into drinking wine and that is better for everybody."
Wishart adds that while Pinot Noir dominates most of Oregon's wine industry, ENSO decided from the outset to focus on other varietals and blends. With a total of 250 cases, the 2010 vintage includes a Pinot Gris, a red table wine called "Resonate," a rosé, plus three reds: Malbec (sourced from Horse Heaven Hills AVA, Washington), Zinfandel (Wahluke Slope, Washington) and Mourvédre (Shenandoah Valley AVA, California).
In addition to ENSO wines, Sharp and Wishart feature a monthly rotating Portland-area producer, as well as a winemaker's flight, in which they pair one ENSO wine with two to three other similar wines for context. For June, they will pour a "Rosés Around the World" flight, which will include ENSO West Coast Rosé with Sicilian, Provence and Spanish rosés. ENSO also offers local beer, cheese, meat and live music.
WINERY INFO
ENSO Winery & Tasting Lounge
Address: 1416 S.E. Stark St.,Portland
Hours: Tues.–Thurs., noon to 8 p.m.; Fri.–Sun., noon to 10 p.m.; closed Monday
Info: 503-683-3676; www.ensowinery.com